Going off grid in Wapenveld to a life without wifi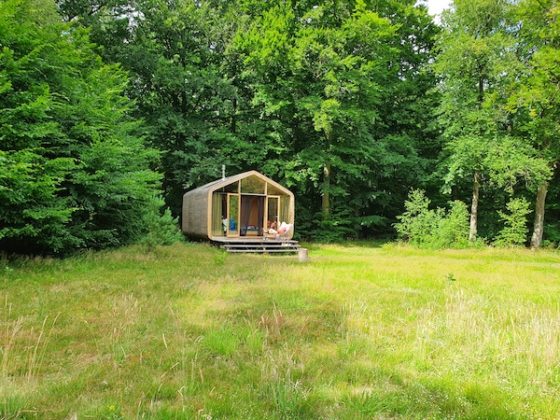 To mark the occasion of my wife's retirement our daughters awarded us a two night stay in an off-grid eco hut in the Zwolse Bos where we could stare at trees and mentally flagellate ourselves over our combined 135 years worth of emissions.
We do our bit for the planet – we've scaled down on steak, car use, travel programmes, and scaled up on Greta Thunberg – but to call us eco-warriors would be a gross ecozaggeration. In my 20s I read 'Walden: Or a Life in the Woods' by American naturalist, essayist, poet and philospher Henry David Thoreau, about his two year transcendental sojourn in a grim shack by Walden Pond in Massachussetts in the 1840s.
Without knowing it at the time Thoreau was probably one of the first climate change activists. But recounting two solitary years in a hut next to a pond is as dull a tome as it sounds. Thoreau did two years in the woods; we did two days. Enough said.
'What is the cooking situation in this place then?'
'I don't know.'
'Is there a shower?'
'I don't know.'
'What about electricity?'
'I don't know.'
'And Wi-Fi? Can we charge our phones?'
'I don't know. I don't know. The girls haven't told me anything. Except that we have to walk 20 mins from the car park to the hut.'
'What!'
It was tough but we survived the arduous 20 minute trek through the Zwolse Bos – lugging our own summer duvet, pillow cases, towels, chargers, chargers for our chargers and some emergency supplies of bottled water and jumbo bags of nuts hurriedly purchased in a panic in Albert Heijn, Wapenveld.
Our cute cabana was situated next to an aspiring cricket field, tightly hemmed in by the dense foliage of the Zwolse Bos. An upmarket estate agent for hobbits would describe this 20 sq metres plywood grotto as 'sleeping four with all amenities – sink, wood burning stove, mattress, toilet, shower, solar powered electric lights, ice-pack fridge, inbuilt phone charger, terrace, view, birdsong, solitude.'
 'This mattress is incredibly comfortable. It's Japanese.'
'I don't see any Wi-fi.'
'The water has to be pumped.'
'But what about the Wi-Fi?'
'We cook on this wood burning stove.'
'I'm getting short of MBs for the month. Without Wi-Fi we're going to burn through more MBs than logs.'
In another life I travelled a lot and lived in some degenerate hovels. I spent time on a deficient kibbutz in the wilds of Hokkaido, Japan's northernmost island, where I made hay with local farmers and survived on home made kibbutz bread, roasted dandelion-root coffee and whatever out-of-date food could be salvaged from the waste bins of the local supermarket.
In San Diego in the 80s I saved 18 months-worth of rent by sleeping on the concrete floor of a travel agency I was working in. Even without the comforting all-enveloping electronic mist of a Wi-Fi signal, two nights in a sumptuous shed in the Zwolse Bos was going to be a doddle.
 'Turn your Spotify off. I want to listen to the birds.'
The eco vibes had penetrated the already basking brain of the Recently Retired One who concluded that my experimental German electronic music playlist was airborne pollution.
'There's a Shazam-type App to distinguish birdsong if you want me to download it?'
'I don't think so do you?'
'So where is the food?'
In an unlocked fridge in a nearby barn we disinterred two days worth of Red Cross supplies guaranteed to scare the leather pants off any self respecting carnivore – grains, pulses, seeds, nuts, fruit, vegetables, soy meat, nut milk, tofu cheese, vegan eggerything.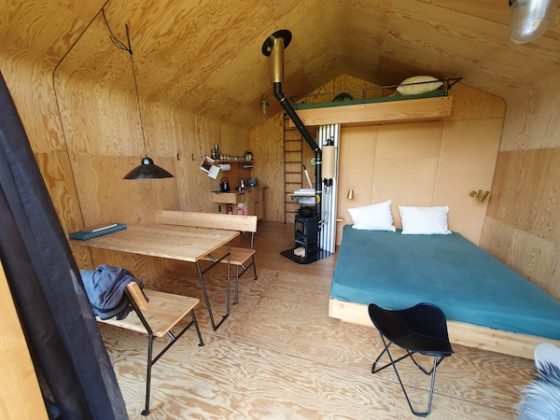 The hut also provides basic kitchen supplies such as oil, salt, pepper, tea coffee etc etc. From the supplied menu card we figured our two main meals were the soy meat taco and lentil stew options, both of which were eminently edible once we had got to grips with the intricacies of the one-pot-wood-burning-stove cooking method.
Time is the crucial ingredient omitted from the recipes of the OPWBS cooking method. The stove lit in a flash, so to speak, but, in order to soften an onion, cajoling heat from the logs through the hunky hotplate and then through the base of the solid cast iron pot, which was clearly an early prototype for the heat shield on the Apollo space programme, took about an hour.
Once the pot was hot, cooking could proceed in a relatively normal manner, as long as you remember that, unlike gas/electric hobs, log fires, left untended, eventually switch themselves off.
Our first night spent in the char grilled atmosphere of the swish chalet – in the agreeable marshmallow embrace of our Yumeko natural latex mattress and pillows – was considerably enhanced when I noticed two discreet inbuilt phone charging ports right next to my pillow.
'We have chargers!' I hysterically informed the RRO, but she was already swimming with dolphins.
Due to the fact that it didn't involve firing up the blast furnace, breakfast was an altogether less traumatic experience than dinner. The RRO was happy with the yoghurt and museli option while I am a fully paid up oatmeal addict.
Cooked on the tiny butane burner – which also moonlighted as the tea/coffee maker – porridge made with almond milk and agave, rather than my usual full fat milk and honey, did cause my complacent morning taste buds some momentary consternation, but, hey, if this is what it takes to prevent planet from spontaneous combustion it is a sacrifice I am prepared to make.
'Have you noticed there is absolutely no smell from the toilet?'
'I know. It's like a Black Hole from which nothing escapes. I don't know how they do that.'
Despite, literally, hours spent, literally, slaving over a, literally, hot stove we still had the time for a pleasant two hour amble through the Zwolse Bos to Heerderstrand, a child-friendly beach-fringed lake where hyped-up offspring could have a fine time safely escaping the pent up angst of parents with one-pot cooking and Wi-Fi deficiency on their minds.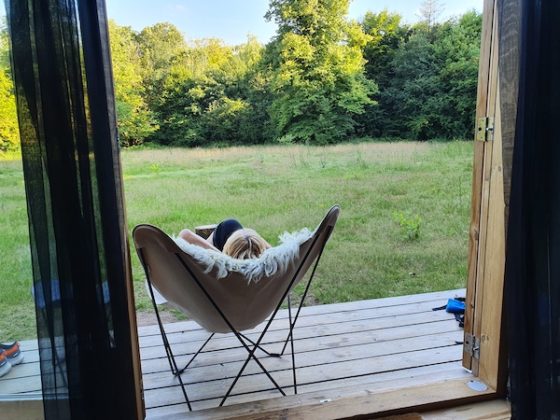 The Zwolse Bos is pockmarked with heathland and stitched up with a myriad confusing trails. Toward the end of our walk back to the hut, old technology – a fold-out 'map' – let us down badly barely 200 metres from home. Google Maps, the Fifth Emergency Service, came riding to our rescue.
The stove heats the water so a shower after dinner is appropriate, if only to get the smoke out of your hair. For one person to have a warm relaxing shower, however, requires the other person to work up a sweat on the hand pump, which then, obviously, necessitated the pumper to have a shower whilst the other person worked up a massive sweat on the hand pump which then, obviously, necessitated…..
We checked out of the hut by leaving the key in the combination-locked safe near the log pile, and on the hike back to civilisation we mused over our eco experience.
'Well, I thought that was ecotastic really. All in all.'
'Yeah it's good. It's well organised. It makes you think.'
'But I still get the distinct idea that going eco is a backward step in man's evolution – relying on wind and sun for power, eating nuts and berries, digging toilets, pumping water. It's not exactly progress is it?'
In Walden: Or a Life in the Woods, Thoreau said: 'I went to the woods because I wished to live deliberately, to front only the essential facts of life, and see if I could not learn what it had to teach, and not, when I came to die, discover that I had not lived.'
Heavy stuff. My own pithy conclusion from our woody weekend is that for all of us to 'front the essential facts of life,' with regard to Planet Earth, is going to be a truly painful experience. Going green is going to hurt. Ask Dutch farmers currently camped out on a motorway near you. We've soiled our nest and the way things are going we don't seem too inclined to clean it up anytime soon.
Now if you'll excuse me, there is something wrong with our wifi signal. Dammit.
What you need to know
Cabiner (www.cabiner.com) have cabins in five areas of the Netherlands: National Park Drentsche Aa, Nationaal Park Sallandse Heuvelrug, Basecamp Noord Veluwe, Nationaal Park Dwingelderveld & Ruinen, and Amsterdam Noord Cabiner Lab.
Price is dependent on time of year and time of week. As a rough guide, expect to pay between €300-€400 for two people for two nights with food.
Note that our cabin in Noord Veluwe is only 20 mins walk from the nearest car park, but the others are further away – about 4-7 kilometres, entailing walks of 1-2 hours which cannot be done in the dark. Check-in time, 3pm; check out time, 11am
Thank you for donating to DutchNews.nl.
We could not provide the Dutch News service, and keep it free of charge, without the generous support of our readers. Your donations allow us to report on issues you tell us matter, and provide you with a summary of the most important Dutch news each day.
Make a donation