'Zwarte Piet is not an exception' – the long history of racism in NL at last on show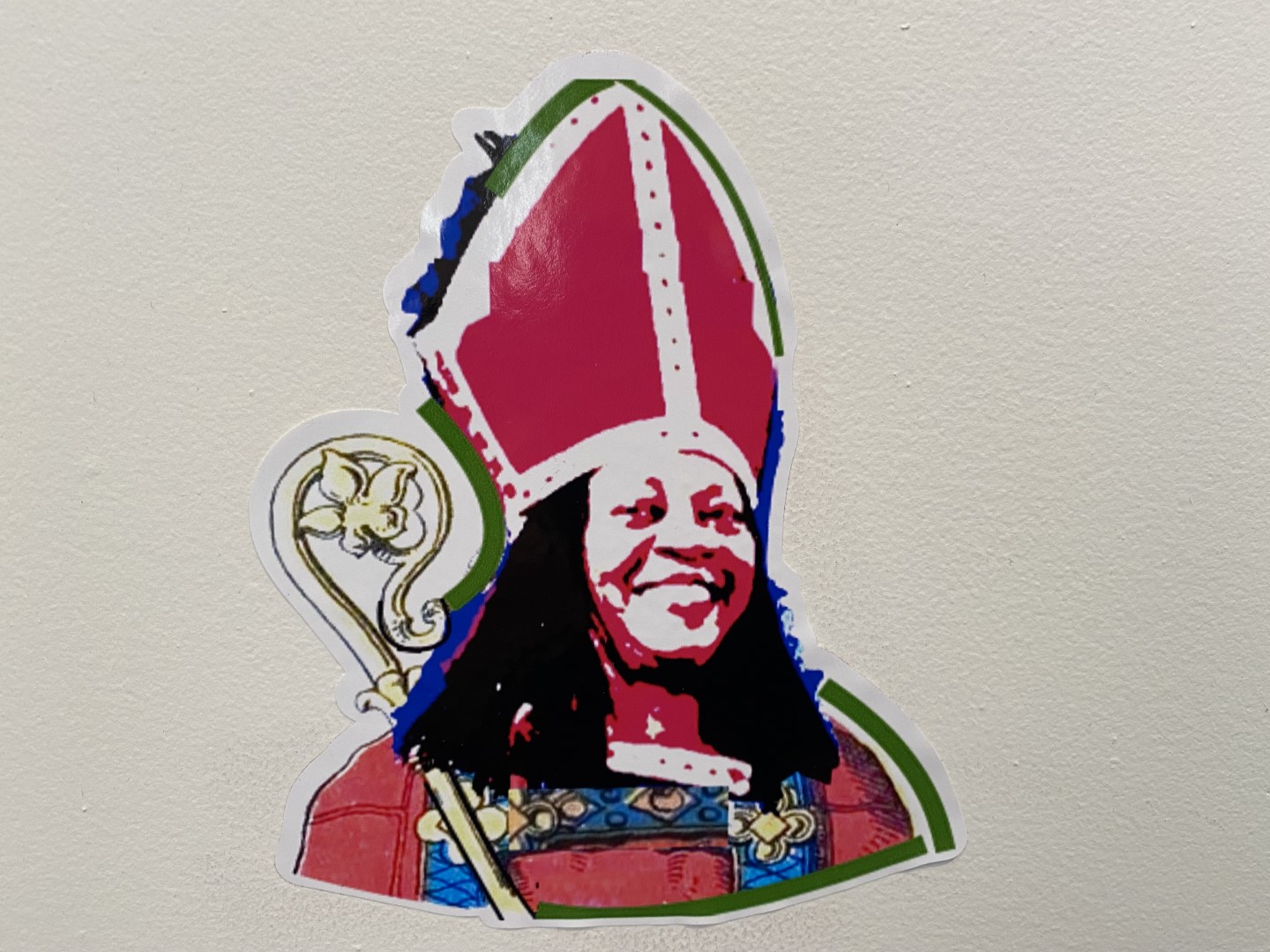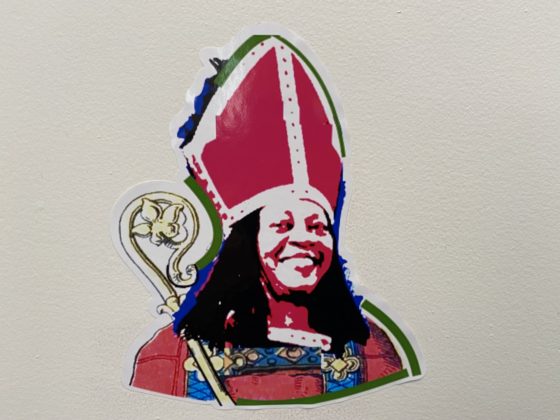 From grotesque caricatures in children's books to artwork depicting Sinterklaas as a woman of colour, a new exhibition in Amsterdam explores the depiction of black people in Dutch society and the ongoing battle for self-definition.
Mitchell Esajas is driving in his car from the Black Archives on Amsterdam's Zeeburgerdijk, which he co-founded in 2015, to an appointment he has across town. The monumental building soon disappears from his rear-view mirror, but the whole city stretching ahead of him is a repository of black history. 'As I'm driving, I'm driving past the Camperstraat in the East,' he says, squeezing a telephone interview into his busy schedule as he manoeuvres through traffic.
Engrained
'I just passed the Linaeusstraat, near the Vrolikstraat. All of these street names are names of scientists who were part of the formerly-called 'enlightenment', but who also developed racial theories in the 17th and 18th century … that contributed to a system of racial classification in which black people were seen as inferior,' he explains. 'Throughout time, these ideas about race became so engrained in Dutch popular culture that it became normalised.'
The Black Archives' latest exhibition, Facing Blackness – visual representations of black people and their history of resistance, which Esajas co-curated with Jessica de Abreu and Raul Balai, aims 'to contribute to a broader understanding of how race was constructed and created historically', he says.
Visitors learn how the concept of race and the portrayal of black people through a colonial lens became part of mainstream culture and that the fight to self-represent goes back centuries.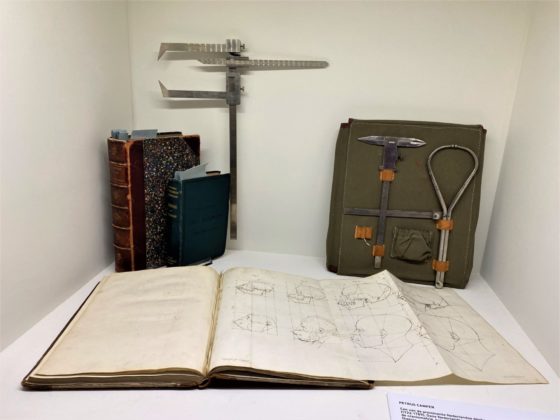 Representation and resistance
Delayed by Covid, Facing Blackness was intended to open in 2021 to mark the 10-year anniversary of the Zwarte Piet is Racisme (Black Peter is Racism) campaign, which was the catalyst for a new social movement against racism in the Netherlands.
The exhibition displays a range of black imagery, from uplifting artworks by contemporary black artists to the commodification of black identity to sell products from the Dutch colonies such as coffee and chocolate.
Triggering
De Abreu, co-founder of the Black Archives, spoke at the press preview about the challenge of working with the images 'in a responsible manner without reproducing the harm they do'. It was decided, for example, that the explanatory texts (in Dutch and English) would avoid repeating offensive terminology, and that many of the artefacts would be below eye level or tucked away in drawers.
The team wanted to avoid 'a sort of slap in the face', adds artist Raul Balai as he guides the first visitors through the exhibits. For this reason, rather than swamp the two main rooms with triggering images, the exhibition is structured around five miniature rooms, handmade by Balai, which we are invited to peer into and which  represent different aspects of Dutch society − intricate dolls houses containing artefacts that show how constructed ideas about race have become unquestioned features of our everyday life.
It was a peculiar task to create little rooms that were as racist as possible, jokes Balai, but the exhibition's intention was never to demoralise people. 'That's why we let the resistance theme dominate,' he says. '[If you like], you can also just look at the artwork.'
Children
One of Balai's rooms is a nursery. 'Items for children make up the greatest share of the archives' collection,' he explains, stressing the educational role these stereotypes play, and how the images are internalised from a very young age.
Another room is anthropologist Petrus Camper's study, next to which we see the drawings he made portraying black people as the missing link between humans and apes. 'People really thought that by measuring one skull you could determine their intelligence, and that certain races were less intelligent than others,' Esajas told Dutch News.
'It's ridiculous, in my eyes,' he continues. 'You can get angry, you can become emotional, but for me, because I understand it in a historical context, I [just] see it as the delusion of white people in those days.'
Still in circulation
In the apothecary section, soap marketed as washing black people white sits alongside Zwarte Piet hairclips and bath products still sold on the Dutch high street. 'Even though I work with these materials on a daily basis, and I've studied them as an anthropologist, it continues to surprise me how much of these everyday objects are still in circulation,' says Esajas.
Despite the offensive nature of many of these artefacts, peaceful protests against racist representation, particularly regarding the controversial Zwarte Piet (Black Peter) figure and the use of 'blackface' in the Sinterklaas celebrations, have met with strong, sometimes violent, resistance.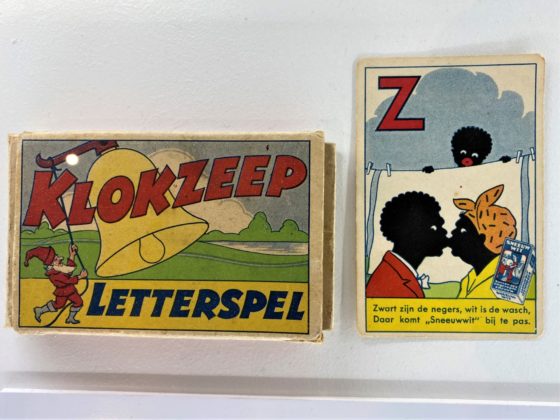 Black Peter
An artwork by the entrance to the exhibition, for example, features the vandalised windscreen of Esajas's car alongside the Zwarte Piet is Racisme hoodie worn by activist Jerry Afriyie (aka poet and rapper Kno'Ledge Cesare) when he was arrested − and later vindicated − for protesting against the Sinterklaas Intocht in Dordrecht in 2011.
'One of the biggest misunderstandings is that by changing Zwarte Piet to Chimney Piet, we've solved the problem,' says Esajas, describing it as 'a very cosmetic solution'. 'I think it's good that it changes, but change should also come with change of heart and a change of awareness and historical understanding,' he says.
Balai agrees. 'People get stuck on the idea that Black Peter is a kind of exception in the stereotyping of black people in a Dutch context,' he comments in a room surrounded by evidence to the contrary.
Facing Blackness – visual representations of black people and their history of resistance is showing at the Black Archives in Amsterdam from 2 April to 23 December 2022.
Visitors are invited to donate materials relating to black stereotyping and black resistance. Information on contributing to the archive can be found here.
The ongoing exhibition Surinamese in the Netherlands: 100 years of emancipation and struggle can be viewed on the first floor.
Thank you for donating to DutchNews.nl.
We could not provide the Dutch News service, and keep it free of charge, without the generous support of our readers. Your donations allow us to report on issues you tell us matter, and provide you with a summary of the most important Dutch news each day.
Make a donation