'A pluffy pillow pleasure island' – Dutch Venice Biennale focus is touch and consent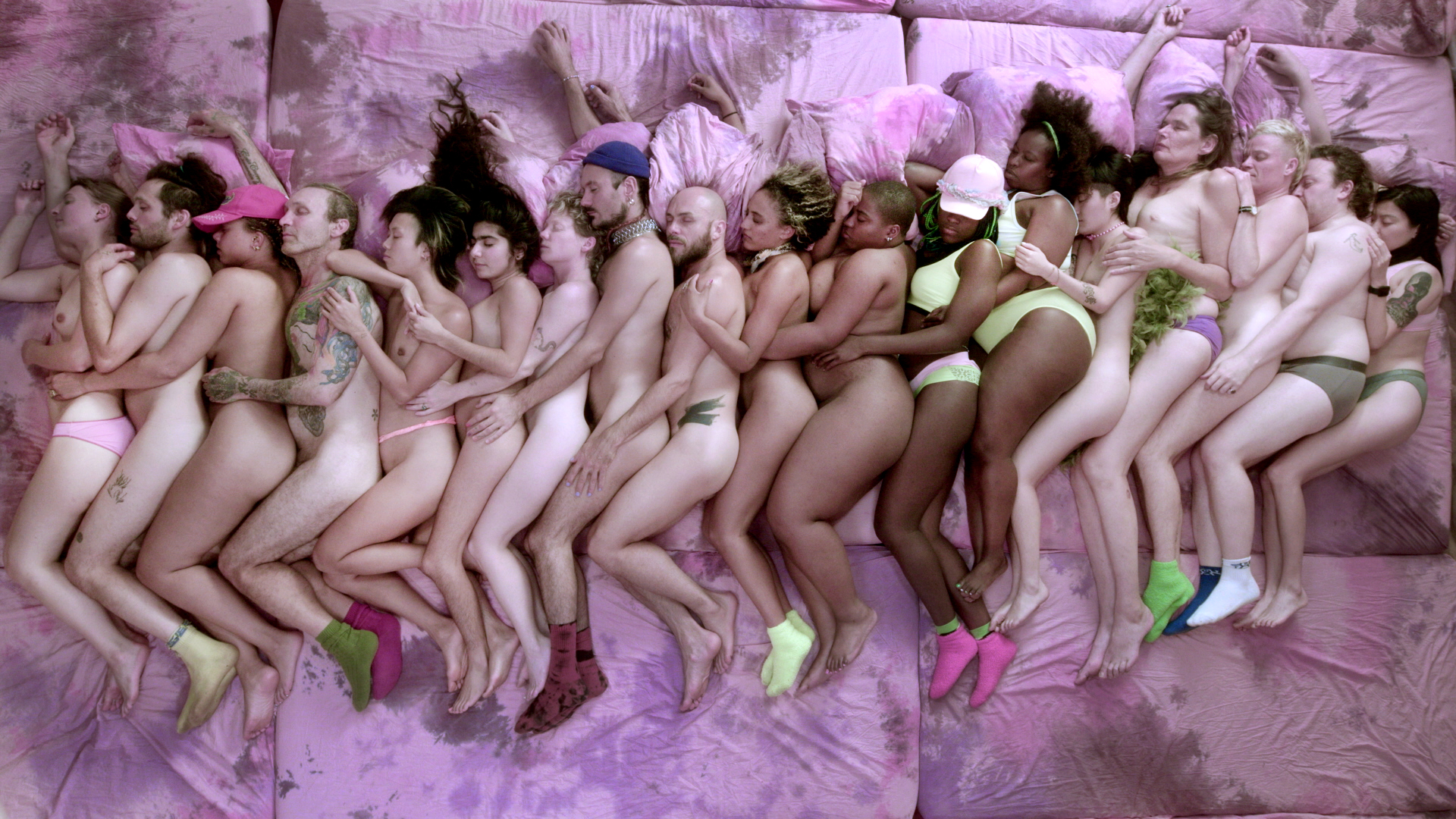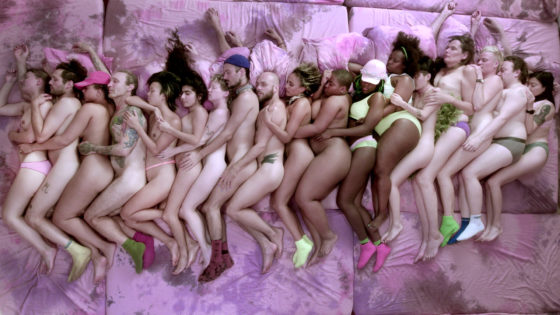 The Venice Biennale, the art world's most anticipated event, opens on 23 April. The Dutch entry, melanie bonajo's whimsical When the body says Yes, is sure to stand out. We meet the artist to find out more.
'I'd just finished somatic sex coaching training and then I got the phone call,' the multidisciplinary artist melanie bonajo (lowercase, they/their) told DutchNews.nl. Being selected by the Mondriaan Fund to represent the Netherlands at the Venice Art Biennale, the world's most prestigious international art exhibition, was, melanie says, 'kind of like a shock'.
Direction change
The 44-year old Limburg-born artist had exhibited at the Stedelijk Museum Amsterdam, The Tate Modern in London, and the Palais de Tokyo in Paris, but in 2020 was focusing on their work as a sexological bodyworker, somatic sex educator, and queer cuddle workshop organiser when they were beckoned back to the highest ranks of the art world.
If you are familiar with melanie's outré back catalogue of playful kink and technicolour pixies, then it will be no surprise that this latest project is likely to shake up the Dutch pavilion.
The seven-month-long Biennale dates back to 1895, but for the event's 59th edition, the Dutch are throwing tradition aside by lending to Estonia their distinguished Rietveld Pavilion, located in the Giardini, the festival's core. Instead, the Dutch entry, When the body says Yes, will exhibit in the Chiesetta della Misericordia, a deconsecrated church in the Cannaregio district.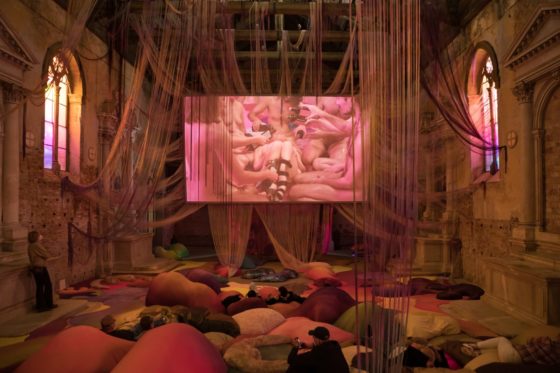 Senses
The church's peripheral location is fitting for this glimpse into an ongoing 'skinship' project operating in the margins, and described by melanie, who identifies as non-binary, as 'an eco-queer eros' and 'a collective spell in the form of a pleasure positive camp'.
The building itself, says melanie, is also in tune with the artwork's aims. 'I feel that the space is really warm; it has these nice stones and we're really working with the light so that when you come in, your senses are already activated and immerge within the space and the messages and the values that we represent.'
Touch
Apt also is the artwork's emphasis on touch and intimacy, given the restricted physical contact and isolation endured during the pandemic. 'Loneliness is a pain that is physically experienced and often we don't have the tools any more to find connection,' says melanie, who sees touch as an antidote to our increasingly alienating way of life.
'I think that if you are really in tune with the body, you automatically become more empathic,' melanie adds. 'And you won't feel alone any more because you're always connected to your environment, to each other, to the landscape, to animals, because you know what the other is experiencing inside their system.'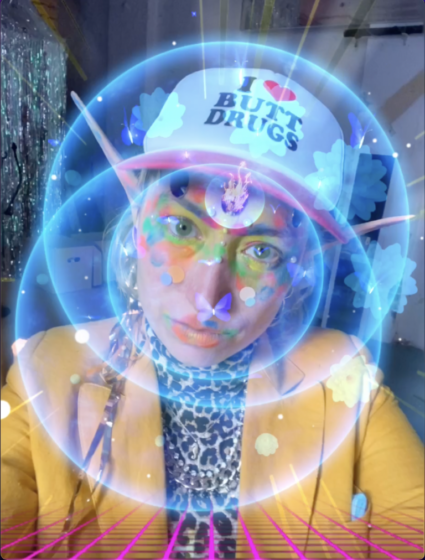 Tactile
The immersive installation is intended as a tactile experience and features video material including a dream-like film that is perhaps best described as a diverse group of partially undressed people with glittery elfin makeup cuddling on a bed while bound with coloured tape.
The space is 'about touch' and 'an extension of the movie', explained scenographer Théo Demans, speaking at the press preview at Amsterdam's Eye Museum in March. 'It's a landscape that takes you into a journey, like the movie. [There's] lots of high contrast. Lots of textures.'
While galleries have traditionally forced a distance between the visitor and the artworks, When the body says Yes invites the reverse. 'It's to be touched and massaged,' added co-curator Orlando Maaike Gouwenberg. 'You'll be totally surrounded by it.'
A pluffy pillow pleasure island
Melanie describes the installation as 'a pluffy pillow pleasure island'. 'You're not sitting on a chair; you need to engage your body in a different way inside the space,' melanie says. 'There are all these pillows and cushions that are loosely based on the vulva or the clitoris, and it's just a way to crawl around.'
The exhibition disrupts a long-standing hierarchy within western society that privileges brain over body, explains melanie, and encourages visitors to 'think through touch'. Participants are given permission to be curious and playful, and allow themselves to be guided by whether their body says yes or no.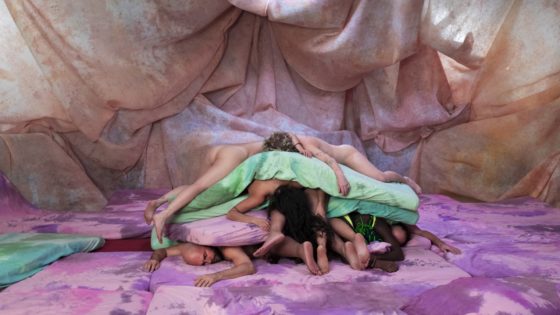 Softness
The work is also about consent and acknowledging what you feel comfortable with in order to 'bring the body back into a state of self-regulation and agency', explains melanie. 'It's so difficult for a lot of people … Women cannot say no because society all the time tells you subliminal messages that you just need to be in service of men … [and] men have internalised that it's OK to take from another body, that it's OK to take from all kinds of situations.'
Above all, what would the artist like visitors to take away from the installation? 'Softness', 'slowing down' and 'kindness', says melanie. 'And the potential beauty of connection that is possible between people when we feel safe.'
Thank you for donating to DutchNews.nl.
We could not provide the Dutch News service, and keep it free of charge, without the generous support of our readers. Your donations allow us to report on issues you tell us matter, and provide you with a summary of the most important Dutch news each day.
Make a donation