Cruel, ruinous, unjust, uniting: an eyewitness report on the first month of the Russo-Ukrainian war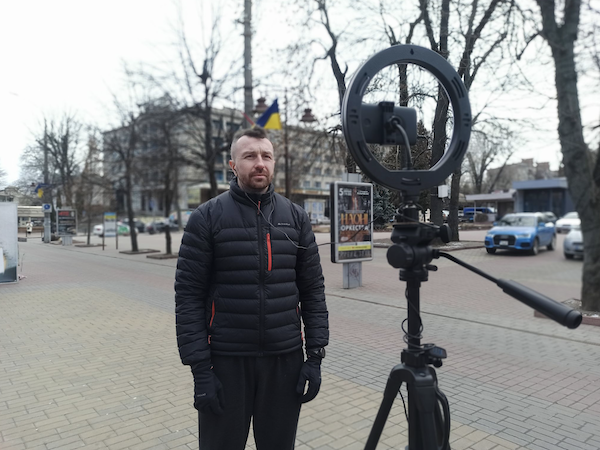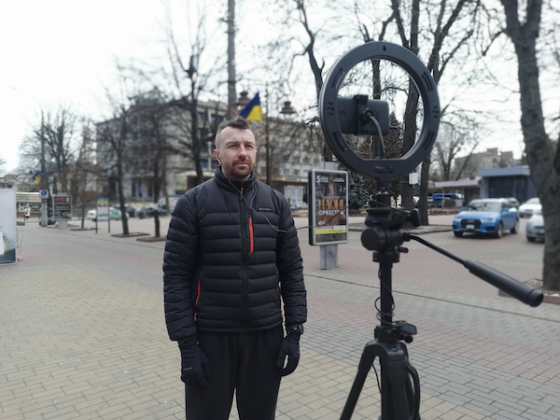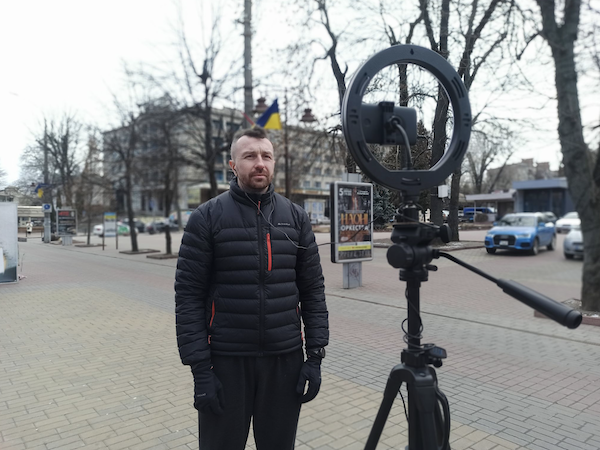 On the morning of February 24, as the Russian military attacked Ukraine, Groningen-based tech journalist and podcaster Andrii Degeler was on a train to Kharkiv. Now back home with his wife and child, he reflects on the first month of the war, which he experienced first hand.

I spent the first morning of the war in the city of Kharkiv, the place where I was born and raised but haven't lived for 15 years. Two days prior to that, I drove my mother out of Kharkiv to the relatively quiet city of Khmelnytskyi, in the western part of Ukraine.
On the afternoon of February 24, I picked up my sister-in-law and we left Kharkiv together. The train we took was half empty, nothing like the evacuation trains that departed in the days to come where there was not enough space for everyone who wanted to leave.
The next day I joined my mother in Khmelnytskyi again, with little understanding of what to expect, what to do, and whether I'd be able to see the rest of my family in Groningen any time soon.
The new reality
From the first day of the war, pretty much every Ukrainian has been starting and ending the day with the news. Traditional media, social networks, and Telegram channels are delivering a constant stream of updates, every day, every hour, every minute. Following them religiously may create a feeling of being in control, but it also makes you increasingly anxious as you become overwhelmed by the sheer number of updates.
It also creates a very bizarre feeling for someone like myself, staying in a city that looks almost peaceful, almost normal, save for the military patrols and volunteer centres. You know the war is really near – the closest bombing happened just 40 km from the city — and yet the fighting and shelling haven't touched you directly, you only see it in the news or hear about it from people evacuated to Khmelnytskyi from other places.
A reliably reminder of the closeness of war is the sound of the air raid sirens. We rarely heard them in the first days of the war, but later on, a night would rarely pass without at least one alarm.
I saw many people ignoring them, but for us living on the 10th floor it wasn't an option. So, day or night, we had to put our warm clothes on, pack up the most important documents, and move to the car park under our building that had become an improvised shelter. Spending a few hours there left you chilled to the bone — but hey, at least we had chairs and half-decent Wi-Fi.
It would have been infinitely harder for me to stay sane if not for the presence of  my old friends, a couple from Kharkiv who also evacuated with their elderly parents in the first days of the war. Having settled in Khmelnytskyi already, I had been able to help them find a place to stay just five minutes from my flat. Since then, we  spent every evening — from after I finished work and until the curfew started — together, at their place or ours.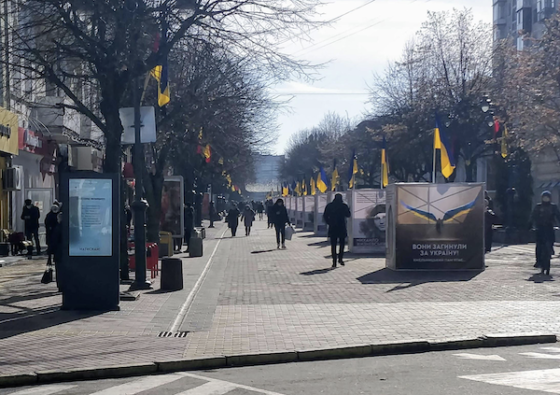 I work therefore I am
There are many things one may feel in the situation I was in — but I mostly felt useless. The day after returning to Khmelnytskyi, I tweeted about looking for journalistic assignments — after all, I did study journalism for several years, even though I've spent the last 10 years writing and podcasting about technology and startups in Europe.
As I waited for responses to that tweet, I had an idea of creating a script that could be added to any website to show a special pop-up banner to anyone visiting from a Russian IP address. (Back then, I still thought it would change things if more people in Russia really understood what was going on in Ukraine — I don't harbour that illusion anymore.)
I can barely code, but luckily I know people who are good at it — so within a couple of days my old friend and former Groninger Oleksandr and I had the project up and running. The banner has been shown more than 300,000 times in the first two weeks of its work.
In the meantime, I had started working on something I would never imagine myself doing: CNA, the public TV station in Singapore, asked me to appear regularly on their news broadcasts to provide updates on the situation in Ukraine.
In the first three weeks of March, I filed one package on how volunteers are working in Khmelnytskyi and did 40 live crossings in total. For most of them, I stood on the main pedestrian street of the city, right next to the memorial installation for the people killed during the Revolution of Dignity and the Russo-Ukrainian war — the war that started in 2014.
It's probably worth mentioning that I came to Ukraine totally unprepared and without any official press credentials, which led to somewhat predictable consequences. Within the first week of working for CNA, I was taken to the police station twice — once in Khmelnytskyi, and once in Lviv where I went to actually pick up a press card sent to me from the Netherlands. Both times it took about two hours of explanations and checks before I was free to go — but I expected nothing else in a country at war.
At some point, I talked to another journalist who wanted to interview me about the work I was doing, and she asked whether I was able to distance myself from the stream of news at least once in a while to gain some mental stability.
As I was thinking about it, I realised that the only times I did detach from the war a bit was when I did my reporting. Interestingly, talking about the war in my country of origin from a journalistic perspective ended up supporting my sanity.
The journey back
After the war had started, the Ukrainian authorities launched the general mobilisation, which meant — among other things — that men between 18 and 60 years old couldn't leave the country, with a few exceptions. So, as a Ukrainian citizen, I was mentally prepared to stay in Khmelnytskyi for many more weeks and keep reporting, although I missed my wife, my child, and my home enormously.
However, in mid-March the Ukrainian government added new exceptions to the border crossing regulations, one of which covered my mother and me. A couple of days after reading about the changes, we packed our stuff and drove five hours to the border — only to be turned back by the border guards, who apparently didn't receive the information about the new rules.
It was too late that night to go back to Khmelnytskyi, as there was no chance we would have made it before the curfew started. We ended up spending the night in a hotel in a small town not far from the border, and returned to our temporary place the next day. After a few more days of work, air raid alerts, and calls to the border guard service, we tried again — this time successfully.
Another nine hours of driving along with so many other cars with Ukrainian licence plates, a night spent in a hotel next to the Polish-German border, and then six more hours in the car — and we're home in Groningen. A trip that initially felt like an overreaction and was supposed to take a week or two, ended up month-long, almost to the day.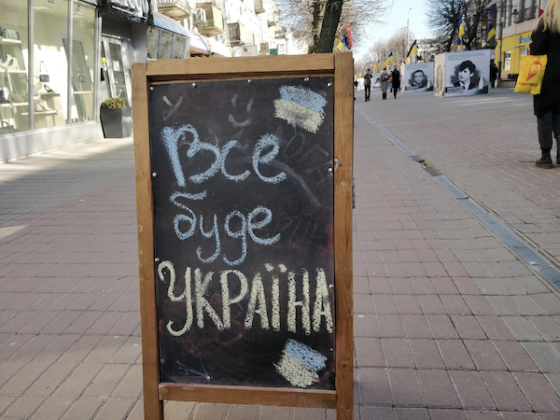 The time of unity
While I had been dealing with my — admittedly small — problems, Ukraine as a whole was going through an unimaginable horror of an all-out war. A war in which Russia bombs civilian targets, kills women and children, and shoots journalists. A war where the entire city of Mariupol is taken hostage by the Russian army, which then methodically destroys it, together with everyone inside.
At the same time, this shared experience has already united tens of millions of people across the country and beyond, welded them together as a nation. No one on the outside had predicted that Ukraine could keep repelling the Russian invasion for this long; no one thought Kyiv would be still standing strong after a month of almost continuous attacks.
Many cities in the war zone — including my native Kharkiv — are in a humanitarian catastrophe with people spending most of their time in bomb shelters. Even more cities that haven't been heavily damaged are nearing their capacity in housing and supporting internally displaced people. Tens of thousands of volunteers are working hundred-hour weeks fundraising, purchasing goods and equipment, organising logistics, meeting and helping people in need.
I look at the photos in the news feeds. I watch the videos. I'm happy to be back in Groningen. I feel bad about leaving. I'm trying to help and support, even if only a little bit, my friends and extended family scattered across Ukraine and Europe.
Same as every other Ukrainian, wherever they may be, I'm trying to live this new wartime life in a reality that changed forever on February 24, 2022.
Thank you for donating to DutchNews.nl.
We could not provide the Dutch News service, and keep it free of charge, without the generous support of our readers. Your donations allow us to report on issues you tell us matter, and provide you with a summary of the most important Dutch news each day.
Make a donation