Amsterdam election: a neck and neck race between GroenLinks and D66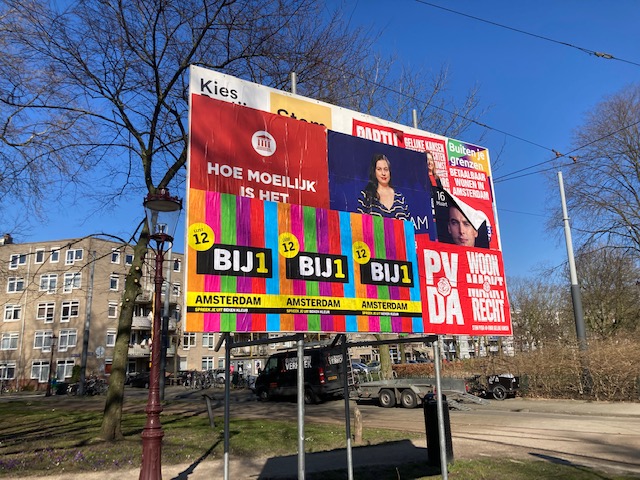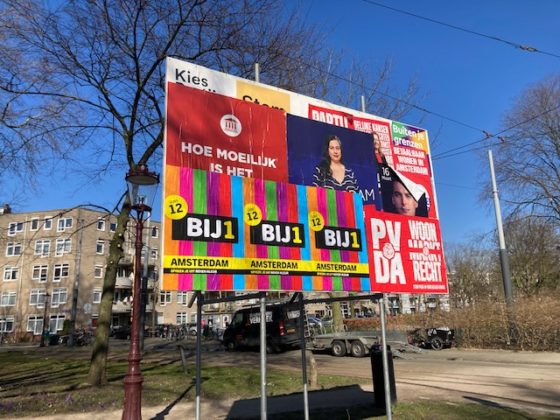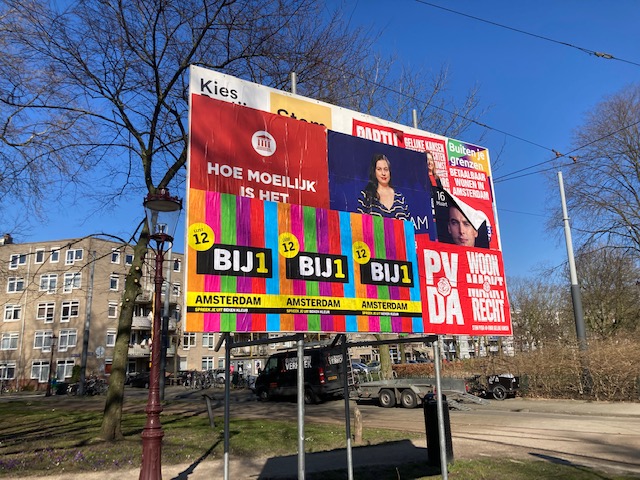 DutchNews.nl is publishing 10 articles focusing on the 10 cities where most international residents live in the run up to the local elections in March. Part 8: Amsterdam.
If the opinion polls are clear on anything in Amsterdam, it is that there is a neck and neck race between GroenLinks and D66 for control of the capital.
Research for the parties themselves, ICAP internationals group and I&O all indicate that the parties who form the backbone of the current coalition are vying for top spot. The smaller parties, meanwhile, are waiting in the wings for the cabinet formation process.
'We've worked well together but we disagree on a lot of things,' says GroenLinks leader Rutger Groot Wassink. 'If you look at housing, for example, we focus more on affordable housing than D66. We've built 29,000 homes in the past four years, but that is not enough.'
As in the rest of the Netherlands, housing is the big issue in Amsterdam. Waiting lists for social housing now top 13 years and private landlords have been quick to snap up some of what comes on the market and turn it into top-tier housing and short stay holiday homes, often with extortionate rents.
City officials have admitted they don't know how much housing in the city is empty, even though landlords are supposed to register it if a property is vacant for more than six months, but research suggests it could be around 4,000 homes.
The outgoing coalition is now working on plans which will allow it to force landlords to rent out their property for a reasonable rent if it is left empty for too long without good reason.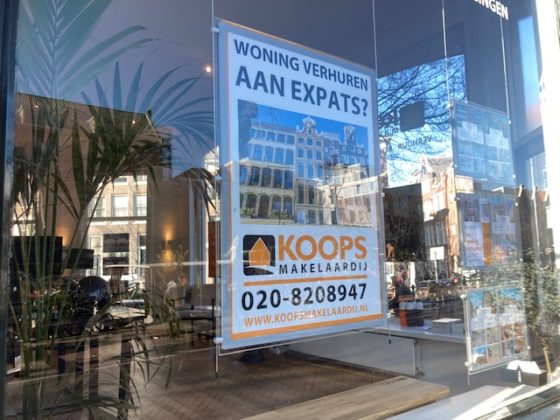 The city's socialist housing chief Laurens Ivens, ousted last year in a sexual harassment scandal, also brought in strict rules governing holiday letting and introduced licensing and rental contracts for flat sharing – a measure which pushed hundreds of youngsters who share homes into illegality.
'One the one hand, you have to deal with property speculators, on the other hand you want to make things possible,' says Groot Wassink. 'And I am willing to look at those [flat sharing] rules again. I do think if you rent somewhere, that you should be protected.'
Like most parties, D66 too is focusing on affordable housing, but also says it wants to do more to encourage older people to move into smaller, more suitable homes, freeing up larger properties for families. To make this possible, the party is thinking of offering seniors a €10,000 incentive to move as well as help with the practicalities.
'Of course, nobody has to move: it would always be free choice,' says local campaign leader Reinier van Dantzig. 'But our research shows us lots of seniors would be willing to downsize.'
Buy to let
The city is also trying to stop landlords buying up cheaper property to rent out, and introducing a 'live-in' requirement for everyone buying a newly built property – again, with the aim of dissuading private landlords. The current coalition partners all support bringing in some form of rent control for housing outside the traditional social sector.
'We don't need any more expensive rental properties,' Ivens's SP replacement Jakob Wedemeijer told the Parool. 'We have a major shortage of affordable homes.'
Housing – both to buy and to rent – may be the dominant issue in Amsterdam, but the surprise number two in a recent survey by the International Community Advisory Platform (ICAP) was the city's garbage problem, which has been made worse by the coronavirus pandemic and surge in online shopping.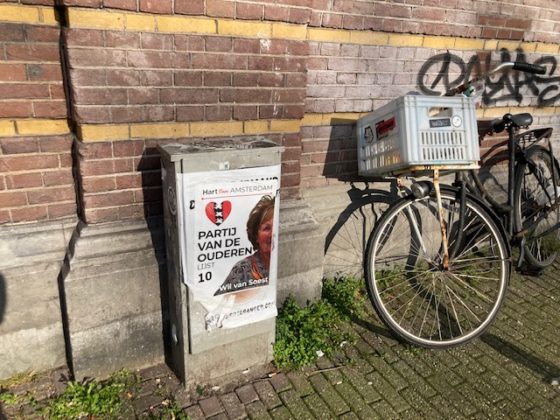 It is a problem which both D66 and GroenLinks recognise. Both parties point to staff shortages as one reason for the piles of rubbish on many city streets. Both also highlight the 20,000 fines handed out last year for dumping garbage next to bins.
Both also support pressing ahead with plans to erect 17 wind turbines within the city boundaries, even though the government is currently drawing up new rules to cover turbine noise pollution and other issues.
Other notable Amsterdam issues include the red light district and what city centre dwellers see as over-tourism. Research is under way into eight potential new locations to set up an erotic centre, so that most of the red light windows can be closed.
Measures are also being introduced to bring in a 'better class of tourist', such as possibly limiting access to cannabis cafes to locals – a national law enforced elsewhere in the Netherlands. In January, for example, the city council bought nine buildings in the red light district from tourist company Tours & Tickets, and as leases expire, snack bars and souvenir shops will be phased out in favour of shops with a wider appeal.
Flower market
The city's mayor Femke Halsema has also said that officials will take a decision about what to do about the flower market on the Singel this year. Once a place where growers sold their blooms, the market is now a row of tourist shops selling the odd flower bulb. 'It is a place the Dutch no longer visit and that has to change,' Halsema said.
The city is also grappling with its collapsing canal walls – kilometres of which need replacing in the city city centre – and the lack of cash to pay for it. Plans to phase out natural gas for heating and cooking more quickly than the national government also threaten to strand for a variety of reasons, funding being one.
At the same time, red tape and inefficient bureaucracy have created their own problems. Earlier this year, city council ombudsman published a damning report on the way the council deals with residents' complaints, pointing out in Amsterdam's own newspaper that 'the government should not play the boss over the people'.
In all, there is plenty for the next administration to get its teeth into. 'Amsterdam,' says Groot Wassink, faces major challenges: 'the housing market, climate crisis, inequality and how we deal with each other.'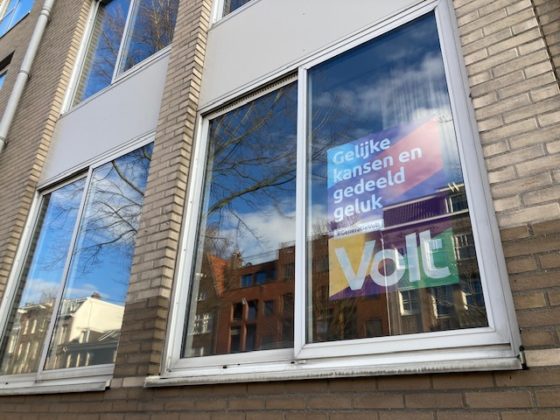 Reinier van Dantzig agrees about the main issues facing Amsterdam, but says he wants to see more practical measures being taken.
'I am a practical politician,' he says. 'Symbols, talks about the doughnut economy, these things don't resonate with me. I am really ambitious when it comes to climate change and stopping the city drowning. But we also have to make sure the basics are in order as well.'
Coalition 
Support for D66 is up slightly in Amsterdam at 16.7%, according to last week's I&O poll, while GroenLinks has lost four percentage points and is on 16.3%.
Meanwhile, the Labour party (PvdA), which has been part of most administrations post-WWII, is currently polling around 12%, up by more than a percentage point since 2018. Some of its appeal is down to figures like education chief Marjolein Moorman, who is considered both popular and competent.
Support for the VVD, by contrast, has shrunk from 11.4% to 7.8%. The party is, nevertheless, hoping to be back in the city administration after a four-year hiatus, pitching itself as an economically liberal party that can knock some of the left-wing edges off city policy.
'We want to keep the middle class,' says Kune Bergers, number two on the VVD list. 'For a start, we want to guarantee the safety of Amsterdammers as much as possible. Amsterdam is the least safe local council area in the Netherlands and that has to change.
'That is why we want a new alderman for safety. We are focusing on preventive stop and search, camera surveillance and want to double the number of council wardens.' The party is also keen to introduce extra measures for youngsters who may be tempted into petty crime, offering instead education and internships. This, said Bergers, will 'ensure equal opportunities in all neighbourhoods, for all Amsterdammers.'
The pro-animal PvdD is in fourth place in last week's I&O poll, on 8%. Pan-European newcomer Volt, the Socialists and radical left group BIJ1 are in the next tier down (6%), although Volt's support has shrunk since a scandal around allegedly unacceptable behaviour by its number two MP, Nilüfer Gundoğan.
Opposition
By contrast, the far right has never gained much ground in Amsterdam. In 2018, Forum voor Democratie won a surprise three seats on the 45-seat council, but two of the councillors quit when the party split over revelations of anti-Semitism in its youth wing and formed their own breakaway group, JA21.
JA21's Annabelle Nanninga, who is also a senator and provincial councillor, has proved a thorn in the side of the established order in Amsterdam since her election as have other small parties such as the PvdD and Party for Older People (PvdO).
Van Dantzig says Forum is the only party D66 would rule out as a coalition partner. 'D66 is a centre party, although I think those concepts of left and right are outdated,' he says. 'What is important to me is: can we build enough houses, are parties committed to solving climate change, do they realise that everything starts with education? Then, we can make it work.'
The I&O poll also revealed that some 15% of Amsterdammers are still undecided who to vote for. With 25 parties competing, and such narrow margins between them, anything can happen.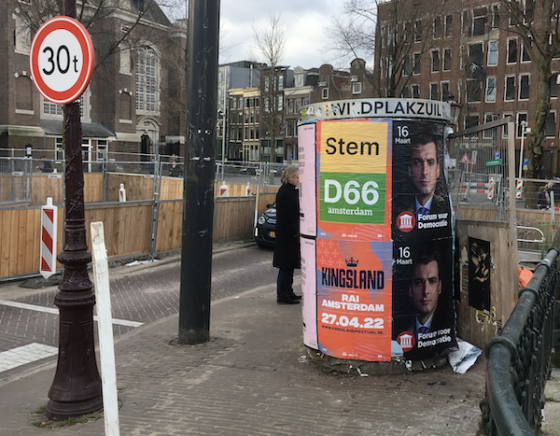 Key information

Current council executive:  GroenLinks, D66 PvdA, SP
Current council make-up
GroenLinks (10), D66 (8), VVD (6), PvdA (5), PvdD, (3), SP (2), DENK (2), JA21 (2), CDA (1), BIJ1 (1), ChristenUnie (1), Partij van de Ouderen (1), FvD (1), NIDA (1), Democratisch Socialisten Amsterdam (1)
New parties participating
GO, NL met een Plan, Volt, LEF, Hart Voor Vrijheid, De Republikeinse Politieke Partij, ST3M, 50PLUS, SGP, De FEESTPARTIJ, BVNL
Total number of voters: 688,575
Number of international voters: 100,000 (15%)
Local election information in English
Municipality website
GroenLinks
D66
VVD
PvdA
PvdD (national website):
BIJ1 (national website)
GO
NL met een Plan
Volt
LEF: (national website)
Democratische Socialisten Amsterdam
Upcoming events for internationals
Wednesday, March 9 19:00 – 23:00 Election Special event with GroenLinks, D66, PvdA, Volt and VVD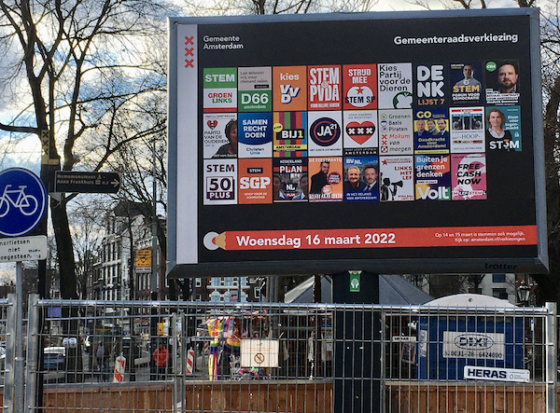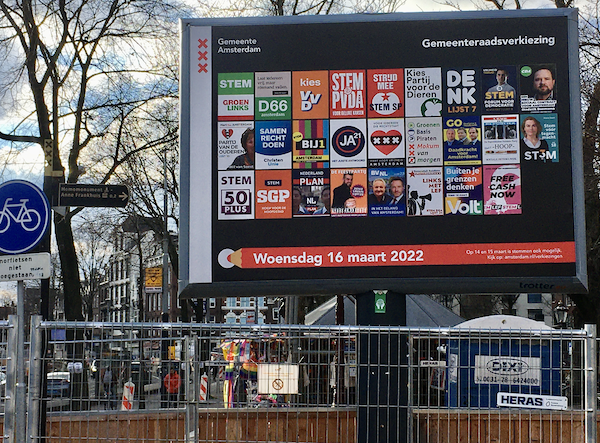 District committees
In Amsterdam, you will also receive a stempas (voting card) to vote in the elections for seven neighbourhood committees. These are committees which carry out local initiatives and control some zoning and other plans with limited budgets. Find out more. Note, 16 and 17 year-olds can also vote for the district committees.
Residents of Weesp are also voting for a new district committee, now the town has been incorporated into the official Amsterdam area.
Additional reporting by Jan Douwe Krist.
This article was made possible by a donation from Stichting Democratie & Media.
Thank you for donating to DutchNews.nl.
We could not provide the Dutch News service, and keep it free of charge, without the generous support of our readers. Your donations allow us to report on issues you tell us matter, and provide you with a summary of the most important Dutch news each day.
Make a donation