Caroline van der Plas: unrest that drove farmers' protests has not gone away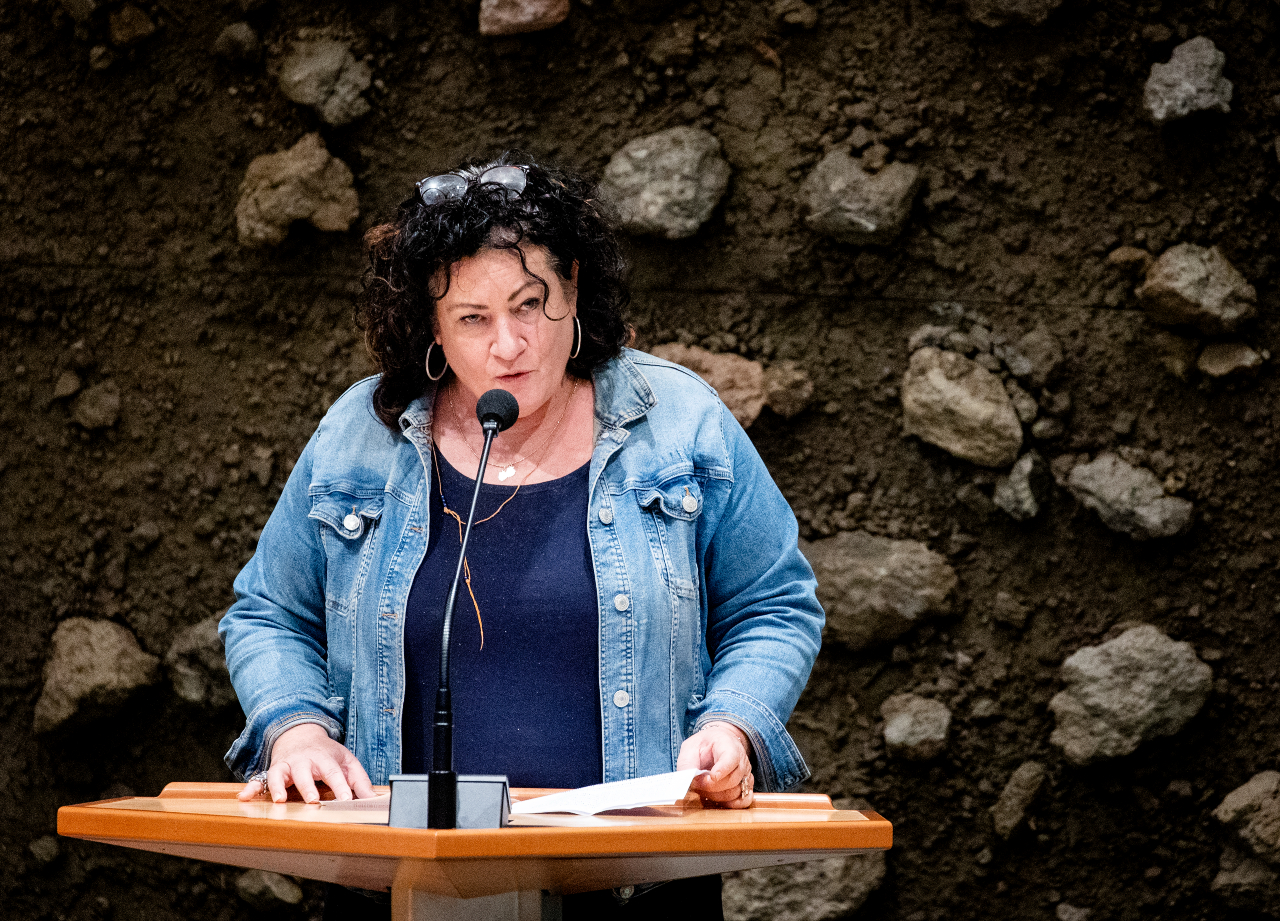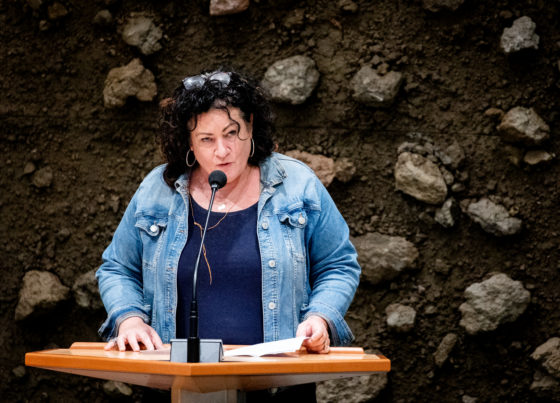 As if the Dutch political landscape wasn't enough of a hutspot, the election last March added four new ingredients to the parliamentary pot-pourri, taking the total number of parties to 17. Perhaps the most unexpected newcomer was the Farmer-Citizen Movement (BBB), led by former agriculture journalist Caroline van der Plas.
BBB was founded two years earlier and only appeared on pollsters' radar near the end of the election campaign: the poll of polls run by Leiden University political scientist Tom Louwerse first included the BBB on March 16, the eve of the election. But since the 54-year-old Van der Plas won her seat, taking 1% of the vote, the party has been on an upward curve and is currently projected to win between 6 and 10 seats.
The breakthrough came as a surprise to many pundits, but not to Van der Plas. 'I said from the start: we'll win one seat at least, no question. Maybe two or three. I never doubted it. What is remarkable is the way it's gone ballistic since we got into parliament eight or nine months ago.'
Van der Plas's frequent appearances on TV talk shows have prompted accusations that her media profile is out of proportion to her presence in parliament, but she says her success is down to her ability to connect with people.
'I've seen for a long time how much anger there is outside the four big cities at the way The Hague leaves the countryside in the lurch,' she says. 'People outside the cities ask: who's speaking up for us? I speak up for the welders and lorry drivers too. In the Netherlands 70% to 80% of people have a vocational education, but the policies are made by university graduates.'
The emergence of the BBB is closely linked to the protests that began in October 2019, when thousands of farmers jammed the roads and descended on to The Hague to vent their frustration at the government's proposals to cut nitrogen pollution. The Council of State had ruled a few months earlier that current pollution levels were in breach of the Netherlands' obligation under EU rules to protect conservation zones. The final straw was a suggestion by liberal coalition party D66 that the number of farm animals in the country should be cut by half.
Tractor protests
Tractors became a common sight in city centres over the next six months. Farmers disputed the conclusion of the government's research environmental institute RIVM that the agriculture sector was responsible for 46% of nitrogen pollution. The organisation Farmers Defence Force (FDF) picketed provincial assemblies, demanding they tear up their nitrogen regulations.
The Malieveld in The Hague became a rallying point for tractors emblazoned with slogans such as 'no farmers, no food'. The rhetoric became increasingly shrill. FDF spokesman Mark van den Oever was criticised for saying: 'when there are no farmers left, don't say "wir haben es nicht gewusst"' – a German phrase used after the Second World War by those who claimed to have been unaware that the Jews were being deported.
In some provinces the direct approach paid off: within a few days of the regional protests, Friesland, Drenthe, Overijssel and Gelderland had shelved their plans. But in Groningen the mood turned sour when a tractor forced open the main door of the assembly building, causing €10,000 of damage. LTO Nederland, which organised the protest in the northern city, condemned the destruction as 'unacceptable'.
'Mind your manners'
Van der Plas says the incident in Groningen was seized on as proof that 'militant farmers' were bullying local government into submission, when in general relations were far more cordial. 'At all the other assemblies the farmers were welcomed with open arms, provincial deputies came outside, the king's commissioner came outside, they had coffee and sandwiches and talked to each other. What happened in Groningen was the door stayed shut all day. That led to enormous frustration.
'I disapprove of all forms of violence and vandalism, but it was blown up to the point that I still get e-mails from people saying, "those Farmers Defence guys ram government buildings". It was one door, in Groningen, at an LTO protest.
'I've told farmers so often: listen, mind your manners, because if you overstep the mark once it's an image that will keep coming back for years.' The same goes for comparisons with the Second World War, she says. 'Don't do it. What happened to the Jews is of a totally different order to what is happening with people or animals now.'
She sees parallels with the more recent protests against coronavirus measures. 'There is a lot of unrest and uncertainty in society, which is often about: what's going to happen with me or with my family? Will we still be free to go to the café? Will we be forced to have the vaccine? The questions at the farmers' protests are different, but the worries and the anxiety come from the same place.'
Dual nationality
Van der Plas grew up in Deventer, in Overijssel province. Her father, Wil, was a sports journalist; her mother, Nuala, emigrated from Ireland in 1961 and became a councillor for the Christian Democrat party (CDA). 'I love the down-to-earth culture of Ireland,' she says. 'The countryside, the sense of community, drinking beer and singing in the pub.'
She is mystified by the obsession of other politicians on the right with dual nationality and the implication that someone with two passports has divided loyalties. 'My mother has dual nationality, but she doesn't feel any less Dutch. She's done a huge amount for society, worked hard, been in politics. If people live here, work hard and pay their taxes, they can have 10 passports for all I care.'
The formation of the BBB coincided with the devastating loss of her husband, Jan Gruben, just nine weeks after he was diagnosed with pancreatic cancer. The first farmers' protest, on October 1, 2019, took place three days after his cremation. 'I talked about it with my children. I said, I want to go but I don't know if I should. He was cremated on Saturday and the protest was on Tuesday. It felt strange.
'But they said, if you feel OK doing it you should go. It's what you've always done. And he had said before he died, you have to go on with what you're doing. So I said, if I don't feel right we'll just go home. But it was a great protest and obviously a lot of the people who were there knew my husband had died. It was like being surrounded by 10,000 friends.'
CDA deserters
Jan was aware of her plans to start a political party. 'He said to me: Lien, what are you getting yourself into? You'll have to set it up, deal with the media, where will it end? But he supported the farmers 100% and it's just a pity he didn't get to see its success.'
It is no secret that much of the BBB's support has come from disaffected CDA voters. Historically the party with the strongest rural base, the Christian Democrats won just 15 seats in March and have slumped to around nine in recent polls. Van der Plas was a party member until 2018; her mother served on Deventer council until 1994. 'The CDA was always a sort of anchor for people,' she says. 'Whatever happened, the CDA would always stand firm and fight for the countryside.'
The recently leaked plan by the CDA and the right-wing liberal VVD to buy out farmers reflects how detached the mainstream parties have become from rural communities, Van der Plas says. She favours an 'organic' reduction in farming numbers and stimulating innovation to make the sector more efficient. 'There are lots of farmers now who don't have a successor, so I don't see the sense in forcing cuts on them,' she says. 'If we downsize farming here in the Netherlands, it'll just move to other countries that are less sustainable than we are.
'Every cow we lose here will be replaced by two or three somewhere else in the world. So if we need to reduce CO2, nitrogen, ammonia, let farmers here come up with innovations to make production cleaner. That's what we did with the car industry: we didn't end up with fewer cars, but the cars we have are cleaner.'
Firework ban
The CDA's rural vote melted away when it started trying to appease urban parties such as D66 and GroenLinks, Van der Plas argues. 'The best example at the moment is the firework ban. I know for sure that the CDA thinks it's ridiculous. But they don't dare to say so, because they're scared of what the environmental organisations and the animal rights parties will say. I don't care about that.
'Fireworks are a deeply rooted tradition in the Netherlands. Oliebollen, champagne, a couple of rockets. And especially now, this year, after all these restrictions, so much has been banned, people want a glint of light: at least we can still let off fireworks at New Year. Gezellig. And I'm not afraid to speak up for it.'
That glint of light has been dimmed now that the cabinet has decided to ban New Year fireworks amid another surge in coronavirus cases. The pandemic has exposed structural deficiencies in the healthcare system, says Van der Plas, but the priority now is to prevent the hospitals becoming overwhelmed. She blames ministers for relaxing measures too quickly and spreading false optimism.
Covid errors
'The Covid pass was presented as a freedom pass. [Health minister] Hugo de Jonge went around the last few months in a kind of euphoria, saying now we have the pass you can go to the theatre, the cinema and the bar. Like someone giving a dog a bone. They never said: we need to stick to the basic rules. Other parties warned them about it, but the Covid pass was sacred.'
Rather than expand the access pass to non-essential shops or turn it into a 2G system, excluding the unvaccinated, she wants to scrap it on the grounds that 'it doesn't make sense', even if that means shutting bars and restaurants and compensating them in full. 'The pressure on healthcare needs to come down, full stop.' And the prime minister should cut short the long-running coalition talks to focus on managing the pandemic. '[Mark] Rutte has spent nine months trying to form a new cabinet. He should have said after a few months: we'll live with a minority government, we need to have a cabinet, the crisis needs to be dealt with.'
And once the pressure on hospitals has abated, she expects to see tractors back on the Malieveld before long. The pandemic has overshadowed the farmers' grievances for the time being, but the issue has not gone away, she says. 'They still feel unfairly treated by the agriculture ministry, so it's certainly not over. It wouldn't surprise me to see more protests next year.'
Thank you for donating to DutchNews.nl.
We could not provide the Dutch News service, and keep it free of charge, without the generous support of our readers. Your donations allow us to report on issues you tell us matter, and provide you with a summary of the most important Dutch news each day.
Make a donation