Most Dutch are vaccinated, so why are Covid-19 cases spiking?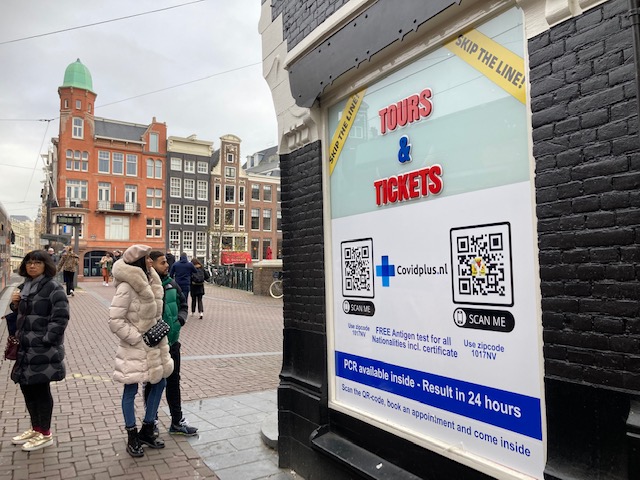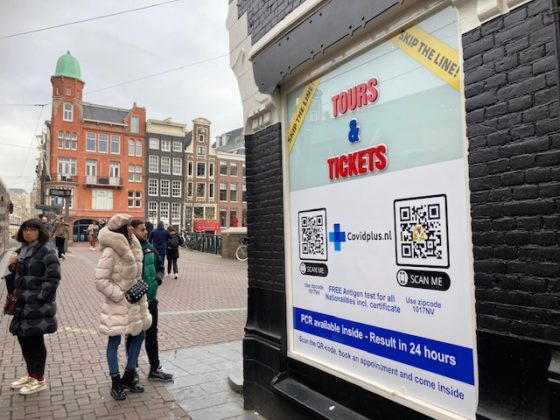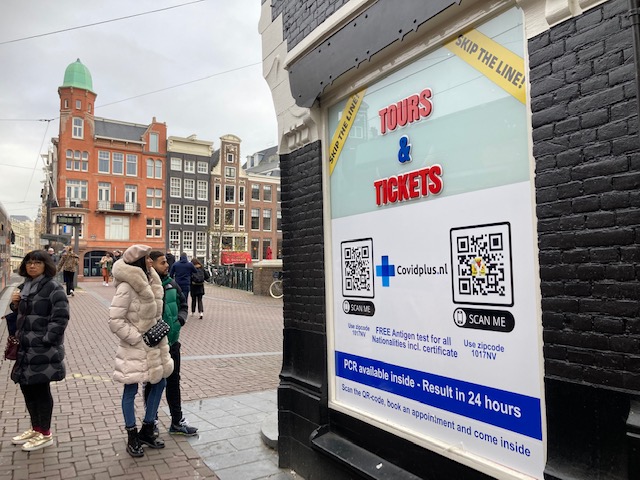 One year and nine months into the Covid crisis and the number of people getting infected has never been worse. Lauren Comiteau has been trying to find out why.
In total, 23,680 cases were reported on Thursday, the fourth day in a row of record-setting case numbers following a week that broke the record for the highest number of new infections (110,000) since the pandemic began.
That's a 44% rise over the week before, and this week's figures have yet to come in. All this in a country where 84.7% of people over the age of 18 are fully vaccinated, and many not so long ago. How can this happen?
For starters, points out Frits Rosendaal, professor of clinical epidemiology at the Leiden University Medical Center, that number doesn't include people under the age of 18. 'Only 72% of the total population is vaccinated,' he says. 'They give the figure for the over-18s because those are the people who may get seriously ill. But children can also be infected and spread the virus. They don't live on islands.'
Indeed, the biggest increase in positive tests over the past week was among children aged 4-12. And Rosendaal says that 10-14 year olds are a big part of the spread. Vaccinations are available to the 12-17 year old crowd, but officials are still considering whether to vaccinate younger children. Rosendaal says that the more than one million 5-12 year olds who are not vaccinated — in a country of some 17.5 million people— should be.
Vaccines are good
Vaccines work, especially when it comes to preventing severe illnesses resulting from Covid-19. The latest data shows that vaccinations are 94% effective in preventing hospital admissions and 97% effective against ICU admission.
The chances of an unvaccinated person ending up in hospital is 17 times higher than for a vaccinated one, and unvaccinated people have a 33 times greater chance of ending up in intensive care units than their vaccinated peers.
But vaccines aren't perfect, and their efficacy decreases over time. Vaccinated people are indeed getting sick and can still be spreaders. And while their chances of ending up in hospital are greatly reduced, their numbers are increasing.
In September, 73% of Covid hospital patients were not (or partially) vaccinated, compared to 27% of vaccinated people. By October, 44% of hospital patients were vaccinated, and the percentage of vaccinated people in ICU almost doubled to 30%.
But as the number of vaccinated people vastly outnumbers the unvaccinated, those who end up in hospital come from a march larger pool, meaning their risk is commensurately smaller.
Protection
Anke Huckriede, professor of vaccinology at the University of Groningen, says that's because our current crop of vaccines—given intramuscularly—don't offer protection in the upper respiratory tract, where the virus enters our bodies. They are good, though, at protecting the lungs and other vital organs, which is why people don't get as sick.
'For the very old, who already have declining immunity, the vaccine does protect against severe disease,' she says. 'But it doesn't protect well against infection, which we were hoping not to see.'
Older people are more likely to end up in hospital, and there has recently been a relatively sharp increase in the number of Covid hospital patients 70 and older. But the ages of Covid patients supports vaccination: the average age of a fully vaccinated Covid-19 patient admitted to hospital is 77, while for the unvaccinated, the median age is 59.
Which is why, say the experts, booster shots are imperative. Under pressure, Dutch officials have moved up their starting date, with those 80 and over getting boosters from Thursday, weeks earlier than planned.
'We need to get more people vaccinated,' says Rosendaal. 'If you look at Israel, it was the earliest country with vaccines, boosters and shots to children. They know how to make decisions in a crisis. We live in a society free of war, which is great. But we like to deliberate about everything, which doesn't work so well in a crisis.'
The unvaccinated
With only some 15% of the adult population unvaccinated, the Dutch have better vaccine uptake than the majority of the world. But even a small percentage of 17.5 million people equals many cases, says Bas van den Putte, professor of health communication at the University of Amsterdam and a member of the scientific advisory board of the RIVM's Corona Behavioural Unit.
'The chances of winning the lottery are low, but someone will win,' he says. 'Same with contracting Covid-19. If you're not vaccinated, your chances of becoming ill are greater. Although winning is losing in this case.'
With more than 1% of the Dutch infectious bumping into an infected person is likely.
It's tempting to blame the anti-vaxxers for the rise in Covid cases. 'But that's too simple,' says Van den Putte. The Netherlands' geography may also have something to do with it. 'We're a small, densely populated country,' says Rosendaal. 'Epidemics like that.'
'We don't even know where the infections are coming from,' says Huckriede. 'If someone is sick in a household, chances are high that a family member got infected that way. But for the catering industry to say that only about 3% of infections come from cafes and the like is clearly an unrealistically low estimate. We just don't know.'
Covid measures be damned
What we do know is that after the summer, virtually all coronavirus prevention measures were scrapped, contributing to the stratospheric rise in cases. 'Keeping social distancing would have helped,' says Huckriede. 'But with the measures gone, people's perception changed quickly, and as vaccinations increased, people thought Covid was over.'
'The less rules, the more risk,' adds Van den Putte, who also points out that government officials relaxed some of the measures more than the Outbreak Management Team advised. And the measures that did remain, like checking QR codes, were largely ignored.
'Italy has the same vaccination rates as we do,' says Rosendaal, 'but they're not seeing an increase in infections. They are more aware of the dangers because their first wave was so bad. If a restaurant doesn't check their QR code, they leave because they don't trust it. Here, we are complacent.'
We also don't have 'real measures, but only strong advice,' he says. 'There was a belief people would follow it, but it's difficult and the government was too optimistic. Sometimes the advice is vague, silly or not strong enough. And with advice, you don't feel you have to follow it.'
Stopping the spread
Both Huckriede and Rosendaal doubt the most recent spate of measures will be enough to curb the virus' spread. 'It's a difficult situation for sure,' Huckriede says.
'We need to take an integrated approach,' says Rosendaal. 'There are no silver bullets.' In addition to getting more people vaccinated, speeding up boosters and offering vaccines to children, he's in favour of a 2G policy, where people need proof of full vaccination or recovery from coronavirus to enter certain establishments.
Huckriede would also give people who received the Janssen vaccine a second shot, as they are more prone to experience breakthrough infections than others.
More people need to work from home, says Rosendaal, and if you closed schools for a week, it would keep large numbers of parents behind their home desks. And all agree the government's messaging must be better—explaining more clearly the risks, the measures and vaccination.
When will Covid end?
Unfortunately, the experts seem to agree: never. But that doesn't mean we can't learn to live with it. Over time, with enough vaccinations and enough immunity through having come out the other side of a Covid infection, it will likely morph into a harmless flu for the majority, like the Spanish flu. Or enough people will have had it that we've become immune.
'It's unlikely we'll ever have herd immunity,' says Rosendaal. 'That relates to the infection rate, and this virus is just too infectious. But we don't need herd immunity, we need semi-immunity. Immunity will wane, but people won't get as sick, and daily life and hospital admissions will return to normal.'
Whether coronavirus mutates into something less or more virulent in the meantime is another unknown. But one thing is certain, says Rosendaal: 'Mutations will continue as long as the virus is raging in Africa, Asia and other countries.'
Many epidemiologists say it could take between five and 10 years for the virus to weaken, with every winter seeing a new wave of infections. But an admitted optimist, Rosendaal thinks Covid-19 could be like the Spanish flu, which only had three waves. 'This could be the last winter. At some point, all kids will have had it,' he says. 'But I just don't know.'
Thank you for donating to DutchNews.nl.
We could not provide the Dutch News service, and keep it free of charge, without the generous support of our readers. Your donations allow us to report on issues you tell us matter, and provide you with a summary of the most important Dutch news each day.
Make a donation