'Amsterdam is not a city made for high heels, that's for sure.'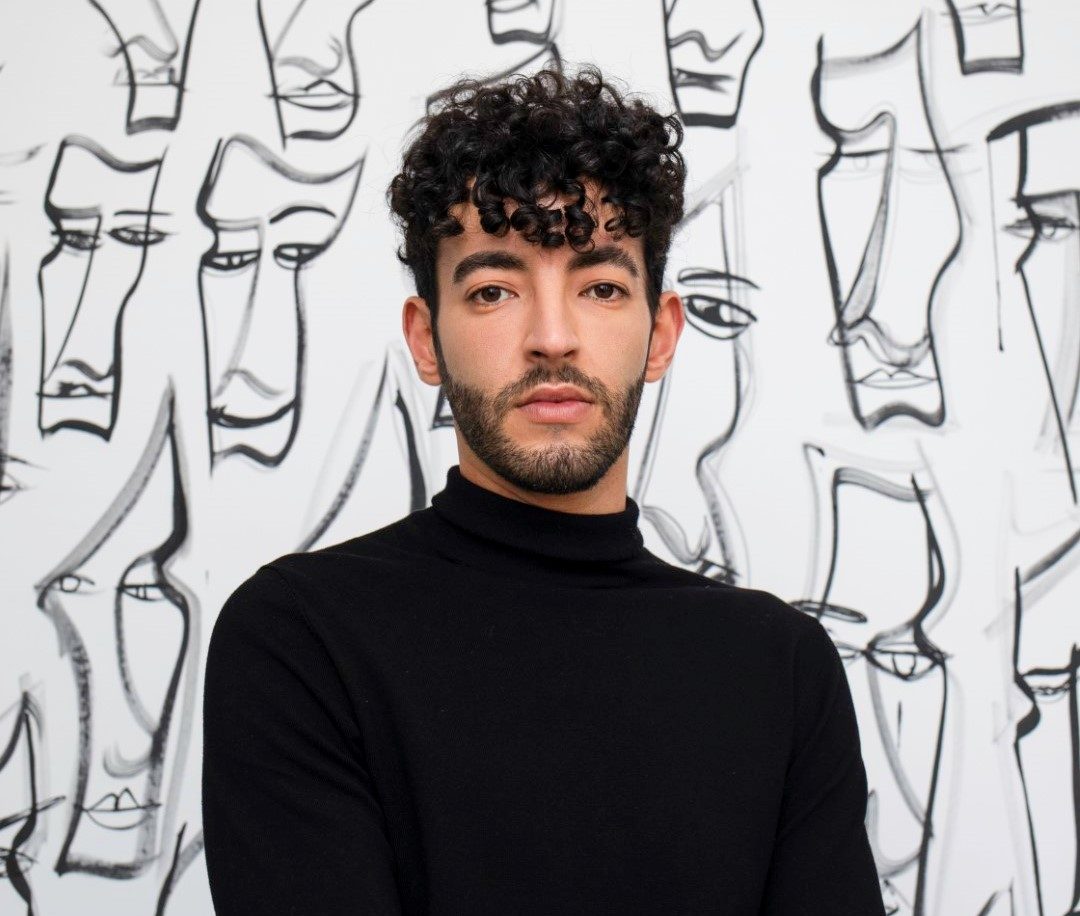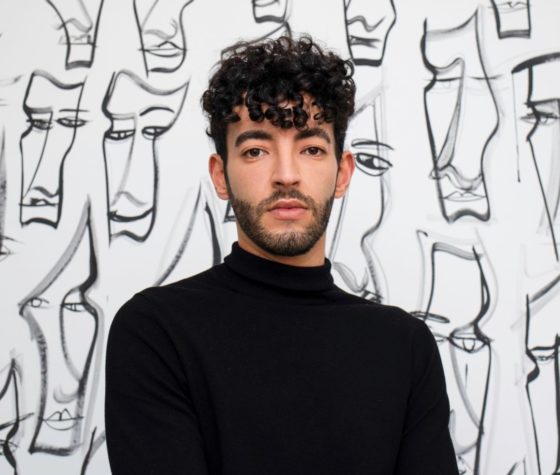 Moroccan-born Karim Adduchi (33) is an award-winning artist and fashion designer who moved to Barcelona as a child and then relocated to Amsterdam in 2011 to take up a place at art school. Since then, Karim has opened Amsterdam Fashion Week, featured in Forbes 30 under 30 for Europe and the Middle East, and presented his ready-to-wear collection on the runways of Paris Fashion Week. A co-founder of The World Makers Foundation, his work draws on his mixed religious and cultural heritage, striving to preserve lost histories and bring diverse and displaced communities together.
How did you end up in the Netherlands?
I left home when I was 15 and I had nothing. For me it meant that, if I had nothing, I had nothing to lose, so I had to go for my dream and make it happen. It was the only way to make my parents realise that there was a lot more out there than their living situation.
Coming to the Netherlands was mostly by accident but, you know, I don't believe in accidents. I applied for three art schools at the same time: in London, Paris and Amsterdam. The Gerrit Rietveld Academy in Amsterdam was the first one that gave me an answer, so it was the first one I came to.
It's a nice school because it's very creative and experimental and open-minded, but I would have loved to have had some teaching about practical stuff business-wise, legal agreements for artists, for example, and how to make a living as an artist and as a designer. That's what I'm trying to do now with different schools in Holland and in the US and Dubai – to change a bit the educational system in the art schools. We are dreamers, but there is also a reality afterwards: we have to survive and live.
For me, going to an art school was such a big change. I remember my father telling me to leave the art school and go to work. Now, when my parents see me on TV in Spain, or in the newspapers, they just burst into tears, both of them.
I never said that to anybody, but my father crossed the sea in a smuggler's boat to give me a future and I met him for the first time in Spain. With time, he found a job in a factory and got an apartment, and after five years, we joined him. That's one of the reasons I do what I do. I cannot give up, out of respect to my father's journey. My mum was a seamstress, so I grew up seeing her making dresses in exchange for food. I was born while she was making a dress – under a sewing machine that I still have! I made a collection about it, MAKTUB, which in Arabic means 'written'.
How do you describe yourself – an expat, lovepat, immigrant, international etc ?
I would rather say 'global citizen'. I don't like boxes. One of my values is to create as few differences between people as possible. It's beautiful to have an identity and personal values, but never diminishing others.
I'm a global citizen, but sometimes I get lost because of that, because I travel around. I'm Moroccan, I grew up in Spain, and now I live in Holland, so sometimes being global, you lose your identity. For me, working on my roots and having that as a foundation, it just gives me a bit of a balance. The fashion industry always tries to sell you a dream, but I would rather show who I am, more than who I want to be.
I'm a Moroccan designer in a Dutch land and what that does to me, and also to Holland, is just so beautiful. My work is being bought by so many museums, here and in London and Paris, and I just find that very meaningful. I come from a place where we had no books, electricity or anything. My parents were illiterate. I'm very emotional about the fact that I'm here and being welcomed in that way.
How long do you plan to stay?
I'm not sure. I'm open to surprises and adventures. Right now I'm here because work is going great and I have my team here. But I would love to travel around but have Amsterdam as a base because it's so well connected. But it's not about the place. It's about the individual and the person you are. Amsterdam is a free place to explore, but you can also explore in the middle of the desert.
Being in the fashion calendar for Paris Fashion Week [2019] was a dream come true since I was a child … but I don't appreciate the fashion system of every six months having a new collection because it's not healthy, so I chose my own path and made my own space in the industry. The secret is not to fight the system, just to create your own. Being small and being an emerging designer gives you that advantage that you are flexible and you can create your own. That's what I want to teach the upcoming artists: just because there's a system out there, doesn't mean you have to follow it.
Do you speak Dutch and how did you learn?
No, but I speak five languages and I understand seven – that's always my answer to the Dutch! I would love to learn it, but I know my mind. I think if I put another language in my brain, I will lose quality in others.
What's your favourite Dutch thing?
I think the biking – the freedom of not depending on public transport. And I love the Dutch people because they are so pragmatic and honest and transparent. In Spain, it's a Mediterranean culture so we'd rather not disappoint. We'd rather lie than hurt someone. You have to find a balance, so I think me living in Holland and growing up in Mediterranean countries, it gave me a good balance of being honest and not hurting anybody and also being transparent.
How Dutch have you become?
Well, I don't use an umbrella any more – I don't even have one! It's so funny because, the first day I was in Holland, I bought an umbrella. It broke after two hours and I never bought one again. It's what they told you about the system: you cannot fight such a strong thing like rain, so you'd better get wet. Just bike and get wet and enjoy it. It's rain, it's life, it's water!
Which three Dutch people (dead or alive) would you most like to meet?
I would love to meet Vermeer, the painter. I think he's holding onto some secrets! There are a few paintings painted on location, but the rest of his paintings were painted in the same room. I don't know how he did that. I want to know why! I want to ask him why there are no sketches or information about him before his paintings and how he managed to do that always from the same room.
I would love to meet the Queen and the King [Queen Máxima and King Willem-Alexander]. I would like to have a conversation with them about community and social input, from my side. I know they are doing a lot, but I'm just curious what they think.
I would love to meet Audrey Hepburn. Not because she was famous or a famous fashion icon or Dutch – just because she made her broken heart into art. She was a dancer and she was in the middle of the Holocaust and she was Jewish, and after the war she managed to express a lot of that and to have a way out. I'm just so curious about that bridge inbetween being broken and being an artist.
What's your top tourist tip?
Do what I did: leave the phone in the hotel or at home, don't take a map, and just go out there [into Amsterdam] and get lost in the city. It's such a beautiful feeling. Did you never do it, when you go to a city and then you just walk? Getting lost is the only way to find yourself. You really discover the essence of every place when you get lost.
I remember when I discovered houses that were not completely straight – you know, twisted. I was very impressed by that. I found it so idyllic as well − the structure of the city − how water, bridges and bikes and everything is on top of each other, it was so bohemian. I mean, it's not a city made for high heels, for sure.
Tell us something surprising you've found out about the Netherlands
I think the orange skies were something I didn't know about. And the strong winds – I didn't know it was so windy. I find Dutch people so resilient. When I saw them biking, [while] eating a sandwich or eating an apple, or when it was windy, rainy or snowy – whatever was happening, they were going towards their goal somehow. I find that very symbolic and encouraging. In other countries, when it's rainy, you just hide – but here, no.
If you had just 24 hours left in the Netherlands, what would you do?
I would find a way to stay another 24 hours! I don't give up. There is always a way out.
Karim's Social [distancing] Fabric, a collaborative embroidery project created during the lockdown from drawings and sewing kits sent to 200 participants, can be seen at Dutch Design Week in Eindhoven from 16-24 October. You can find out more about Karim's work via Instagram.
Karim was talking to Deborah Nicholls-Lee.
Thank you for donating to DutchNews.nl.
We could not provide the Dutch News service, and keep it free of charge, without the generous support of our readers. Your donations allow us to report on issues you tell us matter, and provide you with a summary of the most important Dutch news each day.
Make a donation