'When the sun comes out, even when it's 0 degrees, everyone goes outside'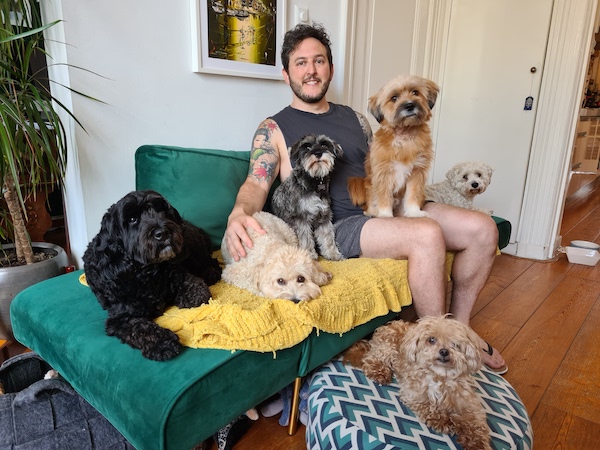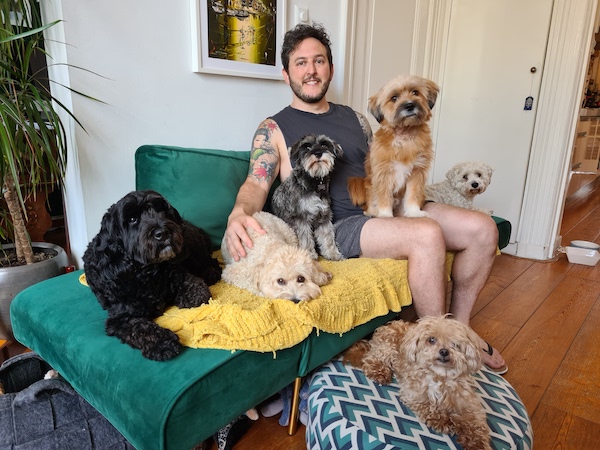 Gary Brown grew up in a small town in Britain before relocating to London and eventually Amsterdam. He and his partner now run Tails of the City, a popular pet care service, he likes the way the Dutch dress casually and has never seen a fight here in seven years.
How did you end up in the Netherlands?
I moved here in June 2014. I was offered a promotion with my former employer. At the time, I had just come out of a long relationship. We were actually meant to get married but decided not to. Our lives were very entwined, and it was hard to get over that. So, when my employer offered that promotion, I thought 'why not?'
I'd only ever been here on a day trip from Brussels when I was staying with some friends down there. I couldn't really remember it, to be honest, but the opportunity came at a good time. I'm very much a person who would rather regret doing things than not do them and wonder 'what if?' Amsterdam is a 45 minute flight from home. I figured that, if it didn't work out, I'd just move back.
Now my partner and I own Tails of the City. I guess it was our midlife crises. He and I were both turning 40, and he was a marine engineer spending six months of the year fixing big ships and travelling around the world. I'd been with my company for about 12 years. We'd been looking after dogs for fun with the app Pawshake, which is like Airbnb but for pet sitters.
One week, we were looking after three dogs at once and their owners said 'you guys should just do this.' We also adopted our own dog and had looked for a pet service that could suit his issues, but we couldn't find one. After conducting some market research, we decided to make one ourselves.
How do you describe yourself – an expat, lovepat, immigrant, or international?
Well, I guess running away from a failed relationship definitely excludes the lovepat term. If you look at the dictionary definitions of them, I'm an expat. I moved here for a job, and now I can't really see myself living anywhere else. I would say I'm an expat turned immigrant.
How long do you plan to stay?
I can't see myself living anywhere else, but never say never. When I look at where my affiliations are back in the UK, with everything that's happened with Brexit and how the government has handled Covid, I can't see myself living there now. Obviously the Netherlands isn't perfect, but my partner and I have a house here, we have our business here, and we now have a friendship group that has taken a long time to build up. I didn't find it easy to make friends here.
We would love to live in the countryside, since we're both country boys, but the great thing about Amsterdam is that 20 minutes on your bike will get you to the country. If I were to ever leave Amsterdam, it would be for another Dutch place somewhere.
Do you speak Dutch and how did you learn?
If you were to ask my non-Dutch friends they would probably say yes, but I don't speak it well. I speak French fluently, although every time I learn a Dutch word I seem to lose a French word, and I studied German at school so Dutch wasn't as hard as I was anticipating.
At my previous employer, we had free Dutch lessons twice a week but, to be honest, I like languages. I did a lot of independent study, and I'm one of those people who has confidence, perhaps misguidedly so, while speaking second languages anyway.
I'm more than happy to just try. I think that's a hang-up a lot of British and American people have. They don't want to look foolish when they attempt to speak languages because it isn't ingrained enough in school. I don't really have those shackles, as it were.
I'll always go to my doctor's appointments, my dentist's appointments, to the vet, or any transactional thing and do it in Dutch. I'm also lucky because our neighbours are Dutch and all of our terraces are next to each other. During the summer when it's nice, when we're out there, I speak to them in Dutch. If there's a word I don't know, I just say it in English and they generally get what I mean.
I also try to learn ten new words a day. Being a dog walker, a lot of my time is spent at the dog park just with dogs. There's some days when it's raining and it's cold, and I don't interact with any people. You've got to do something to keep your brain going while the dogs are running around. I try to have a Dutch dictionary or a thesaurus with me, or I listen to a Dutch podcast. It really helps when you're out walking dogs for six hours a day.
What's your favourite Dutch thing?
I don't love stereotypes, but I completely understand why they exist. There's a bit of a fine line, but I have two pretty positive Dutch things that are my favourites. The first one is that I love when the sun comes out, even when it's 0 degrees, everyone wants to be outside. You see people put their tables and chairs outside on their stoop and have drinks.
I'm intrinsically a quite lazy person. After the working week, I'll quite happily never leave the house for the whole weekend, but I find that a whole lot more difficult to do in the Netherlands, but in a good way. When the sun is out, everyone you know is out and, therefore, you want to join them.
I think the thing I like the most is the attitude toward casual dress. It's the norm here. I'm not particularly fashion-forward. I never know what's what, especially in London, for example, where there's pressure to dress a certain way for your work and then another way when you go out.
Obviously, I'm my own boss now and it doesn't matter, I can wear what I want. I'm not sure if it's a Dutch thing, but when friends come to visit from overseas, they definitely notice this. Over in the UK, getting ready to go out is its own event in a way. Here, you can go out in jeans and a t-shirt to almost any event and no one really cares.
How Dutch have you become?
When you look at the stereotypes of the Dutch being frugal and being direct, those are two traits I definitely didn't have before I moved here. I had a good job in the UK and spent money like it was immaterial. I definitely erred on the side of being a bit shy, especially when it came to standing up for myself.
Owning my own business, I've learned the value of a euro bit more. I definitely consider it when I purchase something. I ask myself if I really need it. That's something I've learned here from some Dutch friends. I also speak my mind more. We have a neighbour who used to rent a place out on Airbnb before the rules got tightened. Whenever the guests made noise that was above what was respectful, I would go up to that apartment and confront them. That's something I would have never ever done in London.
I don't know if that's because I feel a lot safer here in Amsterdam and the Netherlands in general, or if it's because I'm a bit older and less tolerant of people who are disrespectful of others.
Maybe it's because I now live in an environment that allows that. I've never seen a fight in the seven years I've lived here. I think that's because you're allowed to give your opinions and thoughts on something to someone else but it never escalates as dramatically or quickly as it does in the UK. The whole doe normaal thing kicks in, I suppose. So I don't know if I'm becoming more Dutch, but I have taken on some Dutch traits. I also wouldn't mind being taller like the Dutch, but that's never going to happen. I've made my peace with that.
Which three Dutch people (dead or alive) would you most like to meet?
Willem Arondeus. He was a gay resistance fighter during the Second World War. He was an out gay man and lost his family because of this. He moved into the art scene, and he and some of his associates used to forge identity cards for Jews. They'd take the J identifier off them. Later they decided to burn down the Amsterdam registry building at night to make the Nazis struggle to identify Jews. He tried to take the sole blame for it, but didn't succeed.
When he was put to death, his last words were 'homosexuals are not cowards.' Coming out now is hard enough, even though people are more tolerant and open, but it's still very hard, even in the Netherlands. But to do that in the 1940s, with the world as it was, and to still have the conviction to know who you are and you want the life that you deserve, I think that's quite empowering. He must have some stories, and it would be interesting to learn what it was like back then.
Boyan Slat. He's the CEO of Ocean Cleanup. When he was 16, he went scuba diving in the Mediterranean. He encountered way more plastic than fish. He was a student at the time, but he kind of gave it up to explore how to eradicate plastics from the oceans. He founded Ocean Cleanup and gave a TED Talk when he was 17 or 18 that went viral. That helped with investors and now the company is massive. They've got prototypes cleaning up now, and I think they're focusing on the Great Pacific Garbage Patch. I think he would be a pretty cool person to speak to.
If we were all at a dinner party, to make things a bit lighter, I'd go with a Dutch singer named Edsilia Rombley. She is awesome. I'm in the Amsterdam Gay Men's Chorus. I love to sing and dance. I also learned a lot of Dutch by listening to Dutch music. I think it's an easy way to learn the language. Edsilia has an incredible voice, and she's very gregarious and vivacious. She has this wicked giggle when she laughs, and it's just infectious. I think she would make any night a good night.
What's your top tourist tip?
When my partner and I vacation, especially now that we have a dog, we tend to pick somewhere on the edge of the Hoge Veluwe and just stay in a cabin that's dog friendly and go on walks through the Veluwe.
But, to be honest, if I lived in any other city in the world, my tip would probably always be to just get outside and see the rest of the country. Here in the Netherlands, you can just get on a bike because there are so many places that are accessible within an hour or two.
But once they've done that, I would say they should go to one of the TonTon Clubs in Amsterdam. They're so much fun! My partner and I went on our second or third date to one. I think it sealed the deal.
Tell us something surprising you've found out about the Netherlands
When I was growing up as a gay person in the UK, the Netherlands was always held up as this bastion of liberalness and tolerance. In 2001, it became the first country to pass gay marriage. I came out as a 13-year-old in 1993 in a very small, conservative English town. When I read about the Dutch legalising gay marriage, in my own mind, I began thinking there was this utopia not that far away where people like me can have the life that they want.
In many ways, this is a very liberal and tolerant place. I can go anywhere with my friends and my partner and just be me. We can be open and affectionate and, 99% of the time, it isn't an issue. But there are recent incidents like the one where a 13-year-old got attacked for refusing to identify as a boy or a girl when asked by a group of bullies. You hear about things like that. It happened, literally, ten minutes from where I am right now.
I've had a couple of incidents where things were said to me, but being almost 42, I have more confidence to handle those things and not let it affect me, but how is a 13-year-old meant to deal with such things?
So I was a bit surprised when I first moved here and my eyes were opened to other people's experiences. I realised this perhaps isn't the utopia of acceptance that I thought it was. Don't get me wrong, it is still very good in lots of ways, but, like with everywhere, there is still so much work to do.
If you had just 24 hours left in the Netherlands, what would you do?
I would break it up into four things, I think. I would start the morning by getting all of our Tails of the City clients to bring their pets to Vondelpark so we can have a massive doggy playdate with our dog. Unfortunately, I don't think our 55 cat clients could join!
I'm also a member of the Amsterdam Netball Club, and I would play a couple of matches with them. I have a lot of friends there so it would be pretty fun, and we could go for lunch together.
Then I would go to Veluwe for one last hike around the dunes. In the evening, I'd want to get on a boat in the canals and have dinner with my friends before I either perform with or go to a performance by the Amsterdam Gay Men's Chorus.
Gary Brown was talking to Brandon Hartley
Thank you for donating to DutchNews.nl.
We could not provide the Dutch News service, and keep it free of charge, without the generous support of our readers. Your donations allow us to report on issues you tell us matter, and provide you with a summary of the most important Dutch news each day.
Make a donation