'The Netherlands, this whole place is a big social experiment'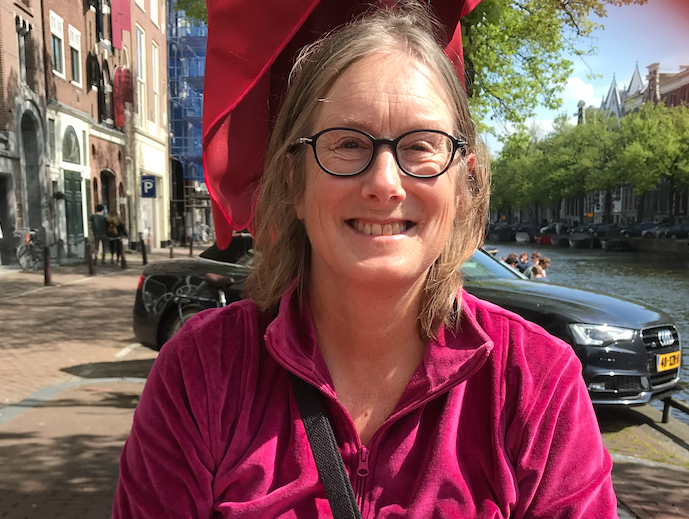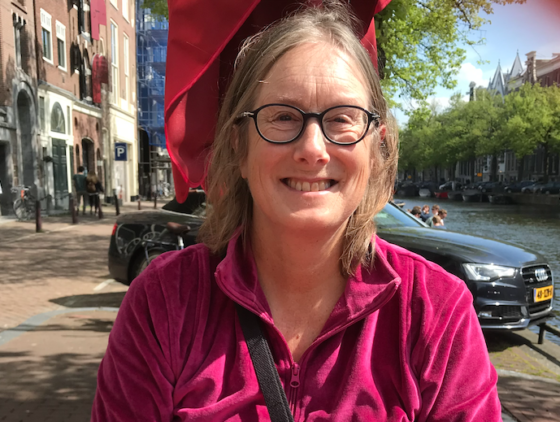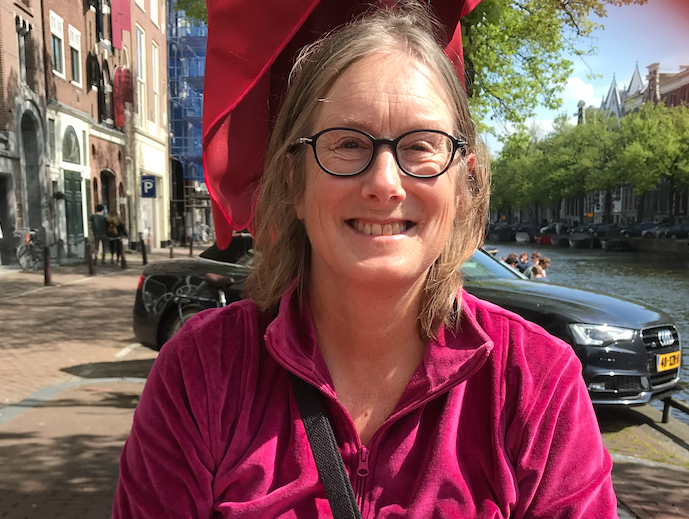 Alison Fisher is a Scottish-Canadian who moved to the Netherlands in the '90s to work as an editor. She lives in Amsterdam, loves the bike tunnel through the Rijksmuseum, and continues to work as both a translator and a life coach.
How did you end up in the Netherlands?
I planned when I left university to work my way all around the world. First, I'd look for a job, then I'd go to a country, live there for a few years, and then move on. But this was a long time before there were expats and things like that, so every time you'd move to a country you'd have to learn the language of the country, which slowed me down a lot. Anyway, among my various travels, I got a job in Amsterdam in 1992 at a company called Elsevier because I was an editor of medical texts.
I've always loved Amsterdam, so I was very pleased to come here, and I stayed. I decided it was time to learn how to have a home and have a place I could come back to since I'd moved around a lot as a kid and had been moving around a lot as an adult. For me, it was the first chance to really settle down. I'm still living in the same house I bought.
How do you describe yourself – an expat, lovepat, immigrant, or international?
Well, I consider myself a world citizen because I come from a mixed background. It's not incredibly mixed, but it gives me a different perspective. I still don't really have a place I call home. I mean, I love Canada and I love Scotland, but I've also loved all the places I've lived. That's why I consider myself a world citizen. I'm hoping more people will have similar ideas and that we'll be able to draw the world together as one big happy community rather than have all these different distinctions, nationalities, groupings, and other classifications.
How long do you plan to stay?
I've already been here for 30 years. I love the place, that's obviously clear. I raised my son here, and I have my own company and home, but I still like to travel. Over the past year, I've been looking into possibilities like becoming a digital nomad and house-sitting as the kriebels [this is a Dutch term similar to 'spring fever'] are starting again. I will always have Amsterdam as my base because it's the first place where I established a home, but I will be travelling. I just don't know when.
Do you speak Dutch and how did you learn?
Yes. I am a translator, so I do speak Dutch. I learned because Elsevier offered free classes to everybody who came to work for them. They brought in a teacher and the lessons were offered during our work time. It was once or twice a week with a group of other new employees. When I left to become a freelancer, I did more classes at the Volksuniversiteit. I also worked through a few books like Beter Nederlands, which is really excellent. Then I started working as a translator and learned on the job as well.
What's your favourite Dutch thing?
I've always been a cyclist. I really love the cycle paths they have around here and the attention that's being paid to cycling. I wouldn't necessarily call it my favourite thing. I love poffertjes, but that's hardly a world-changing thing. I was thinking about the way the class structure is so horizontal. There isn't much of a strong class structure here. I lived in England for quite a while. There you really feel it when you encounter a person who is rich or a person who is poor and the gap between them.
Here though, you can go to a gallery to see an art exhibition and then go to the pub next door where you'll find a squatter talking to a baroness and everybody's happy and accepting of each other. I really love that about the Netherlands, and that's what would be my favourite thing.
It, for me, also defines what Dutch is; that people are accepting, open, and willing to welcome you into a society where you are equal and have opportunities if you work for them.
The Dutch like work, and they're happy to work hard, but they also like to play. They appreciate that you need to have a good work-life balance.
How Dutch have you become?
I would say I'm still a very individual person. I really feel that I was already Dutch before I came here, so to speak. I lived according to that philosophy of being open to other people, of being welcoming, finding a good work-life balance, and appreciating the simple things in life like cycling and tulips. Living here has reinforced that. I think the Netherlands is a really great place to be. It suits me really well.
Which three Dutch people (dead or alive) would you most like to meet?
Aletta Jacobs. She was the first woman to go to university in the Netherlands. She became a doctor and set up free clinics to distribute contraceptives. She was an amazing person who really fought for women's rights. I consider myself a feminist but I prefer to take positive action to help out, rather than just being aggressive or coming up with diatribes against men.
To me, Aletta was an ideal example of that. She was told she couldn't go to university, but she kept trying. She was told she couldn't become a doctor, but she kept trying. She saw that women were suffering, having families that were too large, and didn't understand their own physiology and how their bodies worked, so she trained them. She knew they couldn't afford it, so she set up a free clinic, and she did it all herself. I think that's amazing. I would love to be able to talk to her and ask her where she got that enthusiasm, that drive, and how she kept going no matter what obstacles got in the way.
Herman Brood. I've always really loved that guy. You could walk around Amsterdam at night and just bump into him. He would also just turn up at cafes and start playing. His music is so great, and it gives you a wonderful feeling. It was so positive. I think what's so tragic about him is that he really had a chance to break through. There's no reason why his music couldn't have become world famous, and why he couldn't have become a superstar, but his own difficulties, mental problems, and drug habits held him back.
He had a big opportunity over in the US, was possibly going to get signed, and then didn't turn up because of his personal problems. I remember walking past a newsstand and seeing the headline 'Brood Dood' [Bread Dead]. That really hurt. I really miss him.
Jaap van der Lee. He was the Dutch signatory to the Treaty of Rome. I actually met him. I went to a lecture he gave shortly before he died. His enthusiasm was extraordinary. He was going to change the world, and he actually did it. The Treaty of Rome helped set up what is now the EU, but his ideas went so much further than that. He was already talking about having a foreign minister and a president. He was determined to make this dream come true, and it was driving his whole life. It was worth working for and devoting your life to. His energy was amazing to me.
What's your top tourist tip?
I really like the tunnel through the Rijksmuseum, but they would probably come across that on their own. I love going through there and that it was saved and turned into a bicycle path. People were fighting for years to prevent it from being incorporated into the lobby of the museum. A lot of conservatory students go there and practice because the acoustics are so great. You're always coming across people with really interesting musical instruments in there.
But there is so much. Going on the ferries to the NDSM is great fun. I really love parts of the Amsterdamse Bos and hidden corners like the Jac P Thijssenpark. It's been beautifully landscaped, so it makes you feel like you're in a huge garden. It changes from season to season, and it's tiny, but it makes you feel like you could walk through it for what seems like miles.
Tell us something surprising you've found out about the Netherlands
In many ways this is a magical, almost ideal country, but then they'll suddenly cancel squatting. Squatting rights were such an amazing thing. If there was a home that was being left empty, deliberately or otherwise by the landlord, people could use it because of the huge housing shortage. How can you go back on something like that? It doesn't fit in with my idea of the whole Dutch mentality and the Dutch system.
For me, it's like this whole place is a big social experiment. It's been putting all these ideas out there like gay marriage, euthanasia, and marijuana tolerance. These ideas are very advanced and really out there, they try it and put it into practice to see how people react. Then they talk about it and they debate. It's an incredible place to try all these new things and experiment, but to watch them reverse it all doesn't seem like it should be part of the nation's overall philosophy.
If you had just 24 hours left in the Netherlands, what would you do?
I would go and visit all the little parks in the Amsterdamse Bos and look at the flowers. Then I'd go for a walk along the canals, because they're arranged in the shape of a water dragon, according to Chinese astrology. Water dragons are said to bring prosperity to the places where they are and make people feel happy and relaxed. I just feel happy while I'm out there. Then I'd arrange a tea party, because I'm still very much in favour of tea parties. I would have all my friends over, and we'd have a big tea party.
Alison also runs a life-coaching business that you can learn more about by clicking here.
Thank you for donating to DutchNews.nl.
We could not provide the Dutch News service, and keep it free of charge, without the generous support of our readers. Your donations allow us to report on issues you tell us matter, and provide you with a summary of the most important Dutch news each day.
Make a donation