'My fiancée Geertje, she's my favourite Dutch thing'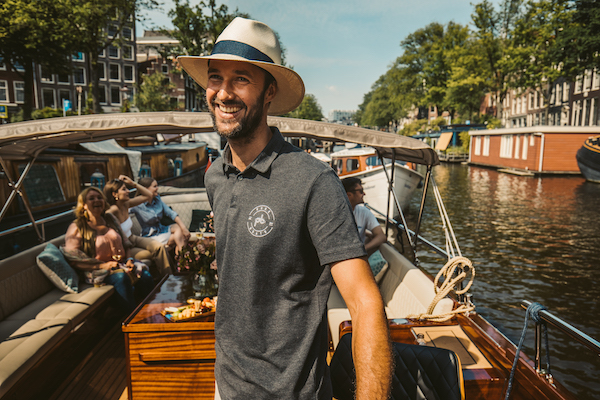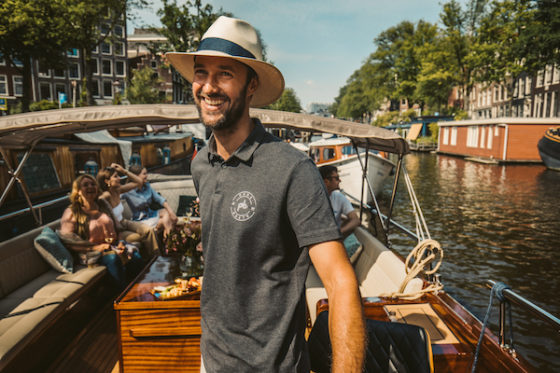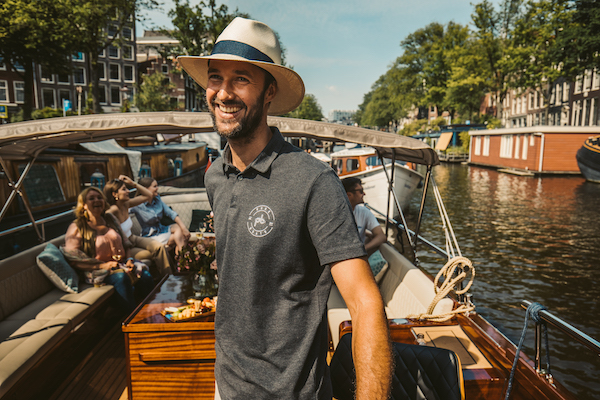 James Munt grew up on the Isle of Wight and originally came to the Netherlands for a long weekend to buy a boat. Now 16 years later, he's still here. He loves to surf on the North Sea, says hello to his neighbours, and would like to meet Lurch from the Addams Family.
How did you end up in the Netherlands?
It was back when I was 23. How many years ago was that? It was 16 years ago now. Initially, I had no plans to come to Amsterdam whatsoever. I'd been studying and travelling around for a couple of years before ending up back on the Isle of Wight for an uncle's 50th birthday party. My mum actually reconnected me with another uncle who was always off doing various things. He was never at the family do's. He was always off in Amsterdam, and he worked for EMI Records.
He had quite a good time in Amsterdam, I imagine, especially back in the '70s and '80s. He asked me for advice about buying a houseboat. He wanted to live on one during his retirement. I'd studied Marine Design and Engineering. He had no idea about boats, only that he wanted to live on one in Amsterdam. He asked if I'd go with him and check out a houseboat he'd found. 'Bring a friend,' he said. 'We'll have a good time. Oh, and we're leaving tomorrow morning!'
So, all of a sudden, the next day I jumped in his car, called around to a few friends, we picked one of them up, and we came over for the weekend. We checked out the boat in Leiden, sailed it up to Amsterdam a few days later, and arrived at a space on the Prinsengracht my uncle had arranged. That was the start of my Amsterdam adventure.
The original plan was to stay for a weekend, but the boat needed some restoration work, which was also my expertise, and I had nothing else going on. My uncle went back to London, and the friend and I wound up staying the entire summer to fix up the boat. We did, indeed, end up having a good time, one thing led to another and, 16 years later, I'm still here.
How do you describe yourself – an expat, lovepat, immigrant, or international?
The closest thing I would say is probably international, but lovepat also comes into it as well now. That wasn't the reason I moved here, but it's the reason I stayed and ended up staying. Both of those terms come to mind. I've been lucky enough to live in and travel to many places around the world. I could quite happily live in many of those places, so international is the first thing I'd call myself, I guess.
Expat, to me, describes expat communities that like to hang around in their own circles. I don't specifically go looking for other English people to hang out with. I have a mixed group of friends from all around the world. That's why I would describe myself as international. I hope that makes sense.
How long do you plan to stay?
As I was saying earlier, I originally planned to stay for a long weekend, and it turned into an extremely long weekend. That weekend turned into the whole summer, which turned into the start of my career. The Dutch are famous for building super yachts and mega yachts. They're the biggest in the world, and that was the focus of my studies. I was lucky enough to find a job in that after being here for a year.
That carried on for 10 years. After a decade of designing yachts, I was able to turn our hobby of cruising the canals into our full-time business. I guess I'm set to stay for a good while longer. The master plan is to have a busy summer, work hard, and get away this winter to all the places we still have on our list. The world is a big place.
Do you speak Dutch?
I can speak Dutch a little bit. I used to speak it more, actually, but not so much these days. I used to use it a lot more when I worked outside of Amsterdam in Heemstede at a design office. I had some lessons and courses there. It was also difficult after a long day of work, especially on the sunny ones. I did pick up the language there and used to practice difficult grammar things with my colleagues.
Outside Amsterdam, I still speak Dutch regularly in the little villages or with older people. I find that quite fun for some reason. They don't speak good English quite often. Older people also tend to carry on in Dutch instead of automatically switching to English. A lot of people say you should speak Dutch, which I agree with, but in Amsterdam it's difficult.
It's not encouraging when you try and people don't seem to understand a word you're saying. You say something four times until you feel like a right idiot. Then they laugh at you and say 'that's cute.' Then comes the standard two questions: 'how long have you lived here?' and 'why don't you speak Dutch?' Well, the reason why is because you laughed at me and called me cute.
What's your favourite Dutch thing?
I'd have to say my fiancée, Geertje. She's my favourite Dutch thing, number one. I'd be in trouble without saying that. We're quite opposite in many ways, given the Dutch/English thing, but we make a great team, and we're a lot stronger together. She's very typically Dutch and upfront about things, whereas I'm more English and diplomatic. The middle ground between us makes a good common ground, I think.
I also love cycling culture and kibbeling [battered fish typically served with tartar sauce on the side]. Maybe that's just because I miss fish and chips. I also like herring, which is so bad it's actually good. If you can find a good herring place that prepares them freshly while they're still pink and not grey, it's a nice taste I think.
How Dutch have you become?
I do ride a bike everywhere, even when there's a snowstorm or pouring rain, which the Dutch seem to enjoy. I also tend to say 'hello' to my neighbours or random people. You definitely wouldn't do that in a city in England. Everyone there keeps to themselves and looks at the ground when they're walking around. I think the Dutch are more open. There are more social interactions.
I've become more thrifty, and I love a good deal, maybe more than I did before. My communication has become more direct, but I still tend to be diplomatic. My timing has improved a bit, but I'm still not up to my fiancée's standards. I always used to be late for everything. I also enjoy broodje kaas for lunch, but I still don't have them with milk. Even lately, I've been having dinner at 6:30, so that's pretty Dutch. I guess some things have changed, but some things not so much.
Which three Dutch people (dead or alive) would you most like to meet?
Olivier van Noort. He was a sailor, a pirate, and an explorer in the late 1500s. While I'm not in support of the colonial days, this was a bit before those times. He was the first Dutch guy to sail around the world. He had some battles with Spain. Those must have been some super crazy times; to sail off from Amsterdam and not know where you're going and mapping out the world as you go.
George Kooymans. He's from Golden Earring. He must have some pretty fun stories from the '60s rock 'n' roll era.
Lurch. He's from The Addams Family. I'm not sure of the actual actor's name, [Carel Struycken, ed] but I think he's a pretty cool guy. He seems like my kind of person. He doesn't get the main roles, he's always taking the back ones. He's never the main actor. I think he would be a pretty interesting guy to meet.
What's your top tourist tip?
I'll give a super obvious answer because it's the best chance ever to plug my own company. Pure Boats has got to be the best thing you can do in my experience. Genuinely, I think it's the best thing you can do. We show tourists the best side of Amsterdam with beautiful boats, good food and drinks, and we tell a few fun stories and drop in some nice facts as we're going around. We give people the time to sit back and relax and enjoy the ambiance of the Amsterdam canals.
Back to the bikes, I think a nice ride along the River Amstel can give you some insight into the beautiful Dutch countryside and its small villages. You'll see the city, the farmlands, and some gorgeous houses. It's a bit of a cliche, but the Keukenhof is absolutely amazing. I'm not a huge flower enthusiast, but it's a beautiful thing to see. This is Holland is also really cool. It's a flight simulator that gives you an overview of the history of Holland. I also love the coastline, and I surf a lot.
Tell us something surprising you've found out about the Netherlands
The cycling culture can really blow you away when you visit Amsterdam or any city in Holland, really. First of all, there's nearly getting run over by the bikes and many near misses. I've found out that it's a pastime of many Dutch people to frighten the tourists as much as possible.
I saw a really interesting documentary that went into the country's cycling culture and how it influences the general mind state of the Dutch people and their social interactions. One of the main conclusions is that it adds to their happiness. Cycling around, getting fresh air, and seeing all these things keeps you active. It's better than sitting on a bus or in The Underground where, generally, you're on your phone or trying to avoid contact with people.
On a bike, there's a huge number of social interactions you'll get into with other people at junctions. You've got to decide who has priority, who's going to go first through a red light, and are you going to avoid them or are you going to dart in front of them. All of these things keep people's brains very active. People who commute by bike often take longer routes so they can enjoy their commute more. In other countries, you wish away that time and want it to end more quickly.
If you had just 24 hours left in the Netherlands, what would you do?
That depends. If there were good waves, I'd want to go surfing, but that only happens a few times a month in Holland. If we were heading off somewhere else though, it would be to probably get waves.
If it was right now, it would be a bit restricted. There are probably some things that would be struck off the list, but I would extend my time on the boat more. I could spend 24 hours just cruising around in a boat, even after doing it pretty much every day for the last five years.
So I'd start off with a boat ride with Geertje and cruise around and have some snacks together while we enjoy our favourite spots around town. We'd definitely have a bike ride and visit a few of our friends. We'd get takeaway from our favourite restaurant in the Jordaan. Then we'd enjoy a sunset in the Westerpark.
James Munt was talking to Brandon Hartley
Thank you for donating to DutchNews.nl.
We could not provide the Dutch News service, and keep it free of charge, without the generous support of our readers. Your donations allow us to report on issues you tell us matter, and provide you with a summary of the most important Dutch news each day.
Make a donation