'Van Gogh's life was a tragedy. I'd like to go back in time and console him'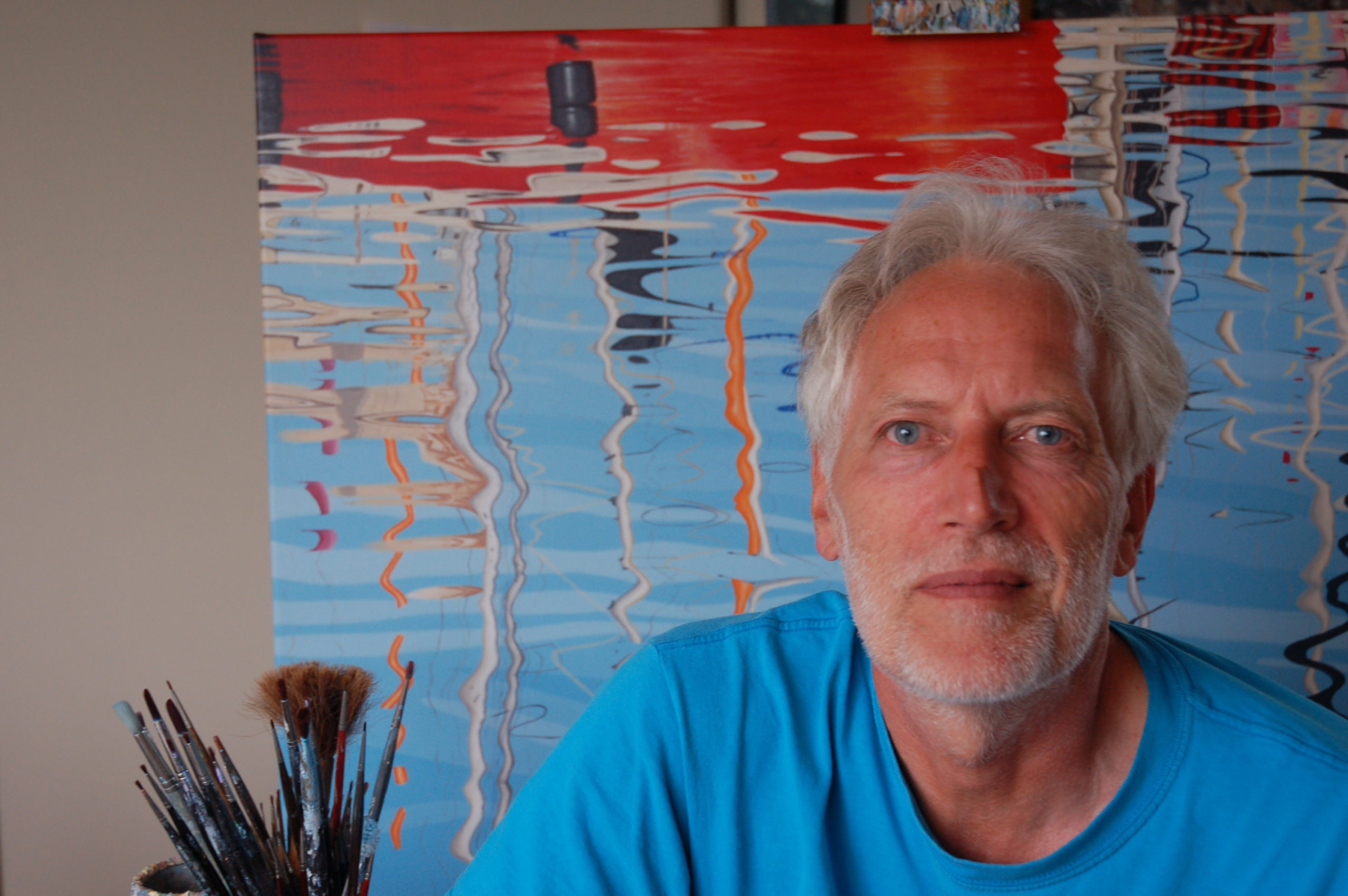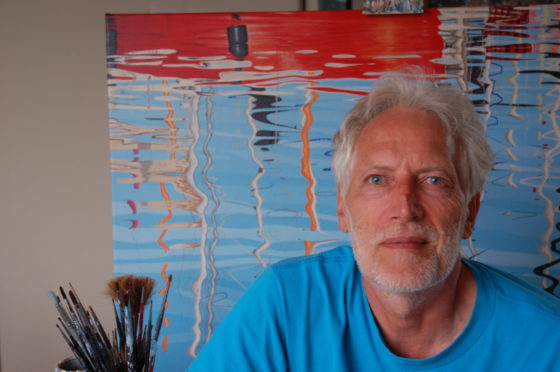 Originally from the United Kingdom, Steve White travelled all around the world and lived in Tokyo for several years before he eventually moved to the Netherlands with his family. He currently works as an artist in Almere and longs to spend an entire day visiting his favourite spots in Amsterdam after convincing all its tourists to go biking in the Dutch countryside.
How did you end up in the Netherlands?
I met my future wife, who's Dutch, in England back in the early 80s. We were both working for a travel agent. About six months after we started going out, we split up but in the nicest possible way. She wanted to travel, and I wanted to travel. She went off to Australia before drifting up to Asia and finally Japan where she lived for about five years and learned Japanese. Meanwhile, I went around the world a few times and eventually went to Japan myself.
We set up a branch of the travel agent in Tokyo, which was a fun thing to do. We kept meeting up, on and off, over the course of ten years in various places. We got together again, ended up in London, and our daughters appeared on the scene. When our eldest was 10, she had to change schools to a high-school.
We were living in north London at the time and didn't like the look of any of the schools she'd have to go to. My wife said, 'Why don't we go and live in Holland? The education system over there is pretty good.' So that's how we ended up here in 2002. Our daughters have done pretty well, so it was a good decision in the end. 
How do you describe yourself – an expat, lovepat, immigrant, or international?
With this Brexit malarky that's been going on, that's an interesting question. When English people go live abroad, they're called expats, but when foreign people move to England, they're called immigrants. To me, expat doesn't sound right. It sounds like you've got a court order forbidding you from touching your partner in a playful way. You're not allowed to pat them. The word 'immigrant' has a really negative connotation. They're the people who are supposedly going over there to take jobs and sponge off the welfare state.
So I'd prefer to call myself a foreigner, really. In Japan, they have a word called gaijin that translates as 'outside person'. I've got no problem with that. It sounds exotic, prestigious even, so foreigner is my word of choice over the ones you suggested.
How long do you plan to stay?
When we first got here, we said we'd stay until the girls settled themselves down. Our youngest daughter just bought a house in The Hague and the eldest one is still studying in Philadelphia and getting her PhD. So we're still waiting to see what happens and haven't made any plans yet.
The possibility that we'd go back to Britain is a lot more tricky now that Brexit's happened. I don't know if my wife would be able to stay there long term anymore on a Dutch passport.
We'd like to go someplace warmer at some stage, but it depends on a few things still. The possibility of grandchildren might influence the decision a bit more. We'll have to see. At the moment, we're here for a bit longer, at least, which is not a bad thing.
Do you speak Dutch and how did you learn?
Whenever people ask me this, I always say 'een klein beetje' [a little]. They maybe think, 'Oh, yeah, he does' but that's the only Dutch I know, really. It's a real problem, coming from a nation of mono-linguists like I do. I spent two years doing evening classes, and I eventually passed the reading and writing tests, but the listening and speaking ones, I just couldn't do it.
Everybody told me I'd pick it up from TV and all of that, but it hasn't happened. So the answer to this question is nee [no]. It's not the best but, as you know, most people here speak English. It's not a real problem, apart from when I go to Albert Heijn. That can be a trauma sometimes if one of the checkout girls asks me a question I don't know. I know they'll ask me if I have a bonus card, if I want to save the stamps, or if I want the receipt. If it's anything other than those, I break out in a sweat. So it's a problem, but I've learned to live with it, and I don't think it's going to change anytime soon.
What's your favourite Dutch thing?
Apart from the fact this is a safe, advanced, and peaceful 1st world country with enviable transport, health, education, and a welfare system and the people here are happy, my favourite Dutch thing is the Dutch apple pie that my wife makes. It's got that crumbly, crunchy crust that I think they call zandtaartdeeg. I know that sounds slight, in a country with so many great things, but it's really my favourite Dutch thing. My wife makes one about once a month. It's wonderful, especially with a bit of cream or ice cream.
How Dutch have you become?
I would say not very much. Since I've come here, I've been self-isolating in my attic for 20 years painting. I don't really talk to anyone very much during the day apart from the cat. I have no friends, really, apart from the neighbours who I speak to now and again. I wouldn't say I'm very Dutch, but I don't know how different the Dutch are from the English in the whole scheme of things.
The English 'borrowed' a Dutch king in the 1600s, I think it was, so we're not that much different. Everyone says the Dutch are very blunt. I haven't taken up that. My wife can say things to me that, even now, would send me off into a huff for about a week even though to a Dutch person it wouldn't mean anything. I've gotten used to it, really. I wouldn't say I'm very Dutch at all. I do like mashed potatoes with a bit of kale in it and cheese, but I wouldn't say I'm a fully integrated Dutch person by any manner of means.
Which three Dutch people (dead or alive) would you most like to meet?
Vincent Van Gogh. I'd have to choose a couple of painters, of course. In my book, he's the greatest painter ever. For me, he was just unparalleled. The poor guy reputedly only sold one painting in his life, but the rumours are that he swapped a few paintings for a bit of money. He must have been mortified during his lifetime. He was this brilliant painter, but he struggled and his brother was his agent. What sort of agent couldn't sell Van Gogh's paintings? His life was a tragedy. I'd just like to go back in time and console him. I'd want to tell him, 'Vincent, your life is worth it, you're going to give so much joy to people in the future.'
Piet Mondrian. He's the Dutch painter who did all these paintings of black lines and a coloured square here and there. I'd like to ask him what he thought he was doing. He was a relatively normal painter at one stage in this life. He'd paint windmills and scenery in the Dutch countryside. Then he joined this weird sect in the United States called the Theosophical Society and suddenly started doing these grid paintings.
He said he wanted to free objects by breaking them down to basics. I'd like to ask him if he thought he was a conman in the end and if his paintings had real artistic merit. I wouldn't blame him if he was just catching a wave. If I could invent some way of painting that became as famous as Mondrian's, I would do the same. There's a famous word equation by an American guy who said, 'Modern art = 'I could do that' + 'Yeah, but you didn't'. I think that sums up Mondrian's paintings. You really could do them. Anyone could. It's so basic.
Queen Maxima. The Dutch royal family is usually so sure footed. I really admire their lives and the way they brought up their girls. They never seemed to put a foot wrong until a few months ago when we were all isolating in our rooms during lockdown, and they decided to head off to their Greek island for a holiday. I'm sure she spoke to Willem and asked, 'Is this really a good idea?' I can't understand that decision at all. I'd like to have a word with her and scold her. That was a bit of a black mark, I think.
What's your top tourist tip?
Get on a train and go to Weesp. It's about a fifteen minute ride from Amsterdam Centraal. For years, Weesp for me was where I'd have to wait in a drafty station for a train that would take me home to Almere. There's a newer housing estate next to the railway, and I was always glad that I only had to change trains there. Then, one day, after about fifteen years of living here, we went on a bike ride to Weesp.
Weesp is the most incredibly quaint, little town full of locks and rivers. It's a really spectacular place. From there you can ride down the river Vecht on an NS bike from the station and see all these villages along the way like Nigtevecht and Vreeland. You can ride all the way down to Utrecht. You've got the epitome of the Dutch countryside, and it's a great thing to do on a warm day.
Then, once you get to Utrecht, have a look at the bike park at Utrecht Centraal. I haven't seen it yet myself, but my wife and daughter have both visited it. It's a Wonder of the World, evidently, and it holds 30,000 bikes. So on this trip you'd get the Dutch countryside, the beautiful town of Weesp, and end up in the amazing bike park. You'll get Holland in three movements.
Tell us something surprising you've found out about the Netherlands.
Apart from the fact that it's a small country that produced all these great painters like Van Gogh, Rembrandt, and Vermeer, it's the second largest exporter of agri-products in the world. That's really surprising for a tiny country of 17 million people.
My daughter who is studying in Philly shared an article from the Smithsonian's magazine about a Dutch guy and a company who have reduced the noise at Schiphol Airport at the polderbaan [the airport's busiest runway]. They designed a sort of a park near some houses that has grassy ridges two or three metres high. These ridges absorb the soundwaves of the jets as they take off. They reduced the noise by half. Now airports in the states are thinking of doing the same thing.
Those are just some of the surprising things you can pick from a small country that's half underwater. Maybe the most surprising thing is hagelslag, the state-sanctioned chocolate on bread. It's supposedly good for children. You wouldn't get away with that in England, that's for sure. All these kids are having chocolate on their bread for breakfast.
If you had just 24 hours left in the Netherlands, what would you do?
Having managed to send all the tourists off to Weesp so they can bike along the Vecht, Amsterdam would be free of them, of course. So I would go to Amsterdam with my bike and start at the station. I'd take the ferry to Amsterdam Noord and have a walk around the NDSM Wharf and see what's happening. There always seems to be some action over there.
Then I'd go to the Café de Ceuvel, which is like a sort of hippie commune, and it's on one of the docks there. They've got tables outside, you can have a beer, and there's always music playing. It's a pleasant place to while away a couple of hours. Then I'd ride on towards the Nieuwendammerdijk. It runs all the way to Durgerdam, which is a little village about a half hour away.
Then I'd ride back to the station and go to the Prinseneiland area. It's a really beautiful haven in the city. If I ever became rich enough to afford a house in Amsterdam, I'd live there. It's a quiet, little place. It's amazing that it can be so peaceful there and still be in the middle of a city. From there, I'd go along the Haarlemmerstraat towards Westerpark past all the weird shops and coffee bars. There's a great Art Deco cinema at the end called The Movies. I'd pop in there, watch a movie, and have a hot chocolate in the cafe.
Then, after the film, I'd wander back along the Haarlemmerstraat, see what's happening, drop into a pub, and have a biertje and some bitterballen. Then I'd go back home. That would be perfect and there would be no tourists because, again, they'd all be off biking up and down the Vecht. It would just be me and the Amsterdammers doing their thing. That would be the perfect day for me.
You can learn more about Steve's art projects and view his portfolio on his website via this link. Steve was talking to Brandon Hartley.

Thank you for donating to DutchNews.nl.
We could not provide the Dutch News service, and keep it free of charge, without the generous support of our readers. Your donations allow us to report on issues you tell us matter, and provide you with a summary of the most important Dutch news each day.
Make a donation