Skating is in our DNA: Ice fever hits the Netherlands as big freeze continues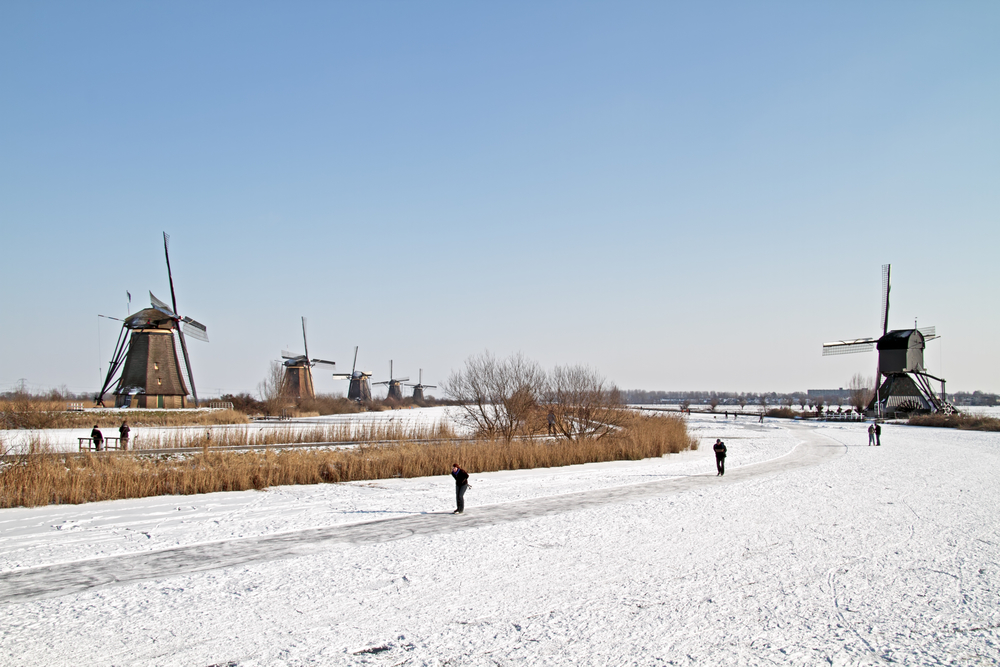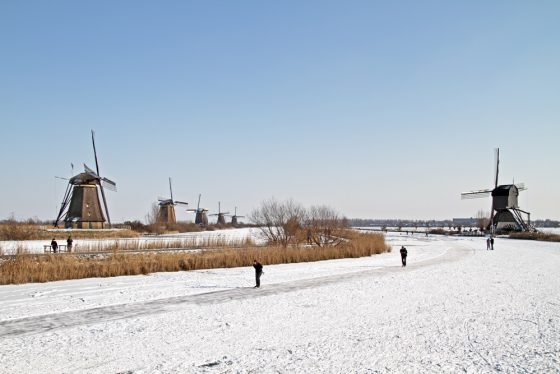 With freezing temperatures expected for at least the next week, ice fever is gripping the Netherlands and has the regional safety boards coming up with a set of rules for safe skating in the coronavirus era. Nothing, not even a global pandemic, can come between the Dutch and their skates.
'You can't work against it, skating is in our DNA,' said Jurre Trouw, of the national skating union KNSB. 'But we have to do it in a responsible way.'  So here's what you need to know about this year's skating season.
1. Will the ice be good enough?
There is nothing to dash the hopes of outdoor skaters so much as the threat of snow, so the fact none is expected in the rest of the week is the good news. Amsterdam and Utrecht city councils have already closed the sluice gates and banned boats from the canals in an effort to encourage healthy ice growth.
The Dutch skating union keeps a careful watch on when and where it is safe to skate outdoors. You will, of course, need to bring your own skates.
2. Technique
A keen skater back home? Do not think the fact you can do a triple lutz or a double toe loop will be appreciated. The Dutch have been forced onto skates almost as soon as they can walk and they are into distance, speed and the perfect pootje over, not kunstschaatsen.
Staggering around the ice clutching your mates is not allowed under the coronavirus rules and a chair is strictly for the under-fives.
Schoonrijden, a slow-glide form of outdoor skating, sometimes in national costume, has been included on the Dutch national heritage list. But, says the regional safety board association, because of coronavirus, you can only do it in groups of two.
3. The first marathon on natural ice
When the temperature drops, speculation starts about the prospect of the first marathon on natural ice. The Netherlands has some 200 ice clubs which go all out to create outdoor ice rinks – by spraying a concrete track with water – when a spell of frost is predicted.
The competition to stage the first marathon – some 125 circles of the track – is usually a race between the ice clubs in Noordlaren (Groningen), Veenoord (Drenthe) and Haaksbergen (Overijssel). This year, however, it will be different, because officials have banned all official skating competitions because of the coronavirus risk.
Not that the skaters are going to sit back and let that happen. Marathon skater organisations have already written to the KNSB urging them to change their minds and allow 'Covid-safe' races to take place.
4. It giet oan
An essential Friesan phrase to show you are in the know about skating. It giet oan – literally 'it's on' – is the triumphant way of announcing that an Elfstedentocht will take place. The Elfstedentocht is a legendary 200 kilometre skating race that tours the 11 cities of Friesland and last took place in 1997.
5. So is it on?
The experts are already saying the conditions could be right. However, the organisers have already said that no, given coronavirus, there will be no new edition – even if the conditions would allow.
'If things stay as they are we cannot organise a race with up to a million and a half visitors and 24,000 skaters jostling for position at the start,' the organisers said at the end of last year – before a cold snap was on the cards.
As the ice grows, calls for a change of heart are likely to mount. Suggestions have already been made that only the pros should be allowed to take part.
6. Koek en zopie
Koek (biscuits) and zopie (something to drink) are an essential part of outside skating. Today zopie is usually hot chocolate or pea soup but the word is thought to come from zuipie, or tipple, and used to refer to a generous slug of jenever, or Dutch gin. Necessary after spending a few hours in that northeasterly wind and still allowed despite the coronavirus rules, because it is a takeaway service.
7. Extra holidays
If someone is ijsvrij – literally ice free – it does not mean they have been defrosted, but that they have been given an extra day's holiday to enjoy some skating. Traditionally, school children and workers would be given a day off if the roads were too dangerous because of snow and ice or it was too cold to work.
But since the end of the last century, some companies have been giving staff time off for skating as a gesture of generosity. Well, it is either that or have nobody turns up anyway. This year, with so many people working from home and secondary schools closed, it will be easier to bunk off for some illicit skating anyway.
Thank you for donating to DutchNews.nl.
We could not provide the Dutch News service, and keep it free of charge, without the generous support of our readers. Your donations allow us to report on issues you tell us matter, and provide you with a summary of the most important Dutch news each day.
Make a donation