Election watch: the lowdown on the main Dutch political parties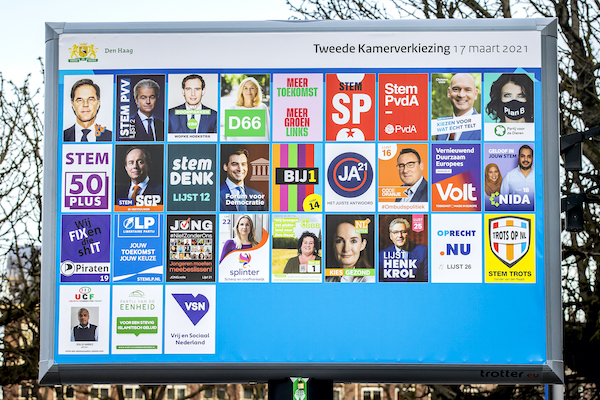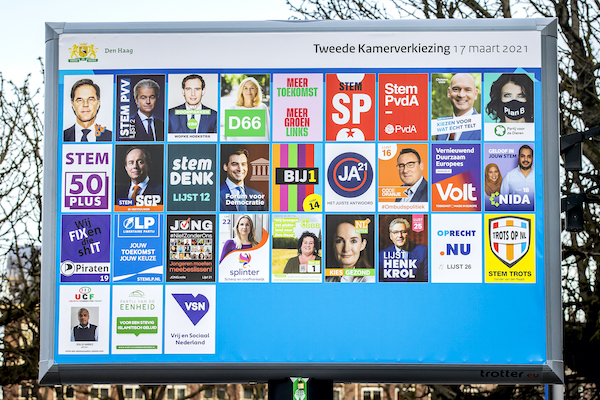 Netherlands has an ever-expanding range of political parties in parliament, due to the recent trend of dissidents breaking away after an intra-party row to form their own splinter group. There are also various flavours of Christianity to choose from.
Here's an alphabetical list of the 13 parties that currently hold seats in parliament, in alphabetical order, and three hopefuls which, the polls suggest, are in with a chance in the March general election.
50PLUS
Campaign leader: Liane den Haan
Seats in parliament: 3
Campaign slogan: No
Founded in 2009 as a pensioners' rights party – despite being named for the over-50s – 50PLUS has been bedeviled by splits and rivalries, and former leader Henk Krol is now standing for parliament under his own name.  The party wants the retirement age brought back to 65. Manifesto
CDA
Campaign leader: Wopke Hoekstra (finance minister in the current cabinet)
Seats in parliament: 13
Campaign slogan: Nu doorpakken (now, keep going)
The Christen Democratisch Appèl (Christian Democratic Appeal) was formed in 1980 through the merger of three other 'confessional' parties that spanned the historic Catholic-Protestant divide. The CDA and its predecessors participated in every government between 1918 and 1994, and again from 2002 until the present. The Bible is seen as a source of inspiration rather than a diktat. Politically, the CDA is viewed as middle of the road and socially conservative. Website
ChristenUnie
Campaign leader: Gert-Jan Segers
Seats in parliament: 5
Campaign slogan: Kiezen voor wat echt telt (Choose what really matters)
The ChristenUnie is the mildest of the three Dutch Christian parties and sometimes described as left-wing because of its progressive socio-economic policies. However, Biblical principles are the basis of party policy and most of its votes come from the 'Bible Belt' region. The ChristenUnie is opposed to abortion and euthanasia and ties itself in knots over homosexuality, which it prefers to ignore. It is part of the current coalition. Website
D66
Campaign leader: Sigrid Kaag (trade minister in the current cabinet)
Seats in parliament: 19
Campaign slogan: Een nieuw begin (a new beginning)
Democraten 66 was formed in 1966 with the aim of reforming the Dutch democratic system. Describing itself as a progressive, socially liberal party, D66's political fortunes have been a story of ups and downs: the party has been a junior partner in several coalitions, while the low point was reached in 2006 when it was reduced to a rump of three MPs. Sigrid Kaag, a career diplomat, took over the leadership from the young MP Rob Jetten late last year, who was given the job after Alexander Pechtold resigned. Manifesto, in English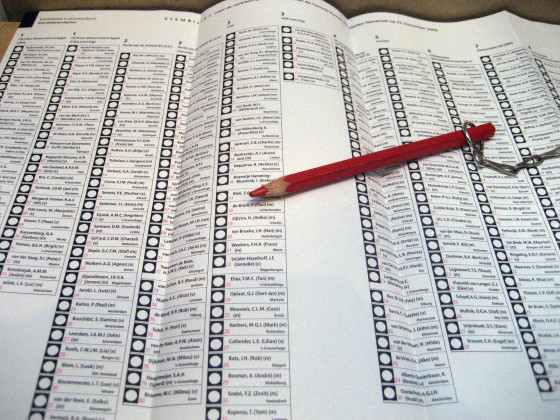 Denk
Campaign leader: Farid Azarkan
Seats in parliament: 3
Slogan: Denk anders (think differently)
Denk was founded in 2015 by two Dutch Turkish MPs when they split from the Labour party (PvdA) and went on to win three seats in the 2017 vote. Often described too pro Erdogan, the party is now led by Farid Azarkan, who has Moroccan roots, following bitter in fighting in 2020.  Azarkan has a reputation as a strong debater, particularly during the childcare benefit scandal which brought down the government. Polls suggest the party will win two seats. Website
Forum voor Democratie
Campaign leader: Thierry Baudet
Seats in parliament: 2
Campaign slogan: Stem Nederland terug (Vote the Netherlands back)
Since emerging as the biggest party in the provincial elections in 2019, Thierry Baudet's far right Forum voor Democratie has seen its fortunes plummet, following a string of scandals involving financial irregularities, racist and anti-Semitic Whatsapp messages and consipiracy theories. At the end of 2020, the party fell apart although Baudet managed to hang on to the name and the party organisation. Polls suggest the FvD could win up to four seats. Website
GroenLinks
Campaign leader: Jesse Klaver
Seats in parliament: 14
Campaign slogan: Tijd voor nieuwe realisme (Time for a new realism)
GroenLinks (Green-Left) was officially formed in 1990 from a grouping of four smaller left-wing and green parties – the CPN, EVP, PPR and the PSP. The party's core values are environmental sustainability and social justice, but it has a bit of a leftist intellectual image and has never been in government.  Klaver, who has been an MP since 2010, was criticised for failing to take his party into the last coalition government but has been a vocal informal opposition leader since them, particularly on government corporate taxes and coronavirus support for KLM. Manifesto summary in English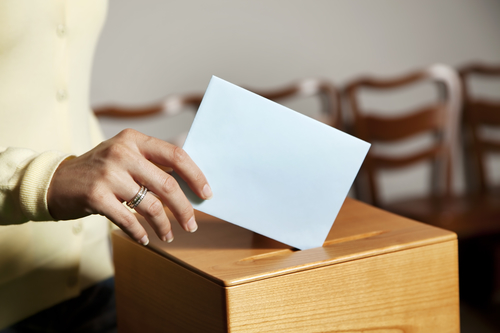 PvdA
Campaign leader: Lilianne Ploumen
Seats in parliament: 9
Campaign slogan: Ons plan voor een eerlijker en fatsoenlijker Nederland (our plan for a fairer and more decent Netherlands)

The Partij van de Arbeid (Labour Party) was formed in 1946 and immediately formed part of the first post-war coalition government but it has struggled in recent years and its support collapsed at the last election, when it won just nine seats. Lilianne Plouman, who was trade minister from 2012 to 2017, took over as party leader this year after Lodewijk Asscher resigned for his role in the childcare benefit scandal. The party is still struggling to find its feet. Website
PvdD
Campaign leader: Esther Ouwehand
Seats in parliament: 4
Campaign slogan: Plan B

The Partij voor de Dieren (Party for Animals) was established in 2002 and claims to be the first mainstream political party in the world to put animal rights first. It was founded by Marianne Thieme, a Seventh Day Adventist, who stood down in 2019. Current polls suggest it could increase its MPs at the election. Website
PVV
Campaign leader: Geert Wilders
Seats in parliament: 20
Campaign slogan: Nederland weer van ons (The Netherlands ours again)

The Partij voor de Vrijheid (Freedom Party) was formed in 2006 by Geert Wilders after he broke away from the free-market, centre-right Liberals (VVD). Wilders – famed for his odd, peroxide blond hair – has made a career of speaking out against the 'Islamisation' of the Netherlands and lives under armed guard after receiving death threats. This time round his campaign may have the same slogan, but the manifesto consists of 50 pages rather than one sheet of A4. Wilders, who was last year found guilty of insulting Moroccans, advocates closing all mosques, banning the Koran in public buildings and shutting the borders to refugees. Website
SGP
Campaign leader: Kees van der Staaij
Seats in parliament: 3
Campaign slogan:

The Staatkundig Gereformeerde Partij is the most orthodox of the fringe Christian parties and usually wins 2 or 3 seats in the 150-member parliament. The party believes the country should be governed 'entirely on the basis of the ordinances of God as revealed in the Holy Scriptures' and does not think women should play an active role in politics. The website is closed on Sunday. Seriously. Website
SP
Campaign leader: Lilian Marijnissen
Seats in parliament: 14
Campaign slogan: Stel een daad (do something)

The populist-left Socialistische Partij, with its logo of a tomato, broke into national politics in 1994 with the slogan 'stem tegen, stem SP' (Vote against, vote SP). Since then it has hovered around on the sidelines. The party is anti-EU, anti-globalisation, and pro the working man – similar to the PVV, but without the racism. Lilian Marijnissen, the daughter of the party's highly respected former leader Jan Marijnissen, is currently campaign chief. Website
Splinter
Campaign leader: Femke Merel van Kooten-Arrissen
Seats in parliament: 1 (was elected for the PvdD)
The MP with the longest official name, Van Kooten-Arissen also holds the record for being members of the most political parties within a year. In 2019 she left the pro-animal PvdD but kept her seat as an independent, forming a new parliamentary faction with Henk Krol who quit as 50Plus leader in May. She then quit the 'Party of the Future' in 2020, after Krol agreed to merge with Henk Otten, who himself had been thrown out of the far right Forum voor Democratie. She remains in parliament as an independent and will contest the election under the appropriate name of Splinter.  Website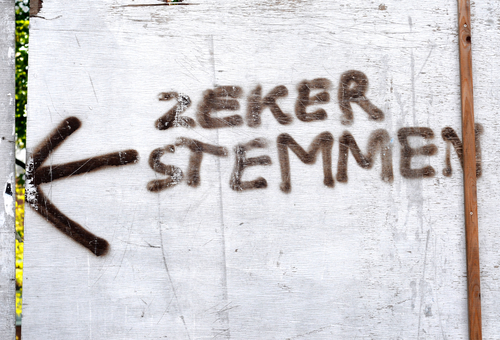 VVD
Campaign leader: Mark Rutte (prime minister)
Seats in parliament:  32 (was 33)
Campaign slogan: Samen sterker verder (continue together stronger )
The Volkspartij voor Vrijheid en Democratie (People's Party for Freedom and Democracy) is a tricky party to place outside the Dutch political sphere. Supportive of the free market as far as the economy is concerned, the party is traditionally liberal on social issues. Mark Rutte has been prime minister since 2010 and is now going for his fourth term in office, his popularity largely undented by the coronavirus crisis. Manifesto
And three not in parliament but in with a chance
BIJ1
Campaign leader: Sylvana Simons
Slogan: Allemaal anders maar toch gelijkwaardig (all different but still equal)
Television presenter turned politician Sylvana Simons founded fledgling party BIJ1 after quitting Denk in 2017. Closely aligned with the Black Lives Matter movement, Simons was elected as a councillor in Amsterdam but resigned in November to focus on the national campaign. Bij1 aims to take 'the most left-wing, greenest and most inclusive programme' into national politics. BIJ1 does not get the media attention some of the other fringe parties are getting but could scrape enough votes for one seat. Website
JA1
Campaign leader: Joost Eerdmans
Slogan: Het juiste antwoord (the right answer)
JA1 was founded in December 2020 by Eerdmans, former ally of Pim Fortuyn and long-serving Rotterdam official on behalf of Leefbaar Rotterdam (liveable Rotterdam), and Annabel Nanninga, Amsterdam city councillor for the far right Forum voor Democratie. Both left the FvD after the anti-Semitism row and took most of Forum's MEPs and senators with them. The aim, said Nanninga at the time, is 'less immigration, less spending on climate issues, direct referendums and less EU'. Polls suggest they could pick up a seat or two. Website
Volt
Campaign leader: Laurens Dassen
Slogan: Vernieuwend, duurzaam, Europees (innovative, sustainable, European)
Young and pan European, Volt has 30 representatives across Europe and is hoping to break through in the Netherlands this year. Several polls indicate the party could pick up a seat.  Website
In total, a record 37 different parties are contesting the March general election, so that means there are are another 21 parties to chose from. You can find a complete list here.
Thank you for donating to DutchNews.nl.
We could not provide the Dutch News service, and keep it free of charge, without the generous support of our readers. Your donations allow us to report on issues you tell us matter, and provide you with a summary of the most important Dutch news each day.
Make a donation