Erotic centre to come in plans to 'reset' Amsterdam inner city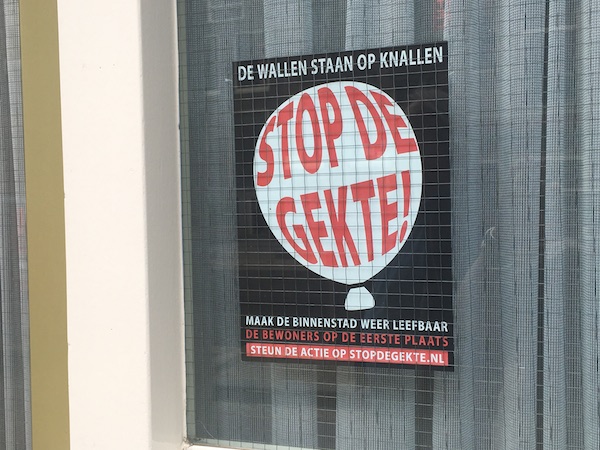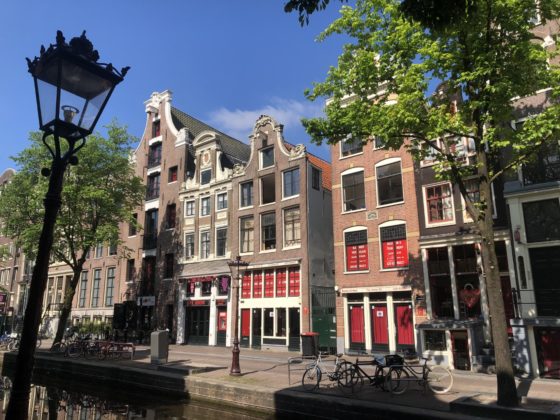 A majority of councillors in Amsterdam will vote for plans to radically change the historic centre, including moving red light windows to an 'erotic centre' outside De Wallen.
In an online council meeting on Thursday, there was broad support for an overhaul of the centre to reduce the pull of sex and drugs, and attract a 'better quality' tourist. Councillor Dennis Boutkan, of the PvdA labour party, described it as an important 'reset of the visitor economy'.
The mayor of Amsterdam, Femke Halsema, has put forward three sets of proposals to rein in excessive drugs tourism and make the centre more liveable for local people. There are more than 80 individual measures in an 'inner city' plan, a proposal to move prostitution from the Red Light District to a purpose-built erotic centre elsewhere, and a set of measures to reduce the number of coffeeshops and make them more manageable.
The last measure, which would mean enforcing a residents-only policy and banning tourists, is the most controversial and has the most opposition from councillors although it is within the powers of the mayor. During the debate, Halsema promised a further investigation into whether banning foreign tourists would increase – or possibly even decrease – street drug dealing.
Voice
'These measures aim to result in a better mixture of functions, better control, a valuable visitor economy and strengthening cultural diversity and the local identity, more diverse range of housing and more residents in the inner city, more accessible public space and more greenery,' she told the council meeting.
Despite some concerns from councillors about whether sex workers are given enough voice in the debate, there will be a majority in the council for closing some prostitution windows in de Wallen and opening an 'erotic centre' elsewhere. The question now is where, although a referendum of local residents proposed by Don Ceder of the ChristenUnie looks unlikely.
The mayor said there were three aims: to improve sex worker rights and reduce human trafficking, rein in criminality in the old city centre and reduce the level of nuisance there for residents and businesses. 'With an erotic centre, you would need fewer windows in the inner city. It doesn't have to have a bad atmosphere: it can be a safe place for sex workers that doesn't have negative effects on the area it is in,' she said.
However councillors such as Daan Wijnants, from the VVD, said their preference was for a new build area because current locations would be likely to experience a 'nimby' reaction – 'not in my back yard'.
Not at any price
There was broad support for a set of measures to stimulate local businesses that would contribute to a more positive inner city, however. Dennis Boutkan of the PvdA told DutchNews.nl: 'I see what we are doing in the city as a very important reset of the visitor economy. We are going to do things very differently and this means that window prostitution will be reduced, an erotic centre will be built and there will be investment in a new kind of businessperson.
'There is a great programme from amsterdam&partners to attract a new kind of tourist, sn business visitors, and this is terrific. We want visitors, but not at any price.'
However, measures to control coffeeshops, which sell cannabis, will need further investigation after councillors expressed deep concerns that banning foreigners would result in more street dealing, for which the police capacity is unknown.
Coffeeshops
Halsema remains convinced that tourists need to be banned. She said that one reason the city cannot take part in an experiment in regulated, legalised cannabis growing is because a national residents-only rule is not enforced. 'The demand has exploded,' she said.
'It gives rise to huge problems with criminal behaviour, corruption, and levels of nuisance we no longer find desirable…Tourists don't just come to smoke dope, but to drink, maybe not to use sex workers but to hang around in front of their doors. The coffeeshops play a huge role in this.'
She added that the ban could be a temporary measure on the way towards legalising the entire chain of cannabis growing and use. 'There could also be a reduction in street dealing if the clientele is reduced,' she added. 'I don't want to take a step back. This a hop, a step and then a jump. Our goal is to make the market manageable so that you can take steps towards legalisation.'
Strong government
However councillors such as Boutkan have expressed severe worries about whether the city's policing capacity could cope.
Alexander Hammelburg, head of D66 liberal democrats, successfully proposed an expert assessment of the impact of the residents-only measure on local youth criminality, street dealing and the health of visitors, and the mayor has promised a full investigation too. 'In other cities [which enforced the residents-only rule] there was a lot more street dealing, which is carried out by young men who we do not want to get onto this path,' he told DutchNews.nl. 'On the street, there are no controls or health warnings on drugs and this could also be more dangerous for visitors as well as the surrounding environment.'
However he added that the tide has turned in the council. 'All parties in Amsterdam are convinced that what has been happening in the centre cannot carry on, and that we need new measures and a strong government.'
Thank you for donating to DutchNews.nl.
We could not provide the Dutch News service, and keep it free of charge, without the generous support of our readers. Your donations allow us to report on issues you tell us matter, and provide you with a summary of the most important Dutch news each day.
Make a donation