Despite the government u-turn, the Dutch are still unwilling to wear masks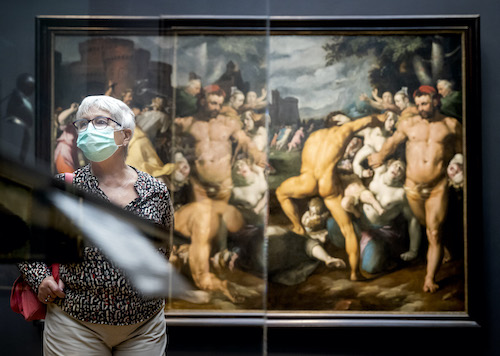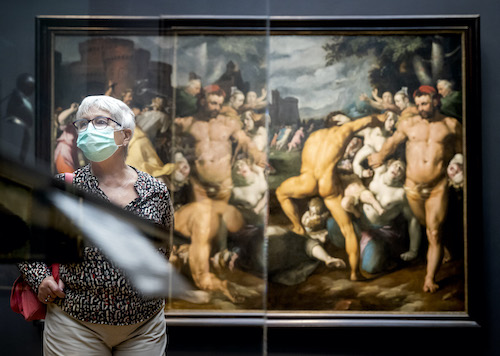 This week the Dutch government did a u-turn and 'urgently recommended' the use of face masks in public spaces. But masks still remain optional, and often invisible in stores and cafes. Lauren Comiteau investigates.
Some things are hard to get your head around, even in 2020. The Dutch reluctance to don face masks is one of them.
When I brought my daughter to get tested for Covid-19 recently, I was shocked to find that most people waiting in line weren't wearing face masks. The medical professionals taking the swabs were in full gear, but even the workers checking our details were maskless. This was, after all, a place you could (in theory) only walk into if you had symptoms.
Even more shocking was the man who checked-in my other daughter and I at the drive-thru testing centre at Amsterdam RAI. I asked him why he wasn't wearing a mask. He said he had been, mostly to protect himself against the car fumes, but his bosses told him to take it off.
Why has the Netherlands been virtually alone among its European neighbours—and much of the world—in its reluctance to mandate masks?
Prime minister
Earlier this week, after prime minister Mark Rutte and health minister Hugo de Jonge took to the airwaves and recommended people wear masks while shopping in Amsterdam, Rotterdam and The Hague but stopped short of requiring it, the Dutch populace and its elected officials in parliament clamoured for nationwide clarity.
After a parliamentary debate Wednesday, the prime minister, with seemingly little choice, 'urgently advised' the rest of the country's citizens to wear face masks inside public spaces, including shops, cafes, museums and government buildings. Schools are now being added to the equation.
But 'urgent advice' is still not mandatory. And Rutte, despite this political concession, said he doubts whether wearing face masks will vastly reduce the spread of the virus.
Science and reason
It's no longer a surprise when the Trumps and the Bolsonaros of this world shun face masks for political gain. But in the Netherlands, a country firmly rooted in science and reason, the government's refusal to embrace the effectiveness of face masks in combating Covid-19, when many leading scientists worldwide consider it one of the most important weapons in the world's currently limited virus-fighting arsenal is perplexing. At best.
As it turns out, reliance on scientific research is precisely why the Dutch government and its top health officials believe masks are not that effective in containing the virus—and certainly not nearly as helpful as social distancing, handwashing and staying home when sick. It just depends on whose research you're looking at.
Since the beginning of the outbreak, the Dutch government has been following the advice of its experts at the public health institute RIVM. 'The literature does not offer a clear consensus on the effect of wearing non-medical face masks in public spaces,' reads the most updated information from the RIVM. 'It seems likely that face masks help prevent infecting others, but only to a limited extent. If everyone follows the basic rules, it is not necessary to wear a face mask.'
The research
That literature includes a study from the Norwegian Institute of Public Health that found '200,000 people would need to wear face masks to prevent one new infection per week in the current epidemiological situation.'
The Dutch authorities were also worried that face masks would lead to 'risk compensation,' where people ignore other virus-fighting measures such as distancing while wearing a mask.
But that was six months ago. And the research has changed.
'Face masks had no effect on how much distance people kept,' says Bas van den Putte, professor of health communication at the University of Amsterdam and a member of the scientific advisory board of the RIVM's Corona Behavioral Unit.
He points to more recent studies from Germany, Italy and even the short-lived Dutch experiment of mandating mask-wearing in certain busy areas of Amsterdam and Rotterdam. Apparently, face mask wearers stayed some three centimetres further away from others than those without them. 'There was no proof of the risk compensation the OTM was afraid of. How busy an area is has proven more of an indicator of how much distance people take.'
Norwegian study
He also cites a newer Norwegian study that found the more people infected with the coronavirus, the more effective face masks are at preventing its spread. 'They are much more useful now,' Van den Putte says, especially as the Netherlands has topped 3,000 new cases several days this week.
'As more scientific evidence has emerged that it helps, the government's Outbreak Management Team opinion has changed, even if slowly. What I like about the Dutch approach is that we don't do things because everyone else does it. We could have been a little faster, but not much. We go with the scientific proof we have at the time.'
But many disagree, with US government advisor Anthony Fauci this week suggesting that the Dutch look at 'the rapidly increasing amount of data on the importance and effectiveness of face masks.'
Although his predecessor at the RIVM has advocated their use, even during this tumultuous week of mondkapje debates, Jaap van Dissel has stood by his view that non-medical face masks have a 'very limited' effect. (Van den Putte, who's spoken to several members of the OMT, says 'Everyone had the same opinion. It's not just him.')
'The most realistic research [regarding face masks] shows a six percent reduction in catching the flu over a one-week period,' Van Dissel told Dutch newspaper AD. Nevertheless, he said, the OMT will follow where the politicians lead.
Retailers
The problem is, the politicians don't seem to be leading, leaving those on the ground to make their own rules.
The big Dutch retailers are divided on the issue, although most—including Hema, Kruidvat and the big supermarket chains—say they won't make mask-wearing mandatory. At Nespresso and the Coffee Company, only workers are required to wear masks, although they encourage customers to do the same. De Bijenkorf, along with Amsterdam museums including the Rijksmuseum and the Van Gogh, have made them compulsory.
With the decision 'to wear or not to wear' left up to individual shoppers and store owners, some smaller retailers are unhappy that they have to in effect play sheriff.  'It's unclear for everyone,' says Melanie Palmieri, who works in her uncle's cheese shop 't Kaasboertje in de Pijp and supports the wearing of face masks.
'Now we have to decide for ourselves if customers have to wear face masks. I think every little thing helps, but are you really going to send somebody away who's not wearing a face mask? Because it is a customer who brings in money, of course.' Her uncle says more people are wearing masks now. He wants the government to make them mandatory.
Ridiculous
But around the corner at Primera Benjamens, the attitude couldn't be more different towards the new advice. 'It's ridiculous,' says Natasha Benjamens, who works at the family store.
'Look at all the other countries that use face masks and their corona numbers still go through the roof. So why wear it? We don't use plastic straws anymore, but now we get millions and billions of facemasks and gloves in the environment!'
Her mother Agnes agrees. 'I have a lung problem, a heart problem and brain damage,' she tells me. 'If they give me only that cheap, blue mask, I don't want it. If they give me a medical one, I'll buy it myself.' The store has no intention of forcing anyone to wear a face mask. Ever.
Local
Amsterdam's mayor Femke Halsema has been working since August with the mayors of Rotterdam and The Hague to get the national government to make face masks mandatory. She doesn't care what side people come down on in the debate. 'Her point,' says her spokesman Sebastiaan Meijer, 'is that if it doesn't hurt people, can we please do it? It could make a difference. We'll know the real effects later on, but let's get going now and we can talk about it later.'
That's a reference to very Dutch tradition of everyone having their say and coming to a consensus. But so much talk, says Meijer, has led to little action. And while the mayor—who is appointed and not elected—has the power to maintain public order and safety, she doesn't have the authority to mandate people wear masks.
'If you want to limit people's rights—and forcing someone to wear a face mask is a violation of human rights, even if it might be necessary, like with wearing seatbelts—it must be done at the national level,' says lawyer Marq Wijngaarden, a partner at law firm Prakken d'Oliveira.
Constitution
'Local authorities don't have the power to limit rights. It's in our constitution. It's even more difficult legally to enforce limitations if the human right is on private property, such as in shops. If you make a rule that can't be upheld in court, Dutch people will refuse to follow it by the hundreds. You shouldn't make laws you can't uphold.'
Which is why Halsema didn't try. Losing a potential lawsuit brought by a store owner would have left city officials with little credibility and authority, not to mention undermine what she wants to achieve.
'We've been trying to impose so many rules on people, using a combination of repression and inducement to get them to change their behaviour,' says Meijer. 'If you want to achieve something, you need public acceptance. It's about making people in Amsterdam believe in the same cause.'
Fear Factor
'I think it is difficult to stimulate mask wearing after first saying that it does not help,' says Benjamin van Rooij of the University of Amsterdam's Center for Law and Behaviour. 'I do think that the more people hear about the infection rate, the more likely they become afraid. And the less they see people keeping a distance, the more they may opt for self-protection through masks.'
A September study he co-wrote on compliance with Covid-19 measures found that that there's been a sharp decline respecting social distancing rules in the Netherlands since the summer. At the beginning of May, 50% of those surveyed indicated they always complied with the rules; by July, that number had dropped to 11%. Fear, among other things, seems to breed compliance.
As we in the Netherlands prepare for a projected 5,000 new Covid-19 infections daily, that fear should be looming on the horizon. And the government's communication with the public should be clearer, even—especially—concerning controversial and confusing issues like face masks.
'The virus is communicating better than the government,' says Van den Putte.
No one likes wearing face masks, myself included. I rarely wore one until last week, when my daughter tested positive for Covid-19. And that was because I felt I had to. Chalk it up to human nature. Which may not be so hard to get your head around after all.
Thank you for donating to DutchNews.nl.
We could not provide the Dutch News service, and keep it free of charge, without the generous support of our readers. Your donations allow us to report on issues you tell us matter, and provide you with a summary of the most important Dutch news each day.
Make a donation