'I came here from another country. I'm not a Dutch citizen, I'm an immigrant'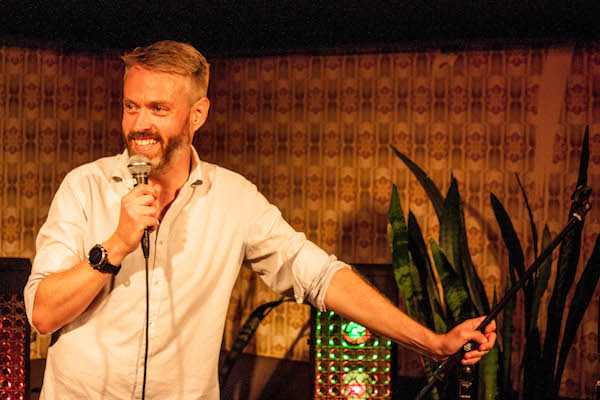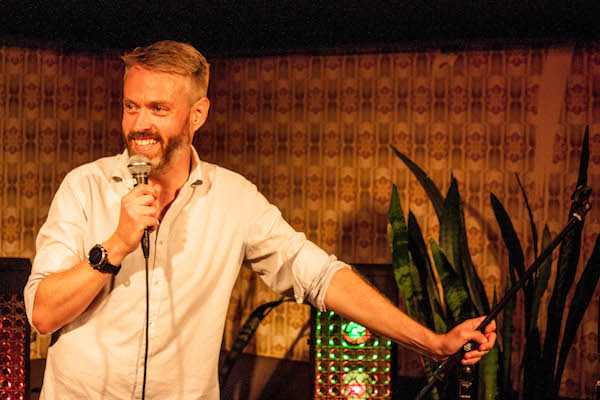 Though he spends his days working in IT, by evening Steven Morgan is a stand-up comedian, running his own comedy night in Nijmegen and a cast member of Amsterdam's Easylaughs. A British citizen, he's been to a lot of cities across the country but mostly at night, promising to himself return during the day, but never managing to do so.
How did you end up in the Netherlands?
I was previously living in Australia with my ex, but being so distant from close friends and family was tough, so when she got a job offer in a city called Nijmegen, despite having never heard of it, at least it was closer to home, but still outside of the Brexit nightmare. We're no longer together, but I really love this country, so much that it made me realise how much I didn't enjoy Australia. I'm in a new relationship here in Nijmegen now, and it's my favourite city in the country.
How do you describe yourself – an expat, lovepat, immigrant, international, etc.?
I hate all of these classifications, but if anything I'm an immigrant. I hate the class divisions inherent in those terms. I came here from another country, I'm not a Dutch citizen, I'm an immigrant. Whatever my circumstances of coming to this country, it shouldn't matter, we should be treating everyone with the same respect, empathy and compassion.
How long do you plan to stay and why?
I have no plans to leave at present, though as a British citizen, the uncertainty around the fallout of Brexit does still make me wonder if that decision will be up to me long-term. My country is a mess, so my current thinking is to take the steps necessary towards achieving Dutch citizenship, so that if it turns out that's my only option, I can act accordingly. Deep down I'm praying for dual citizenship to be allowed, but it doesn't look very likely at this point.
Do you speak Dutch and how did you learn?
I don't mean to brag, but I currently have an 832-day streak on Duolingo. Unfortunately, practically it hasn't made much of a difference and my Dutch is still very basic. We had lessons through my work for a short while, but since the company mostly operate in English, it was eventually stopped due to budget cutbacks.
I seem to be perpetually about to start intensive lessons six weeks from now, yet it hasn't happened yet. I'm finding my vocabulary is getting a lot better, but the only times I ever understand what a Dutch person is saying is when there's a small child talking basic Dutch in the same train carriage as me. The social anxiety around attempting to speak Dutch is very real.
What's your favourite Dutch thing?
The fact that people cycle everywhere here and it's so safe to do so. It makes such a difference, getting outside regularly, being able to cross the cities in relatively little time. Back when I lived in London, every year or so I'd get the courage to start cycle commuting and within a week would have a near-death experience that would put me off it for another year. You could go entire days in winter without being outside, yet here the outdoors is just an inherent part of life. Bikes may be a Dutch cliché, but other countries are just low-key jealous of the low-lands.
How Dutch have you become and why?
I'm a lot more direct than I used to be. When I started working here, I found some of the things my workmates said to each other quite shocking. Not in the way that I disagreed with what they were saying, but the fact that they were expressing their opinions to each other unguardedly blew my tiny British mind. I no longer end my sentence with "no worries if not" when I ask them to do something for me. Like with any new thing you learn I sometimes get it wrong and take things too far, crossing the line into personal insult, but even in those circumstances people seem to be more tolerant. Well, either that or they think I'm incredibly rude and are just too polite to say anything, but from what I know about the Dutch, that seems unlikely.
Which three Dutch people (dead or alive) would you most like to meet?
Terrie Hessels. The Ex are a Dutch musical treasure, putting out great music for longer than I've been alive and Terrie's been there through it all. He's lived a fascinating life and gets behind some amazing causes, I think he'd be a fascinating person to hang out with.
Aletta Jacobs. As the first female Dutch doctor, and the person responsible for women getting the right to vote, how could you not want to meet this absolute badass?
Hieronymus Bosch. I'd want to know what his religious beliefs truly were, how much of his work should be interpreted literally. I reckon that under it all he'd like a little bit of a giggle and would be a good laugh on a night out.
What's your top tourist tip?
Den Bosch! What a beautiful city! After moving to the Netherlands, I kept trying to search for places worth visiting around the country, where the tourism is so focused on Amsterdam, and most of the places recommended were mostly places just outside that city. Den Bosch is such a particularly beautiful city in a country full of beautiful cities. There's so much beautiful architecture, and it's well worth going on a boat trip through the waterways underneath the city, trying to spot as many Hieronymus Bosch inspired statues as you can along the way. Most people in the south east only associate it with Carnaval, but it's a great city to visit all year around.
Tell us something surprising you've found out about the Netherlands
I didn't realise that the country had its own bible belt, a concept I thought was uniquely American. I'd perhaps naively thought of The Netherlands as a very progressive country, so discovering that in Staphorst you can be fined for swearing or that the ATMs don't work on Sundays came as a huge surprise.
If you had just 24 hours left in the Netherlands, what would you do?
Throw another house-party in Nijmegen and invite everyone I know.
You can follow Steven and find out where he is performing via Facebook
Thank you for donating to DutchNews.nl.
We could not provide the Dutch News service, and keep it free of charge, without the generous support of our readers. Your donations allow us to report on issues you tell us matter, and provide you with a summary of the most important Dutch news each day.
Make a donation