A family in wartime: the story of the six Blessing brothers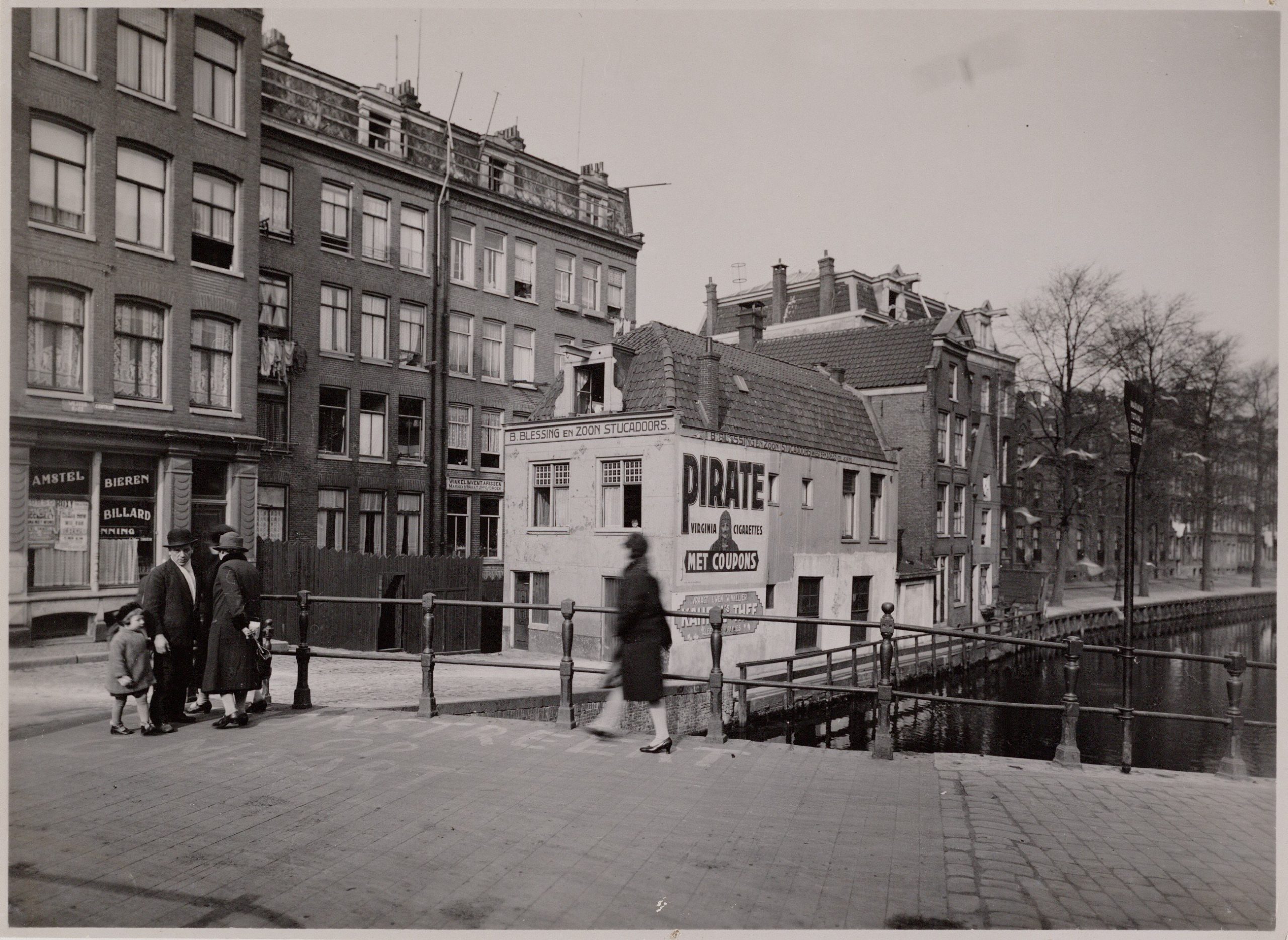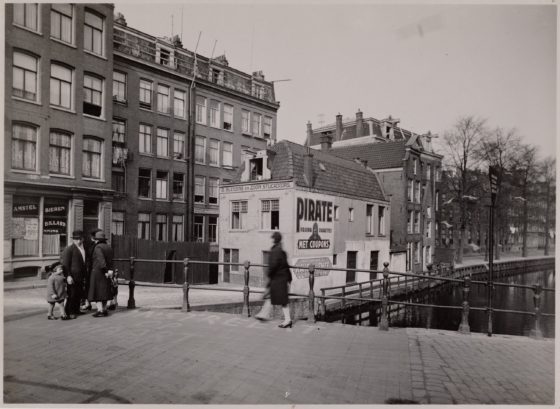 From a comfortable home in Amsterdam, to German labour camps and the streets of Berlin. This is the story of one Dutch family with six sons, and their experiences of World War II.
At the head of Amsterdam's Westerkade, on the edge of the Jordaan, a low, squat grey building stands out among the rows of canalside apartments. During the prewar years, when the district was populated by working-class families, it was sometimes known as the Pirate House because the blank wall facing Lijnbaansgracht bore a large advert for a cigarette brand. It was the business address of local plasterer Albert Blessing, whose family, like so many in occupied Europe, would be changed irrevocably by the war.
Albert had lived in the Pirate House as a boy and inherited the building and business from his father, Bernhard Blessing. The family had emigrated from the Württemberg region of Germany a generation earlier in the wake of the Franco-Prussian war; another relative, Karl Blessing, was associated with the failed plot to assassinate Hitler in 1944 and later became president of the Bundesbank.
A photograph of the house from 1930 shows the eye-catching advertisement and the Blessing & Zoon name stencilled across the top of the building, complete with five-digit telephone number. A young boy, maybe five or six years old, peers out of the upstairs window, his face twisted into a scowl.
By the time the war broke out Albert Blessing had moved his growing family into a three-storey townhouse on Prinsengracht. He hoped his six sons, who were reaching adulthood, would go into the family business. The eldest, Bernhard, had started an apprenticeship, but was called up to the army in 1939, aged 23. Fredericus, known as Frits, trained as an accountant and moved to Maastricht during the war. The boy in the window in 1930 is most likely either Jacobus, or Jacob, born in 1924, or his 16-month younger brother, Petrus (Piet).
Business was booming. The company specialised in high-quality renovation work, such as the murals that still adorn the main hall of Amsterdam's Amstel Station. Its wartime orders included a contract to black out the windows of the Rijksmuseum. Albert was also active in the business community, later becoming deputy-chairman of the Amsterdam Chamber of Commerce.
Invasion
Jacob was 16 years old when the Germans invaded, but as the war went by he increasingly stayed away from the family home. 'My grandfather wasn't an easy man,' says Albert's grandson, Stephen Blessing, from his home in Colorado.
'My uncle Frits used to tell me the story of how the boys found some fireworks in the basement of the house one time. When my grandfather caught them he beat them soundly.' Jacob would head out on his bicycle to work in the fields to the east of the city. 'He preferred being outdoors and he loved being on the farm,' Stephen explains. Until, one day, Jacob didn't come back.
'The family knew which farms he had been working on, so they went out to look for him,' says Stephen. 'They found the Clydesdale horses he was ploughing with tied to a tree.' The Nazis had started rounding up men and women in occupied countries to use as forced labour: in the last three years of the war more than half a million Dutch citizens were transported across the border. 'They asked the Germans where he'd gone but they couldn't find out anything. There were no records,' Stephen says. 'They spent about six months trying to find him before they gave up.'
Resitance
By now it was 1943. The war was turning against the Germans. Resistance was growing among the Dutch population to an occupation that had turned violent and brutal. And Bernhard Blessing, who had rejoined the family firm after being demobilised in 1940, was covering up other things besides the windows of the Rijksmuseum.
'My father was active in the Resistance,' says his son, Raymond. 'They built false attic rooms for people who had to go into hiding. He didn't talk about it a lot, but when I was younger I saw sketches of the annexes. Of course, there are no proper records because it was all illegal.'
Bernhard would later receive the Resistance Memorial Cross for his efforts, as well as the Mobilisation War Cross in recognition of his military service. But in the last year of the war work dried up and the family faced a battle for survival. 'They were badly emaciated,' says Raymond. 'You can see it in photographs of them. My father had to go out to farms to fetch food. And once the war was over they had to rebuild the business from scratch.'
By the end of the war, tens of thousands of Dutch citizens had been displaced around Europe. They included Holocaust survivors, prisoners liberated from Japanese camps, people who had gone to fight for the Allies, political prisoners released in Germany, and refugees from Belgium and France.
Liberation
Liberation in May 1945 was the start of a colossal effort to bring them home and rehabilitate them in a country exhausted by war. The city of Amsterdam set up a repatriation centre in the basement of Central Station where returning citizens could be registered, undergo medical checks and be vetted for 'political reliability' – to prevent Nazi sympathisers sneaking back into the country and escaping justice.
Seemingly on a whim, the youngest of the Blessing brothers, Frans, went down to the station in May 1945 where the refugees were being processed. He sat down at a table marked 'B': alphabetical order was used so family members could find each other. To his astonishment, he found himself sitting opposite a man claiming to be his dead brother, Jacobus.
Frans's first instinct was to assume that the man had stolen Jacob's identity. 'When my father left home he was 17 years old, 6ft [1.83m] tall and 180lbs [81.5kg],' Stephen Blessing explains. 'When he came back to Amsterdam he was 21, two inches [5cm] taller and weighed 110lbs [50kg]. He was in poor health and had boils all over his body. His brother didn't recognise him. It was only when he started telling family stories and mentioning aunts and uncles that he believed it was really him.'
Frans fetched the family from the house on Prinsengracht for an unexpected reunion. Exactly what was said has been forgotten, but the shock of seeing Jacob alive, reduced to little more than skin and bone, must have been enormous. And the horrors he had witnessed had left scars that would never heal.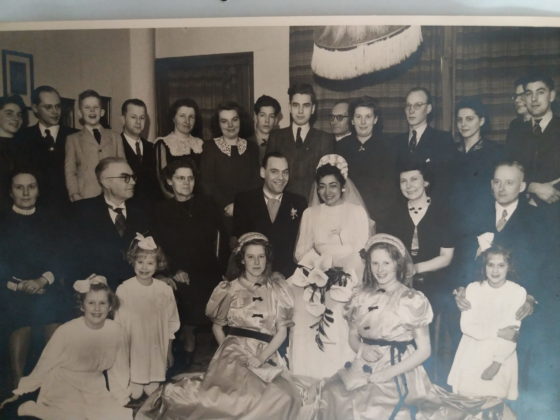 'My father didn't talk about what he saw during the war at all while I was growing up,' says Stephen. 'It wasn't until he was 80, when I sat down with him one time and asked him again, that he told me. He just talked for four hours and then never mentioned it again.'
Jacob had been taken first to a 'workers' education camp' (Arbeitserziehungslager) near Cologne. It took five days to travel from Amsterdam in cattle trucks; today the journey is around two and a half hours by train. The workers made parts for German engineering companies such as Siemens, Krupp and BMW.
Conditions were appalling: working days were 12 hours long, prisoners were provided with a single set of clothes that were never washed, punishment beatings were administered for trivial offences and anyone accused of severe transgressions was executed in front of their fellow prisoners.
Transfer
Some time in 1942 Jacob was transferred to a Siemens factory where circuit boards were being made for the U-Boot fleet. Prisoners slept in wooden bunks without mattresses and lived off daily rations of thin cabbage soup and sandwiches. The bread was made with flour and sawdust.
'He said a good day was when you managed to steal a little engine oil, because you could rub it on yourself to keep the lice off,' says Stephen. Jacob made a pact with two fellow prisoners from France and Belgium to sabotage the circuit boards. But when the devices failed the Germans became suspicious and packed the trio off to a penal camp, or Straflager.
'My father wouldn't say what happened in the punishment camp,' says Stephen. 'He couldn't talk about it.' Jacob's French companion died; the two survivors signed documents pledging to be 'good Nazis' from then on and were sent to the Polish-Russian border to work on the roads. They had hoped for an improvement in their conditions, but things were about to get even worse.
The Soviets had won the battle of Stalingrad and were pushing towards the Polish border. When they picked up Jacob's work party and heard him speaking Dutch they assumed he was German, and took him prisoner. Jacob travelled with the Russians into Berlin, where he was put to work clearing rubble and removing dead bodies from the ruined city.
Berlin
Prisoners were fed maggot-infested meat, drank muddy water from puddles and had to steal clothes from the dead to keep warm. Girls and women were raped in front of the prisoners. Anyone who refused to watch was shot. 'My father told me the Russians were even crueller than the Germans,' Stephen says.
As Berlin descended into chaos in April 1945, Jacob took a chance to escape his captors by swimming across the Spree and Havel rivers to the American sector. US troops gave him chocolate and put him on a caravan train back to Amsterdam. The convoy took a detour through the newly liberated concentration camps to imprint the horror of the Holocaust on their minds.
Back in Amsterdam, Jacob recuperated at the family home. 'My grandfather wanted him to work in the family business, but he wasn't someone who liked to be around people,' says Stephen. 'Two months later he left for France and went to work on a farm. But the memories wouldn't leave him.'
Jacob went home again and formed a new plan. He signed up to a US government scheme that sponsored Europeans to emigrate as farm labourers. Once they had paid off their travel costs, they were free to stay. Jacob had also recently met Bea Kremer – Stephen's mother – and persuaded her to join him.
'Once he'd earned enough money, he sent for her and she followed him on the Holland-America Line from Rotterdam.' It was 1948 and Jacob was on the brink of a new life, with his new wife, in a new country. It was a world unimaginable to the small boy who had scowled at from the window of his father's workshop prewar Amsterdam, 18 years earlier.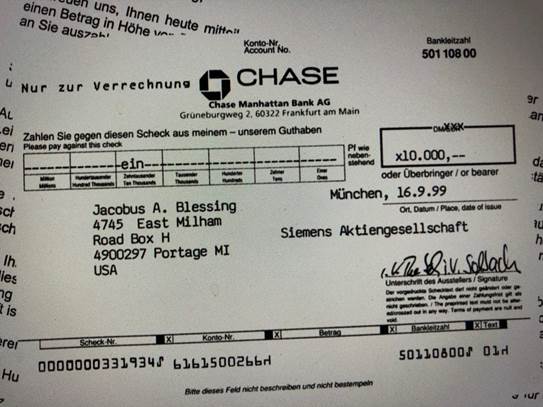 After the war the Blessing brothers dispersed. Bernhard, the eldest son, took over his father's business in 1950, four years before Albert Blessing died of a heart attack at the age of 64. Frans joined the Catholic People's Party (KVP), which dominated postwar politics until the 1970s, and became mayor of Ewijk, near Nijmegen.
He died in office in 1976, just before his 50th birthday. Frits settled in Maastricht as an accountant and was a member of the committee that drew up an inventory of the Netherlands' assets under the Marshall Plan.
Jacob, known as 'Uncle Jake' to his Dutch family, settled in the US with Bea and had seven children. In 1999 he received a cheque from Siemens for 10,000 Deutschmarks (€5,010) for his year of slave labour, under a compensation programme set up by the German government.
Like many who lived through the war, he and his brothers saw it as a closed book. 'Whenever I met aunts and uncles they treated me incredibly kindly,' says Stephen. 'But they didn't talk about their family. I remember my Oom [Uncle] Frits saying to me: "Steve, why do you want to know the past so badly?" It wasn't in their generation.'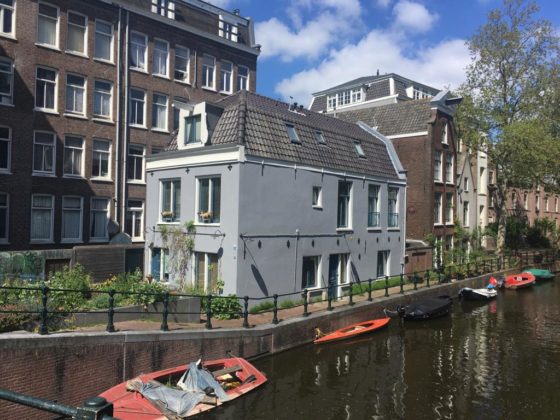 Thank you for donating to DutchNews.nl.
We could not provide the Dutch News service, and keep it free of charge, without the generous support of our readers. Your donations allow us to report on issues you tell us matter, and provide you with a summary of the most important Dutch news each day.
Make a donation