Partner content
Virtual reality videos offer a new selling experience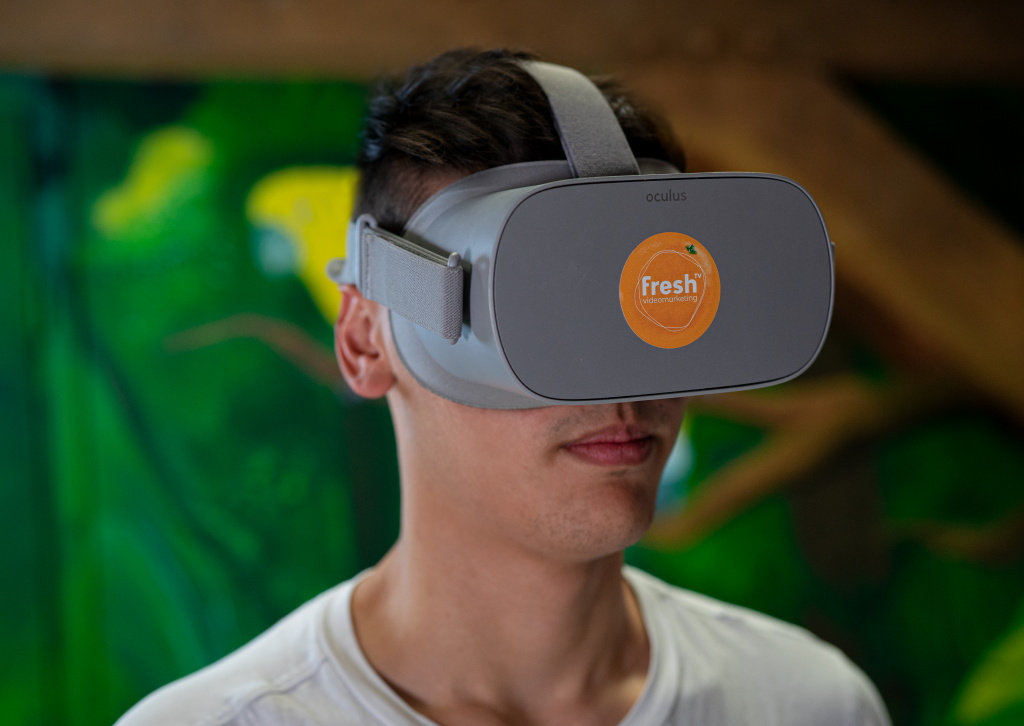 If a picture is worth 1,000 words, an experience is invaluable. This is why increasing numbers of businesses are investing in virtual reality videos to give potential immigrants a feel for a new country, show surgeons how to perform an operation or take people on a 'ride' to show off a new product.
Peter de Graaf, founder of FreshTV Videomarketing, says that his 150 regular clients are increasingly interested in exploiting the power of virtual reality (VR) – alongside video – to sell their products, services or messages.
'It has already proven itself in niche markets like in healthcare and game form, where you can interact with VR,' says De Graaf. 'You put your headset on or your mobile phone into a special headset, and you can see the whole product or story we want to tell. With a normal video, after a minute, we see a decline of about 25% in people watching as perhaps their time or attention span is gone. But with VR it's different: you get engaged, you are in another world, and you lose a sense of time.'
In work for 'early adopter' clients, FreshTV Videomarketing's has found that VR audiences maintain their interest even after two and a half minutes. Meanwhile, the three-dimensional, animated world can be far more compelling.
Experiencing NL
'We did some work for a relocation service, making a VR movie to show what Amsterdam or Rotterdam are like, for people who are now living abroad and might want to come to the Netherlands,' says De Graaf. 'The aim was to give an experience of the Netherlands upfront, from their current homes, so not everybody has to get on a plane.'
VR, or video animated in three dimensions, is just the latest technique in a growing trend for video: in 2020, ever more individuals, companies and employers are using the moving image to encapsulate a message in a more appealing, fun and memorable way.
Back in 2005, for instance, YouTube had just begun – now it claims it has two billion worldwide users who are logged in and active each month, while successful vlogs like Ryan ToysReview or Dan DTM (run by the gamer Daniel Middleton) make millions through their advertising reach.
A video – made with a conventional camera, animation or VR – has incredible power to communicate in our time-poor world, says De Graaf. He launched FreshTV Videomarketing in 2009 after four years as a broadcast television professional, aiming to use the growing online world to help companies find new audiences and spread their messages.
'People are often under time pressure and the motivation to read is really declining,' he says. 'People who are not yet interested favour movies of 15 seconds to 1 minute. If you are interested, then you want to read more, but to get your attention in the first place, video is really good. YouTube is one of the biggest search engines in the world now after Google, and you see this in bandwidth: the internet is getting full of videos, because there's a huge demand.'
With its team of 12, FreshTV Videomarketing works for clients from IT to care organisations, both commercial and charitable. For instance, finding volunteers to test products can be a challenge and so the team created a video for online and television advertising to encourage more people to sign up for medical research.
'We made a movie where people who joined the research described how they experienced the medical examination and then we confronted them with the people who are actually suffering from the disease, which it was really moving to see,' says De Graaf. 'The whole campaign was really appreciated.'
Sometimes, clients might want a one-minute long internal video to show staff the company's latest goals or results – 'something people remember better than when the CEO is talking for an hour!' – and FreshTV Videomarketing also makes safety videos, corporate presentations and client testimonials. About 50% of its work uses animation, which has the great advantage of being easy to translate or dub in languages from English to Mandarin.
The first step in working with a new client is to hone down the company's aims. 'Some companies say they want a movie, we ask why, and they have to think about it!' says De Graaf.
'We try to find the goal behind that question. Once that's clear, we can choose the best service and product for them. We really want to engage on a human level – not too technical or far from people's common sense. Then we go to a creative session, write a script, make a graphical style, come back to them to get approval and can shoot a movie or start the animation. We try to be as efficient as possible: if they want a movie within one month, we can do it. The fastest delivery we did was an animation within three days.'
Integrity
Integrity is a key value for FreshTV Videomarketing, which pledges not to work on projects or products unless the team is wholeheartedly behind what they stand for. But another strong motivator is fun.
'A lot of people don't do this on a daily basis: we want to have a laugh and work on a human level,' he adds. 'Also one of the most important principles – hardwired in our DNA – is that if one of our employees doesn't stand behind a company that's making a movie, then we say we don't want to make it. For example, we would never work with cigarette or oil companies, even if they offered €1m.'
Fortunately, a video or VR experience is a good deal cheaper than this anyway – and using online marketing can in FreshTV Videomarketing's experience also be a cost-effective way to engage your audience. 'We really believe,' says De Graaf sincerely, 'in the power of stories via video.'
Find out more about FreshTV Videomarketing's services via their website or ring 085 – 273 8331

Thank you for donating to DutchNews.nl.
We could not provide the Dutch News service, and keep it free of charge, without the generous support of our readers. Your donations allow us to report on issues you tell us matter, and provide you with a summary of the most important Dutch news each day.
Make a donation