Forever blowing bubbles: innovative device launches to clean plastics from canals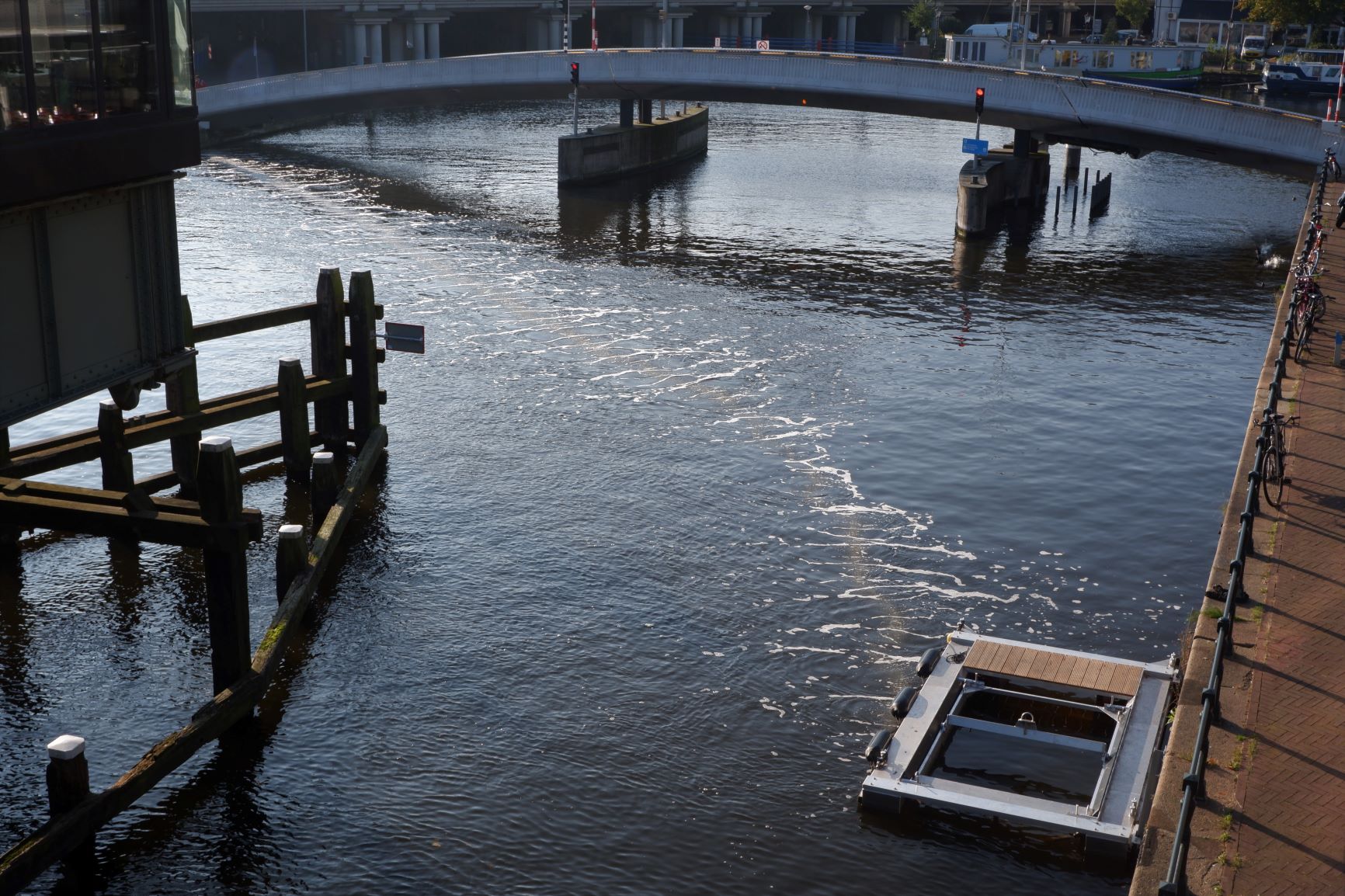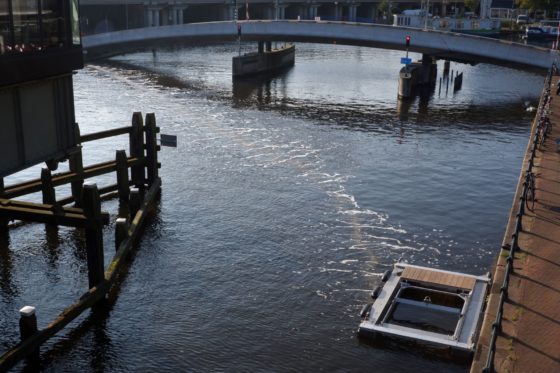 The canal is still, apart from some drops of rain. But underneath Amsterdam's Westerdok quay, the world's first barrier made of bubbles is silently harnessing plastic waste before it reaches the ocean.
At the tip of Amsterdam's historic canal district, Dutch authorities and an innovative start-up have launched an experiment to try to clean the waterways of its hidden waste.
The Great Bubble Barrier, launched in Amsterdam on Thursday, consists of a 60m punctured pipe that runs along the bottom of the channel. Compressed air is pumped through, and rises as a curtain of bubbles; thanks to its diagonal positioning and the river current, the bubbles push pieces of plastic and rubbish upwards and to one side.
Here, on the Westerdoksplein side, a small platform floats to capture the waste. The project will be on 24/7 and has been commissioned for three years. 'This is an important milestone,' said Francis Zoet, co-founder of The Great Bubble Barrier start-up. 'This is the first project that is going to stop plastic from ending up in the sea.'
Hidden waste
Already, according to the regional water authority Amstel, Gooi and Vecht – one of the project partners – five rubbish boats in Amsterdam remove 3,500kg of waste a day from the waterways. Each year, they take out 42,000 kg of plastic, but the concern is that small items and plastics at the bottom of the water simply slip through the net.
'Plastic in our water is becoming an increasing problem [and] has profound effects on the quality of our water and therefore on everything that lives in or near the water,' said executive board member Sander Mager, at the launch. 'This is precisely why it is important for the water management board to collaborate intensively with others to make a stand against this socially urgent problem.'
At the event, where some 200 people huddled under a tent against the rain, enjoying a bubble machine, bubbly wine, and a choir performance, speakers stressed that cleaning up the plastic is only part of the solution. Although every minute, the equivalent of a full garbage truck of plastic waste is dumped into the sea – according to The Great Bubble Barrier – reducing the waste takes more than a clean up.
'There is a systemic change needed, that we use single-use plastics less, and recyclable and upcyclable plastic more, and ensure they don't end up in the natural world,' added Mager.
Idea
The project – thought to cost at least €100,000 – is also co-sponsored by Amsterdam council. Marieke van Doorninck, head of sustainability, said it is committed to tackling the waste problem at every level. 'If you think of the canals, it's all a very romantic idea, but the fact that they are full of plastic is a lot less so,' she said. 'We are doing everything we can as a city to leave as little plastic as possible, because if it gets onto the street, it gets into the water.'
The project started as a crazy idea over a bubbly beer when three keen amateur sailors, Zoet, Saskia Studer and Anne Marieke Eveleens were in a canalside bar four years ago.
'For sailors, you are confronted one on one with the effects of plastic pollution and that just sticks with you: we wondered why there was no system that could catch plastic without hindering fish or ships, because all of the objects were quite passive and object like,' Studer told DutchNews.nl. 'Then the idea came: why is there no wall of bubbles that could pull it out?'
They reached out to a German naval architect and ocean engineer, Philip Ehrhorn, who was also working with the idea of walls of bubbles after being inspired by a cleaning stage at a waste water treatment plant while he was studying in Australia. 'We heard of each other via Instagram by a weird coincidence and saw we had the same target,' he says. 'Long story short, I decided to move to the Netherlands two years ago.'
Their project has won a series of awards, and pilot tests show it can collect plastic from 1mm from flowing waterways and intercept 86% of floating material on inland water. Its effects on microplastics are still being studied at a waste water treatment plant.
Robert
The start up team is keen to stress that as well as collecting plastic, they want to raise awareness and inspire change. 'A lot of people are overwhelmed by the problem and feel they can't use any plastics at all,' says Ehrhorn. 'So start small and learn with it. There's a sign in Berlin that says that if a lot of small people do small things, it makes something big.'
Studer adds that on Wednesday, when the bubble barrier was turned on for a trial five hours, the litter collected included a Starbucks coffee cup marked with the name 'Robert'.
'If Robert had taken a thermo cup with him, that would have been one problem solved!' she adds. 'Do what you can, and be proud of it.'
Thank you for donating to DutchNews.nl.
We could not provide the Dutch News service, and keep it free of charge, without the generous support of our readers. Your donations allow us to report on issues you tell us matter, and provide you with a summary of the most important Dutch news each day.
Make a donation