12 notorious Dutch murder cases, and several miscarriages of justice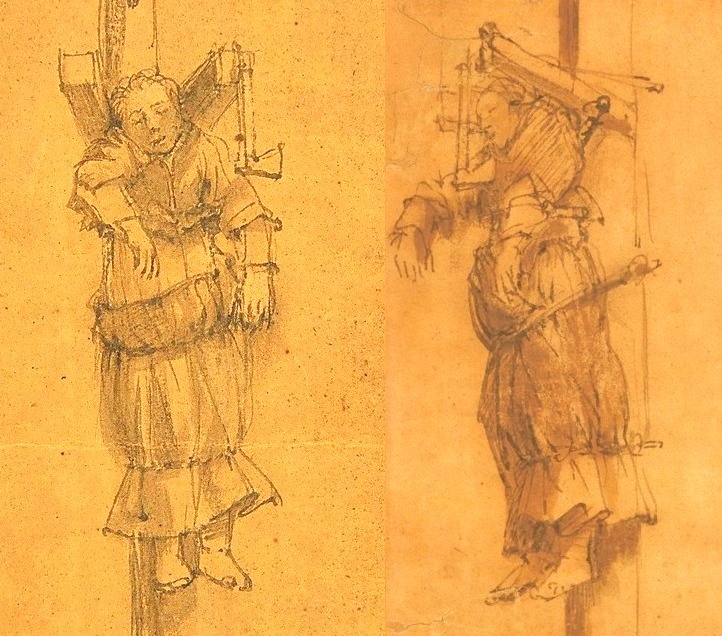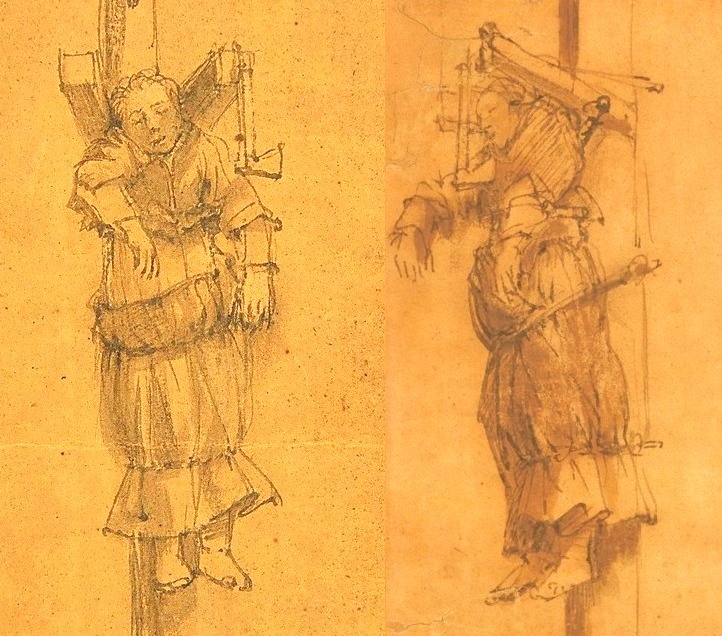 The Dutch murder rate is pretty low in global terms – just two a week in the entire country in 2018. That is not say we have not had our share of nasty murders in the past. Here's a selection of headline makers.
Elsje Christians kills her landlady and is hung for the murder
Elsje Christians came to Amsterdam from Denmark in 1664 to look for a job as a maid and rented a room in a hostel. When two weeks had gone by Elsje still hadn't found a job and her landlady wanted some money, or failing that, Elsje's belongings. A shouting match ensued.
When the woman started hitting her with a broom the girl snapped, grabbed the first thing to hand – which unfortunately for the landlady happened to be an axe – and killed her tormentor. She jumped into the Damrak – which was a canal in those days – and was promptly fished out to stand trial. She was strangled to death and her body hung from a pole in a field, the axe next to her head, as a warning to others.
When Rembrandt heard of the events he went to the field and drew her twice: a young girl, a child almost, who came to a miserable end in the big city.
Prolific poisoner Maria Catharina Swanenburg
It's not exactly a proud boast but a Dutch woman by the name of Maria Catharina Swanenburg is mentioned in the Guinness Book of Records as the most prolific poison murderer of all time. It is thought that between 1880 and 1883 'Goeie Mie' (Good Mie) – she earned the name for her readiness to help people out – poisoned over 100 people, mostly neighbours and members of her family.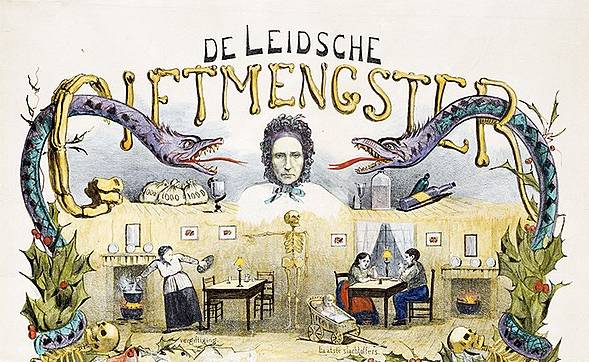 Swanenburg, a washerwoman who lived in one of the poorest areas in Leiden, was apparently after the insurance money and even took out insurance behind the victims' backs, although she never actually spend it. She died in prison in 1915.
The Baarn murder
In 1961 the bones of a 14 year-old boy were found in a pit covered in lime next to a villa in Baarn, home to the well-heeled Henny family. They belonged to Theo Mastwijk, a juvenile deliquent who had earlier implicated Hennie Werkhoven (15) a student at the Baarns Lyceum, in the theft of a motor bike.
Hennie was also good friends with millionaire's sons Ewout (16) and Boudewijn (17) and it is thought likely that all four boys had something to do with a spate of burglaries in the neighbourhood. The reason for the murder is a mystery. Perhaps Theo blackmailed the boys. Others said their sheer arrogance made them think they could get away with murder.
During the court case the brothers were allowed several outings – among which a sailing holiday – amid cries of class justice. Boudewijn and Hennie were jailed for nine years, Ewout for six and the brothers were allowed to continue their studies in prison.
On being released they took over their father's life insurance business at the villa and in 2007 made the Quote 500 rich list, with a fortune put at €147m. Several years, and a raid by the fraud squad later, the family firm was sold for just €1.
Wednesday is minced meat day
Woensdag, gehaktdag (Wednesday, minced meat day) is a Dutch saying that takes on very sinister meaning in the case of Richard Klinkhamer. He had a checkered career, joining the Foreign Legion at 19, working as a butcher and then becoming a novelist.  He had several failed marriages, then married Hannie Gofiron and moved to the hamlet of Hongerige Wolf (Hungry Wolf) in Groningen. Klinkhamer played the stockmarket but lost everything in the crash of 1987, including his wife's money.
The marriage deteriorated and in 1991 Klinkhamer hit his wife over the head with a crowbar during an argument and killed her. He then buried her underneath a shed under a layer of concrete.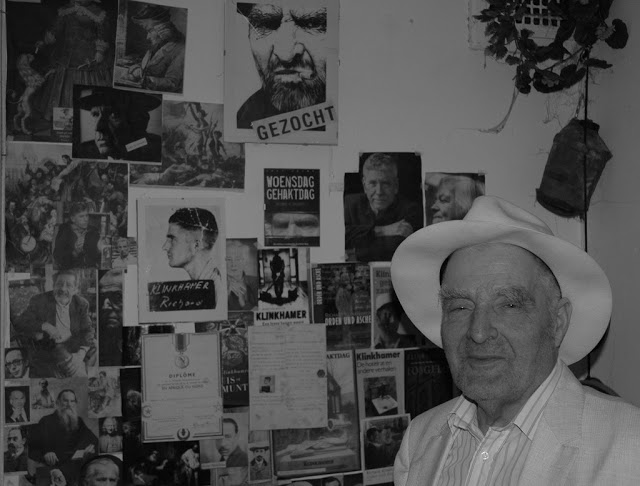 Klinkhamer was a suspect in her disappearance but it wasn't until 2000, when the new owner of the house in Hongerige Wolf discovered Gofiron's remains, that Klinkhamer was caught. He confessed immediately, claiming his wife went for him first with the crowbar. He was given six years for manslaughter.
In 2007 his book 'Woensdag, gehaktdag' was published. In it Klinkhamer describes various ways in which the killing of his wife may have occurred.
Miscarriage of justice: the Putten murder case
The Putten murder case is one of the most notorious miscarriages of justice ever recorded in the Netherlands. In 1994 two men were sentenced to ten years – of which they had already served seven when they were released – for the murder of Christel Ambrosius.
In January 1994 stewardess Christel Ambrosius cycled over to her grandmother's house on the edge of the small town of Putten on the Veluwe. Her grandmother turned out to be visiting a sick friend and Christel waited for her in the house. On her return the grandmother found Christel dead. She had been raped and her throat cut. Traces of semen and two hairs were found on her leg.
Witnesses claimed to have seen an old green Mercedes driving around in woods near the house at the time of the murder and owners Wilco Viets and Herman Du Bois – who were known to take a green Mercedes for a spin at weekends – were quickly arrested.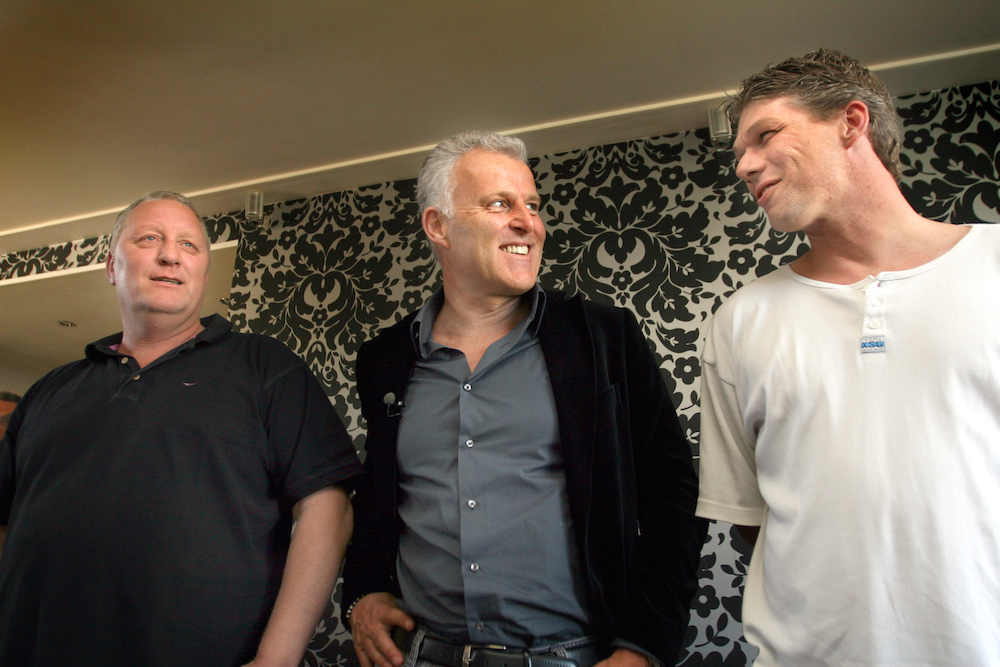 Neither the hair nor the semen belonged to either man but police were so convinced  they had the killers they came up with a theory: Christel must have had sex earlier with a boyfriend and the subsequent rape 'dragged' out the semen.
The boyfriend never materialised but the judge in the case found the story compelling enough to sentence the men to 10 years in jail. Crime reporter Peter R. de Vries and policeman Jan Blaauw remained unconvinced and pushed for a DNA test of the hairs which turned out to be a match with the semen.
On their release the men were given almost a €1m each in compensation. In 2008 Ronald P, who was 19 years old and living in Putten at the time, was apprehended for the murder and jailed in 2010 for 18 years.
Kerwin Duinmeijer: A racist murder in Amsterdam
Kerwin Duinmeijer, an Antillean boy adopted by white parents, was 15 years old when he was stabbed to death by 16 year-old skinhead Nico Bodemeijer in the Damstraat in Amsterdam. In spite of obviously racist remarks made by the perpetrator in the run up to the attack, the judge in the case didn't think racism was connected to the crime.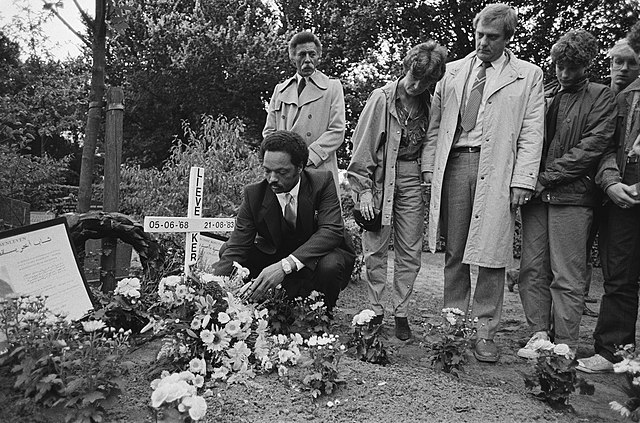 Bodemeijer, he said, suffered from 'a developmental disorder' and couldn't be held completely responsible for his deeds. Bodemeijer, who sported a '100% white' tattoo, went to a psychiatric centre for minors until he was 21. Later he became active in the emerging anti-immigration party Centrum Democraten and was in and out of prison until he died in 2012.
Kerwin Duinmeijer is remembered each year in a march from Dam square to the Vondelpark on August 20, the day of the killing.
The assassination of Pim Fortuyn
On May 6 2002 the controversial and outspoken politician Fortuyn – who some said was sure to become the country's next prime minister – was leaving the media park in Hilversum when he was shot at point blank range by militant animal rights activist Volkert van der Graaf.
When asked what drove him to shoot Fortuyn,  Van der Graaf said he considered the politician to be 'a growing menace to the most vulnerable people in society, such as asylum seekers, Muslims and people on benefits.' Van der Graaf was sentenced to 18 years. He was released in 2014 after serving two-thirds of his sentence.
Cold case solved by DNA – the murder of Marianne Vaatstra
Another crime that kept the nation in suspense was the murder of 16 year-old Marianne Vaatstra from Friesland who was found raped and murdered in a field in 1999. Attention was quickly focused on the nearby refugee centre and two inhabitants were given DNA tests, but there was no match.
The case continued to generate publicity – not in the least because of the tireless efforts of Vaatstra's father – but it wasn't until a second, large-scale DNA probe in 2012 that the killer was identified – a local farmer who lived just a few kilometres from the murder site.
According to his lawyer, Jasper S took part in the DNA probe because he 'felt the net was closing in and he wanted to get caught'. S was described as a 'hard-working family man' – he maintained he'd kept silent in order to protect his family – and the community had a hard time believing he actually committed the crime. He was jailed for 18 years.
The girl from Nulde
The case that became known as the 'girl from Nulde' was solved when police, unable to identify the scattered remains of a small child found on a lakeside beach at Nulde in 2001, decided to order a reconstruction of the head.
Teachers and family members subsequently recognised four-year-old Rowena Rikkers who had been beaten to death by her stepfather. The child's mother and stepfather fled to Spain but were tracked down and sentenced to 12 and eight years in jail respectively.
The murder of Theo van Gogh
On November 2004, controversial film maker and columnist Theo van Gogh was murdered in Amsterdam by Mohammed Bouyeri, a Dutchman of Moroccan descent. Van Gogh was cycling to work when Bouyeri shot him eight times and then cut his throat. He then took a knife and pinned a note on Van Gogh's chest threatening former politician Ayaan Hirsi Ali.
Bouyeri believed both Van Gogh and Hirsi Ali, who together made 'Submission', a short film critical of the treatment of Muslim women, were enemies of Islam. Bouyeri was sentenced to life in prison.
Nicky Verstappen, case closed?
In August 1998 11-year old old Nicky Verstappen was taken from his tent at a scouts' summer camp at the Brunssummerheide in Limburg. His body was found the next day but his killer was to remain on the loose for the next 20 years. With the arrest of Jos Brech in Spain in August 2018 the public prosecution office now believes the murder has been solved.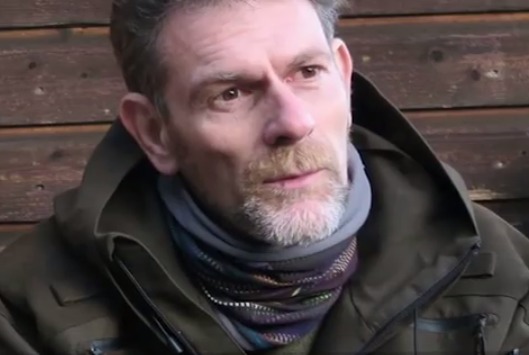 Brech's name turned up in 2018 after police tested the dna of over 15,000 men living in the area near where Nicky Verstappen disappeared. Although he had not been tested, his DNA was on file because his family had reported him missing shortly after the mass DNA test was announced.
It later transpired Brech had been interviewed twice in connection with Nicky's murder – he was spotted close to where the boy's body had been dumped – and had been a suspect in the sex crime case involving boys, but never went to trial. Now being held in pre-trial detention he faces manslaughter charges, which he denies.
The nurse who didn't kill after all
A botched post mortem, statistics and some seemingly damning circumstantial evidence led to nurse Lucia de Berk being sentenced to life in prison for killing seven people and attempting to kill three in 2004.
The alleged murders and attempted murders took place at three hospitals between 1997 and 2001 and came to light after police began investigating the death of a baby girl, which toxicology reports said could have been caused by digoxin poisoning.
All the other patients were either very old or very sick and died as a result of 'medically unexplained' causes. Prosecutors said De Berk was on duty 'noticeably often' when someone died and the statistical probability of her being present at so many deaths was central to the prosecution's case. None of the alleged victims underwent post mortem examinations.
Later research determined the baby had died of natural causes and the rest of the case collapsed.  Lucia de Berk had been in prison for 6.5 years by then. Her story was made into a film
Thank you for donating to DutchNews.nl.
We could not provide the Dutch News service, and keep it free of charge, without the generous support of our readers. Your donations allow us to report on issues you tell us matter, and provide you with a summary of the most important Dutch news each day.
Make a donation