The 10 quirkiest locations to eat dinner in Amsterdam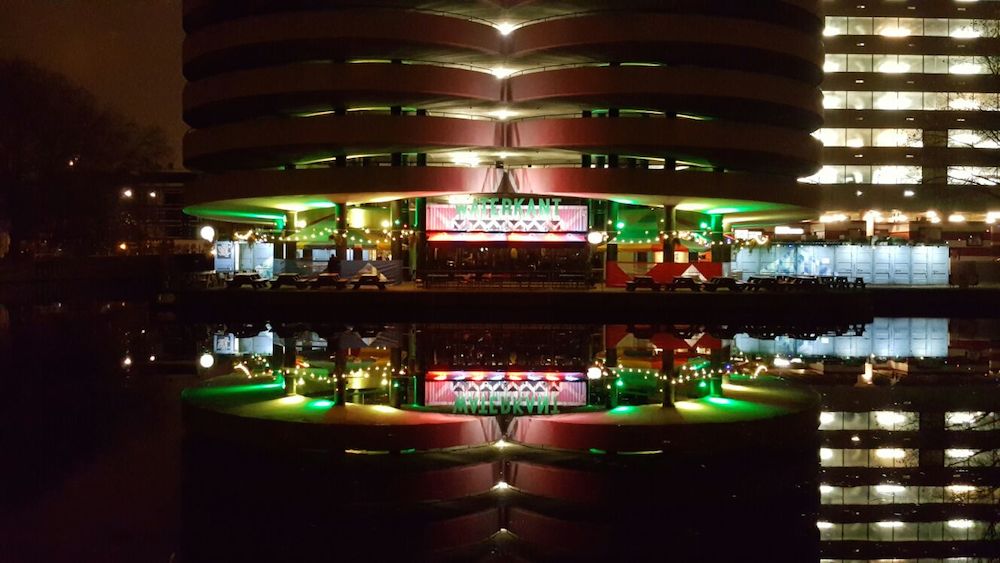 The Dutch have a long history of turning old buildings into something else. Think of the Kruisherenkerk (church) in Maastricht that is now a hotel. Or the old tram depot in Amsterdam that's now the Foodhallen. So it's no surprise that there are some weird and wonderful places to eat dinner in Amsterdam and its environs… Here are 10 of the quirkiest, for next time you feel like dinner with a difference:
1 Revolving office block: Moon
When the old Shell building across the IJ River was transformed into the A'DAM Tower, restaurant Moon was one of the first new inhabitants to open. Any why? Because of the spectacular view diners are treated to from 360 degrees of revolving glass.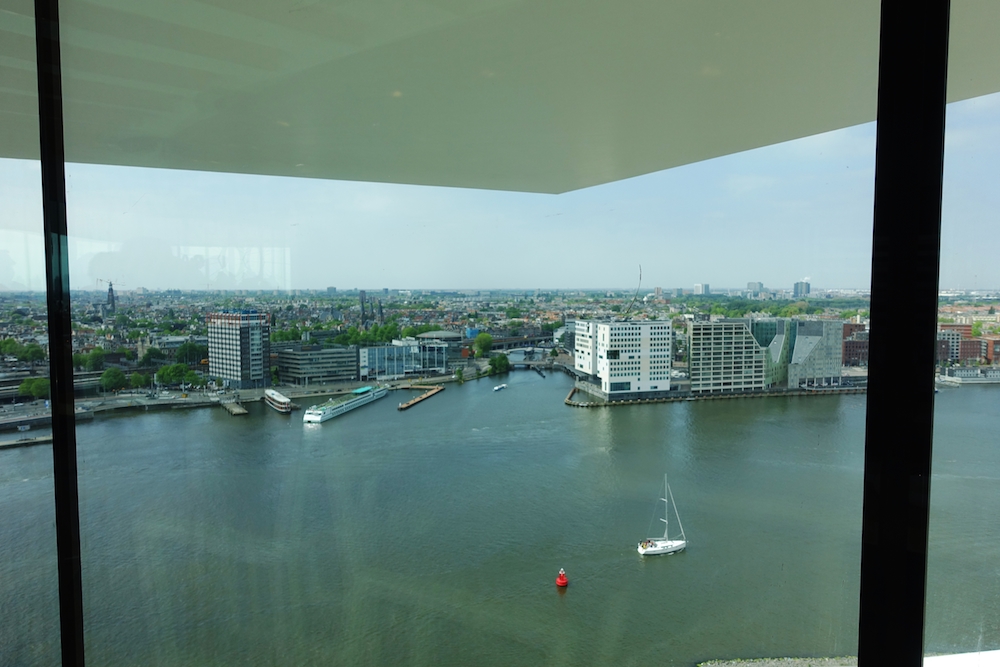 Given that the restaurant is on the 19th floor, and the full rotation takes 90 minutes (just about long enough for a proper meal), it's definitely a dining experience worth saving up for. And the food isn't bad either: Chefs Jaimie van Heije and Tommy den Hartog have dreamt up a fine dining menu that presents classic dishes 'remixed' with international flavours. Dinner will set you back a pretty penny, but you're paying for the view as much as the meal.
2 An island fortress: Pampus
Forteiland Pampus is only accessible by boat – which is logical given that it's a tiny island in the middle of the IJmeer that was built between 1887 and 1895 to defend Amsterdam against invaders. And while it's no longer being used as a defence fort, the building itself remains largely unchanged save for what goes on inside it. Nowadays, you can take tours, attend festivals, and even get married there.
But more importantly, you can reserve the Zomerlicht (summer light) experience during the warm months or the Winterlicht (winter light) experience during the cold months – both of which are culinary adventures in their own right. Either way, you'll board an atmospheric boat in IJburg, and the rest of your evening will be taken care of for you – expect seasonal, local Dutch produce in a magical setting.
3 A moving train: Dinner Train
Doing what it says on the tin, the Dinner Train is a restaurant housed in a train that runs from Amsterdam Centraal via Haarlem and Leiden to The Hague, and then back again via Gouda and Woerden. The entire experience takes around three hours, including a four-course dinner with wine.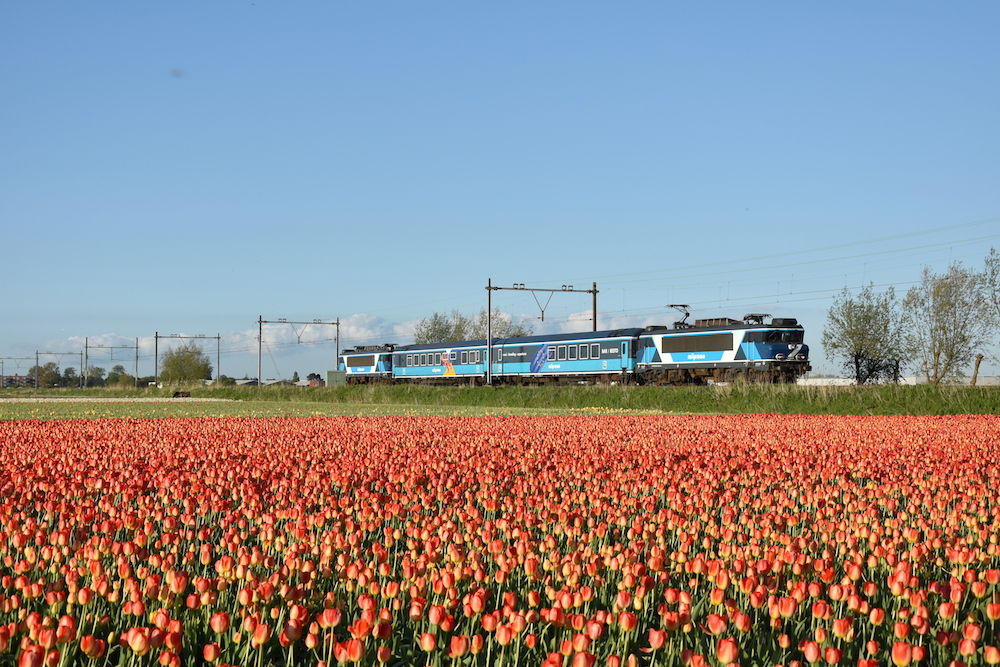 Although the food isn't incredible, the kitchen does a decent job given the train's obvious limitations, and freely flowing wine is certainly a plus. Whatever the time of year, you'll look out over Holland's fields and villages – although I'd imagine that it's particularly spectacular in spring when the flowers are in full bloom between Haarlem and Leiden.
4 A television studio on stilts: REM Eiland
From the waters of the Houthavens, TV Nordzee broadcast to thousands of Dutch viewers for just a few months back in 1964. When the TV station was shut down by the government, the broadcasting station – essentially a platform built on stilts – fell into disuse until it was reborn as a restaurant several years ago.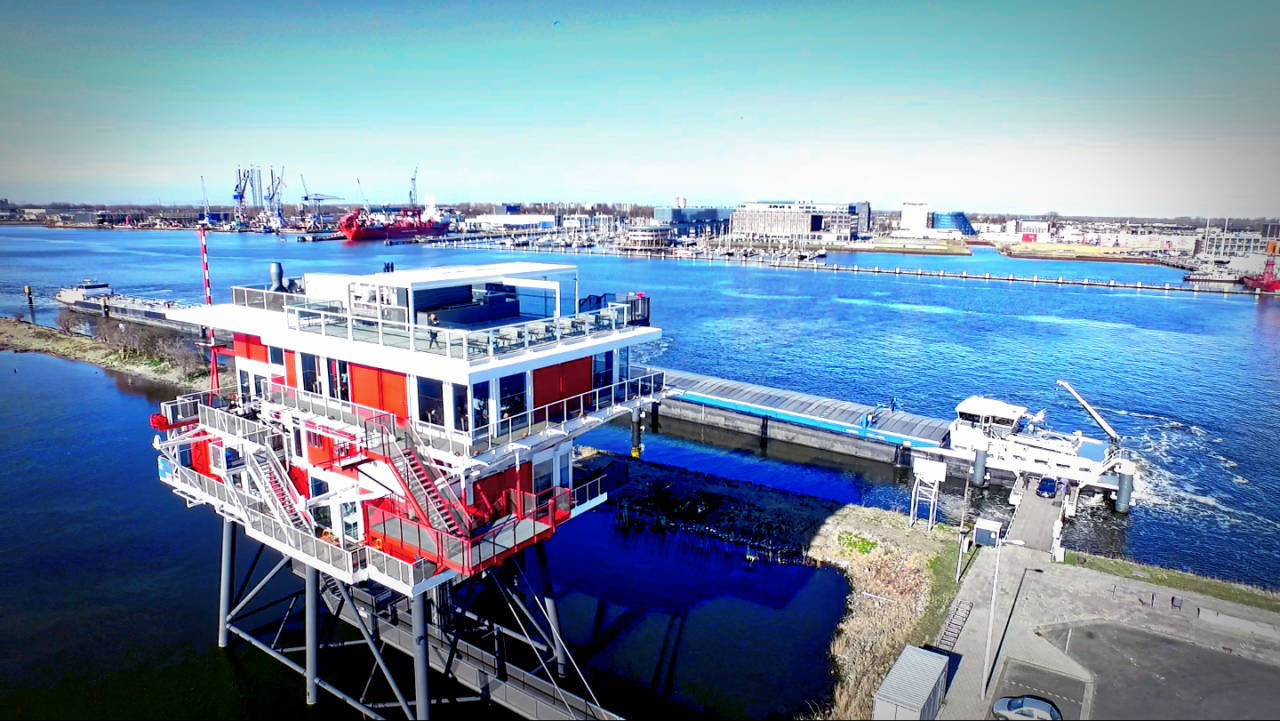 Nowadays, you can eat a modern European menu of meat, fish and vegetarian options while gazing out over the industrial terrain of the Houthavens (which is itself now being revived as a gentrified area to live and work). The terrace on the top deck is particularly sought after on sunny days – so long as you have a head for heights.
5 Water pumping station: Café-Restaurant Amsterdam
When a city is four metres below sea level, water management is of paramount importance. So it's no surprise that since the 1900s, the Westerpark area has had its own water pumping machine, water tower and engine room. While these have evolved in the intervening years, the disused engine room was converted into a café and restaurant in 1996.
Unfortunately it seems they couldn't think of a more creative name for it, but at least you know what you're getting with Café-Restaurant Amsterdam. Nowadays, they serve a simple but well executed menu of sandwiches at lunchtime and classics like steak-frites or mussels at dinnertime. It's also known for its child-friendliness.
http://www.caferestaurantamsterdam.nl/
6 An island: Vuurtoreneiland
Yup, another island (that's what happens when a city is built on water). This time, a lighthouse island originally built over three centuries ago and holding various functions since then. Now, you can take a boat from the Veemkade to the island just off Durgerdam for a Dutch fine dining experience that varies according to season.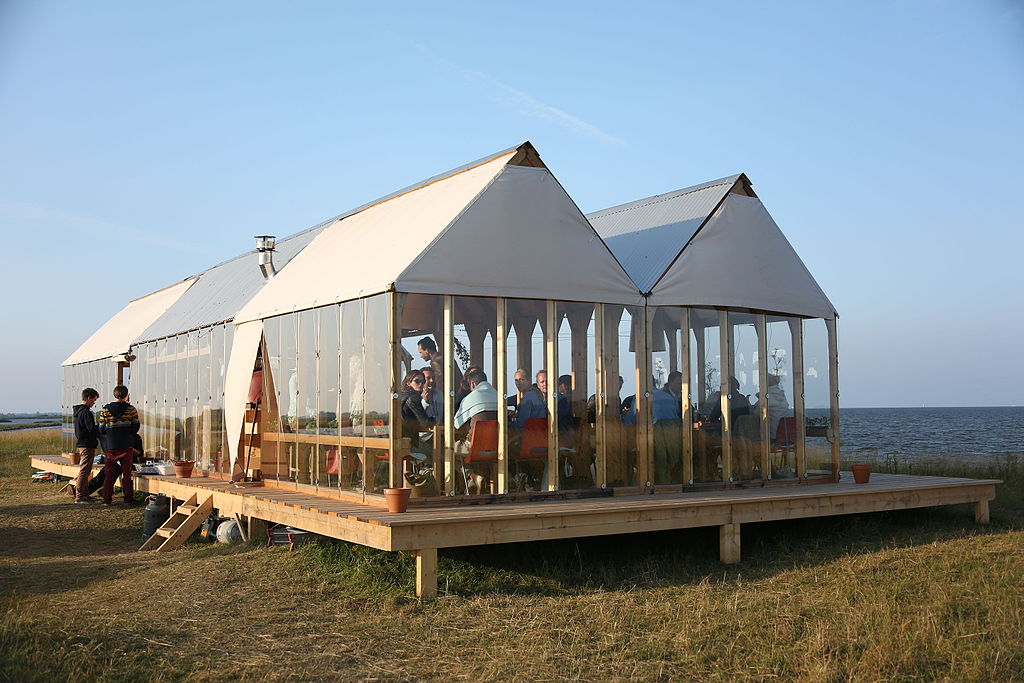 In summer, you eat in a giant greenhouse from which you can see the nature around you and (hopefully) the sunset. In winter, you eat in the converted fort – think open-hearth fireplaces, romantic candles and sheepskin rugs.
As the island has no electricity or running water, food is cooked using old-school wood and fire, while cutlery and glasses aren't changed between courses to save on water usage. And the menu has a clear local, seasonal message that's heavy in vegetables and sustainable protein throughout its six courses. An intimate dining experience that's well worth the waiting list.
7 The ground floor of a multi-storey car park: Waterkant
Underneath a multi-storey carpark, Waterkant is now the place to be on sunny days in Amsterdam thanks to its expansive terrace stretching along the Singelgracht (the canal between Nassaukade and Marnixstraat, not to be confused with the Singel itself).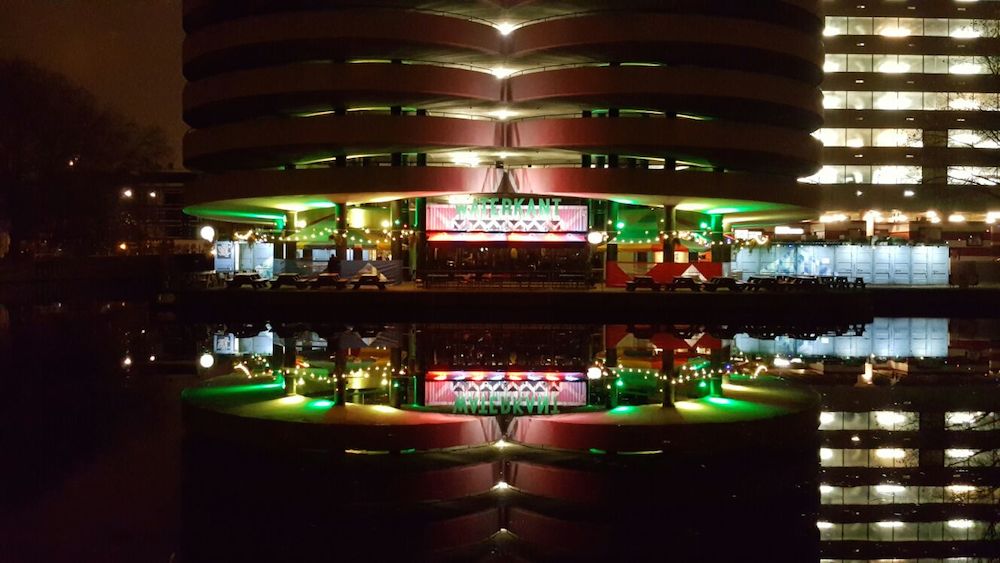 Waterkant's menu has much to offer in the realm of snacks and beers, but the focus of the main meals is Surinamese. Be sure to try one of their roti rolls (filled flatbread), gado-gado (vegetables with peanut sauce), or bakkeljauw (salt cod) – preferably washed down a Parbo beer.
https://waterkantamsterdam.nl/
8 A greenhouse: De Kas
Housed in an enormous greenhouse and surrounded by plentiful gardens in the Frankendael Park is restaurant De Kas – a long-loved favourite in Amsterdam. The chefs pluck much of their menu from the greenhouse and gardens themselves, and what isn't grown in their own backyard comes from nearby farms. So this dining experience is about as local as you can get.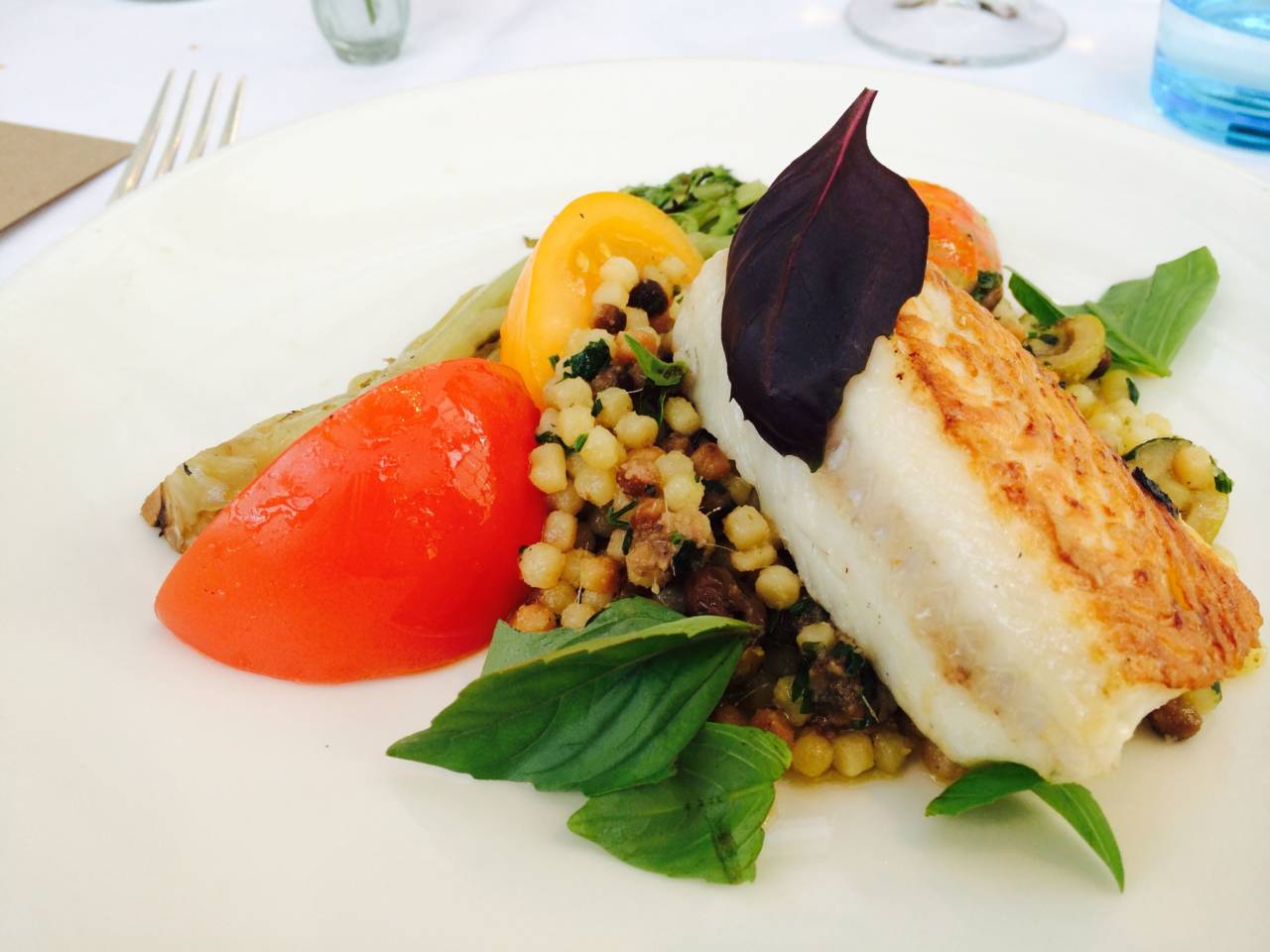 Dishes are small but you'll eat five or six of them at dinnertime, and they change daily depending on what's available. Expect Mediterranean flavours, impeccable service, and beautiful surroundings.
https://www.restaurantdekas.nl/
9 A ferry: Pont 13
Anyone who's spent even just a day in Amsterdam will have noticed the public ferries that trek back and forth across the IJ River at various points. While most of these are for pedestrians and two-wheelers only, there are a couple of small car ferries – and what happens when one of these reaches the end of its ferrying life? It gets turned into a restaurant, naturally!
Pont 13, just down the pier from REM Eiland, was one such ferry that's now permanently moored for its guests. The dinner menu is simple – featuring a selection of antipasti to start, simple grilled fish and meal for main, and a few signature desserts (don't miss the cheesecake!). It's also an excellent option for group dining and large events.
10  A railway bridge: Wolf Atelier
Housed on an industrial railway bridge from the 1920s that rotated to let boats pass through the Westerdok, Wolf Atelier may no longer move physically but it certainly buzzes with atmosphere.
Chef Michael Wolf's innovative cuisine has earned him a great reputation among the city's gastronomes, and diners can choose from fixed chef's menus as well as a la carte dishes. In fact, the bridge saw a few iterations of restaurants before its current version – but Amsterdammers are hoping this one's here to stay.
Vicky Hampton blogs about the capital's eateries on AmsterdamFoodie.nl – for more dining recommendations, download the Amsterdam Foodie's Restaurant Guide.
Thank you for donating to DutchNews.nl.
We could not provide the Dutch News service, and keep it free of charge, without the generous support of our readers. Your donations allow us to report on issues you tell us matter, and provide you with a summary of the most important Dutch news each day.
Make a donation