Stag night warning: Amsterdam launches campaign to improve tourist behaviour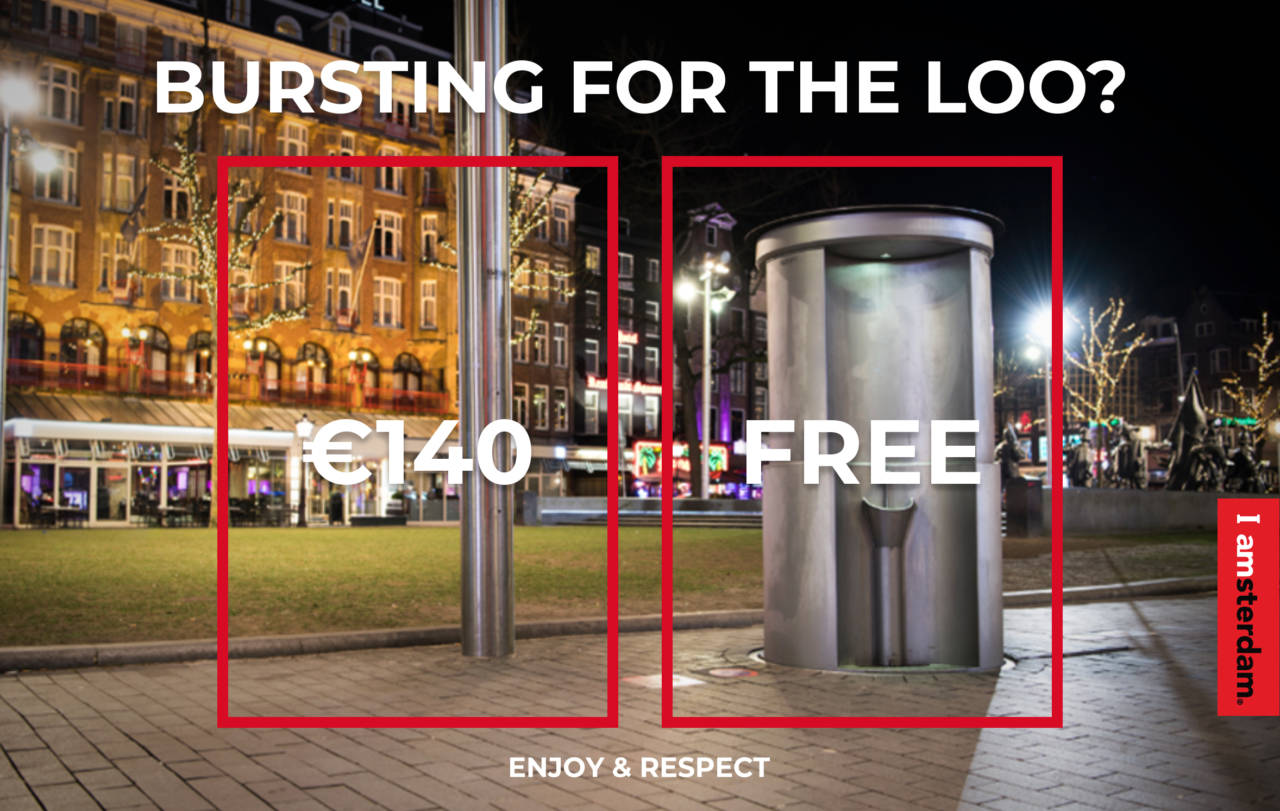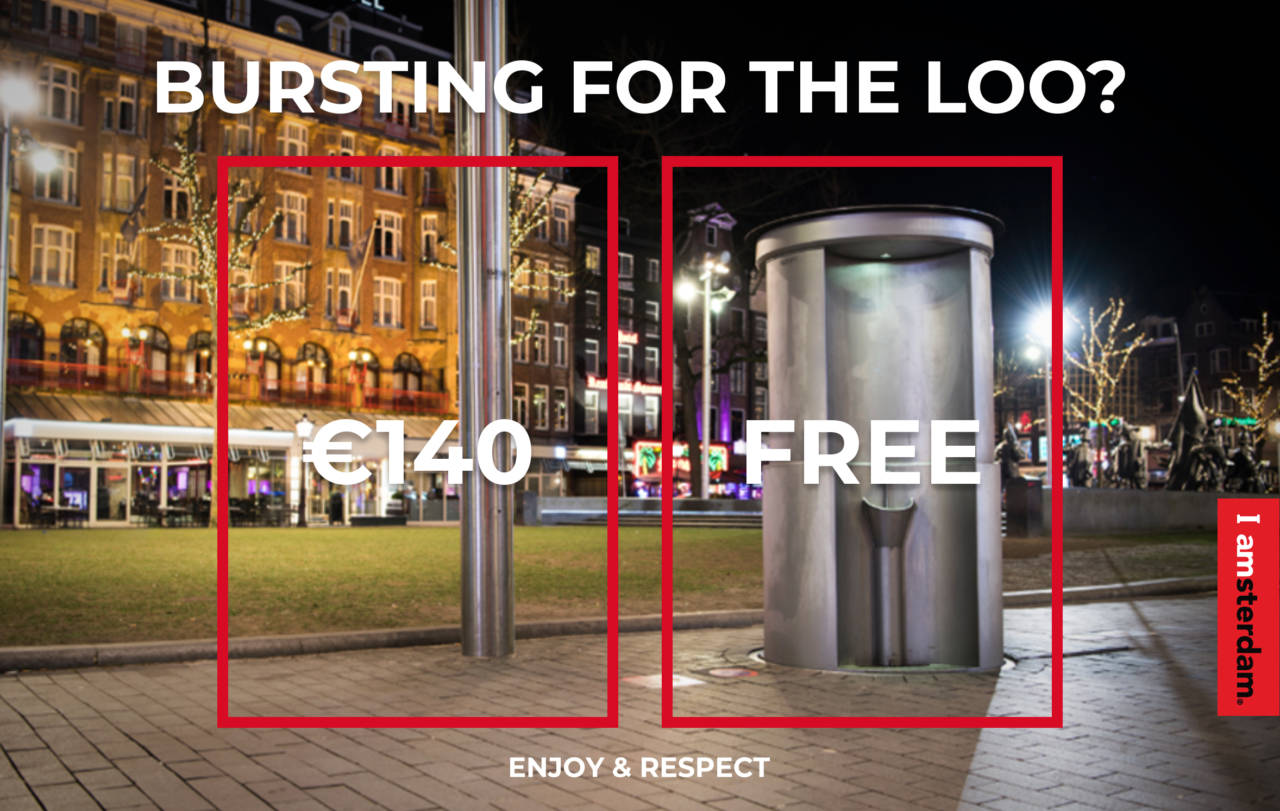 The famous party town of Amsterdam is changing its tune.  A new marketing campaign targets the biggest nuisance visitors – British and Dutch men aged 18 to 34 – with a reminder that bad behaviour will be welcomed with a fine.
The six-month, €225,000 'enjoy & respect' campaign headed by Amsterdam Marketing reminds people who only come to the Dutch capital to 'go wild and party all night' that illegal behaviour will get on-the-spot penalties.
Urinating in public, for instance, is subject to a €140 cost. The fine is the same for disturbing the peace and dropping litter. Drunkeness in public is marginally cheaper, risking a €95 charge.
Pay for it
'Everybody is free to choose, but if you choose to be a public nuisance, you have to pay for it,' said Frans van der Avert, chief executive of Amsterdam Marketing. 'For this group, money is very important, and this is how you hit them.'
He told DutchNews.nl that the campaign was brewed up in collaboration with the city council, police and enforcement officers, residents, businesses, psychologists and tested on the target groups themselves.
He added that in an ideal world, stag parties would choose another location. 'Not every visitor in Amsterdam is a stag party,' he said. 'It's a minority, but a very loud minority that offends people. Yes, I would like them to go other places, but I'm also a realist. We are a free city, and proud of that, but you have to be respectful. If you don't, you will be fined.'
The campaign will operate online, at the airports and also, via geofencing, on social media sites on the mobile phones of the target group if they enter certain areas. This, Van der Avert says, is within the limits of privacy laws.
Theme park
A fortnight ago, the new city coalition government announced stringent measures to control tourism that has led residents to complain the capital is treated like a theme park.
Their policy, entitled 'balance in the city', includes raising tourist tax to a flat 7% to raise €105m extra a year by 2022 for more enforcement of the current nuisance legislation and rules around rentals. It wants to ban Airbnb-style lets in certain areas, improve street cleaning and stop 'fun rides' such as Segways in the centre. It also wants to reform Amsterdam Marketing.
Van der Avert said that the body itself is not under threat, but will 'have another name and be more focused on knowledge, cultural promotion and spreading [tourism].' But he added that 'you can't put a fence around your city' and that controlling tourist numbers is not within its power.
Hotels
According to the Dutch Statistics Office CBS, tourism saw its greatest growth in a decade last year. Four in ten of the 17.8 million foreign visitors headed for Amsterdam, it said – and its figures do not include Airbnb-type accommodation. Estimates for total visitors to Amsterdam are as high as 18 million this year.
Pim Evers, chairman of the Amsterdam Royal Dutch Hospitality Assocation, KHN, said that its members supported the campaign and paid €10,000 towards it in an effort to welcome tourists but encourage better behaviour. 'It seems like everything is possible – that's the thing we have to change,' he said. 'Yes, you can look at the ladies and buy some sex, you can have a joint and some alcohol, but please be a little more quiet, don't leave rubbish or urinate on the street.'
But he added that hotels in particular are 'anxious' about rising rates and taxes, and propose that day visitors to the capital, such as football fans, should also pay tourist taxes to cover the costs of cleaning up.
Football
'Half of the visitors are tourists from the Netherlands, so they don't buy a hotel room and don't pay the tourist tax,' he pointed out. 'You can also ask those groups for tourist tax, maybe at the train station, museum, boat tour or bike rental, or let the Royal Dutch Football Association pay [something] to clean up rubbish.'
But Stephen Hodes, who founded the think tank on tourism, Amsterdam in Progress, argues that the only real solution is more radical. 'If you limit flights, and stop building a low cost air terminal, that's going to help,' he said.
'It's going to have to be done with some political finesse. Otherwise it's a consumption ghetto, not a city people live in.'
Thank you for donating to DutchNews.nl.
We could not provide the Dutch News service, and keep it free of charge, without the generous support of our readers. Your donations allow us to report on issues you tell us matter, and provide you with a summary of the most important Dutch news each day.
Make a donation