Election interview: There are no 'A' and 'B' classes of Dutch people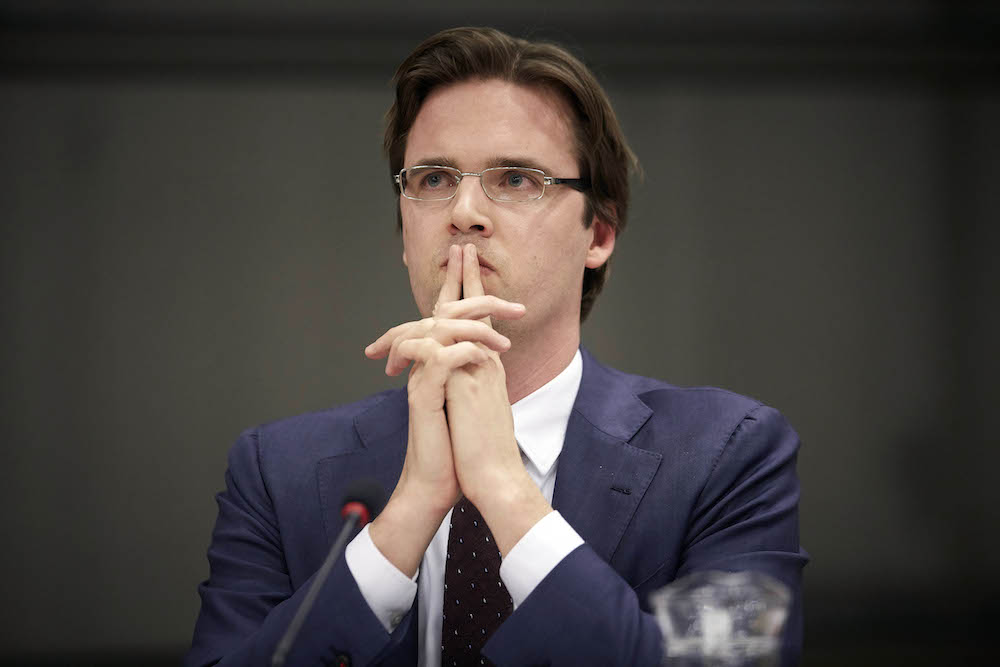 You can travel a long way in Europe before you find a politician who is upbeat about the future of the European Union at the moment. But not all is doom and gloom, as D66 MP Sjoerd Sjoerdsma tells Gordon Darroch.
Eurosceptics have been buoyed by both the Brexit vote in the UK and the election of Donald Trump, who has predicted that other member states will follow Britain out of the EU. The day after Trump took office, far-right leaders across the continent, including Geert Wilders, held a 'counter-summit' in which they called for European nations to adopt Trump's protectionist 'America First' stance and close their borders to migrants.
Yet Sjoerd Sjoerdsma is far from solemn about the EU's prospects. The foreign affairs spokesman for the centrist-liberal D66 party believes the need for co-operation between European nations has become even more urgent in the age of Trump.
'The Americans have always been an important ally and that's not going to change any time soon,' he says. 'But I think that as president, Trump is sadly pursuing a course that goes against the interests and values of the Netherlands and the European Union.
'That means the EU needs to be able to manage its own affairs. We need to have a European defence structure rather than rely on American security. We can't wait for the Americans to do something about the climate, we need to do it ourselves. I think Trump is a great opportunity for the European Union to put itself forward as a world leader, and we just need to get on with it.'
Nationalist parties
Next month's Dutch election will be seen as the first test of whether nationalist parties in Europe will benefit from the Trump effect and the fall-out from Brexit. As the party of progressive pan-Europeanism, D66's performance will be seen as an indicator of voters' confidence in the EU.
'It is a tipping point in the history of the EU,' says Sjoerdsma. 'On the one hand there are lots of countries in Europe, such as Germany, but also here in the Netherlands, where nationalist parties with anti-Islamic agendas are on the rise.
'These are forces that would happily break up the European Union, incidentally with the support of [Vladimir] Putin, certainly in the case of the [French] Front National. So we're facing huge challenges, both on our external borders and within. It's also a chance for the EU to show that we are equal to the challenges we face in areas like security and trade. If we do that we will emerge from this crisis stronger.'
But the 35-year-old former diplomat does not restrict his criticism to the extreme right, arguing that the moderate right has made a bogeyman of Brussels.
'Of course the European Union needs to become far more democratic and we need to stop all the nonsense like the merry-go-round between Brussels and Strasbourg,' he says. 'But there are Dutch politicians, particularly in the VVD camp, who have always behaved as if everything good comes from The Hague and everything bad comes from Brussels. If you keep on telling people that the EU is no good and makes strange decisions, it shouldn't surprise you when support for the European Union crumbles.'
Turkey deal
A case in point, says Sjoerdsma, is the deal that the EU agreed with Turkey last summer, during the Dutch presidency, to accommodate refugees trying to cross the Mediterranean. It included a string of sweeteners for the Turkish government, such as a promise of accelerated entry to the EU and visa-free travel in Europe for Turkish citizens.
A few months later Recep Tayyin Erdogan's government instigated a clear-out of the judiciary, the armed forces and the teaching profession in revenge for the failed coup in July, stepped up its intimidation of the domestic media and has mooted reintroducing capital punishment.
Sjoerdsma says the deal should have come with much stricter conditions attached, otherwise 'you create the impression that you're prepared to bargain with your values for the sake of short-term self-interest, and the risk with that is that there are numerous other countries that are prepared to drive the EU apart if they see us being soft on our own interests and our own values.'
Brexit
A similar approach should be taken in the upcoming Brexit negotiations, Sjoerdsma says. Brexit poses a dilemma for countries such as the Netherlands, which has strong historical and trade ties with its neighbour across the North Sea. D66's election manifesto calls for the uncertainty over Britain's relationship with the EU to be resolved as soon as possible, not least for the thousands of Dutch citizens living in the UK who fear losing their jobs and their right to remain in their adopted homeland.
But, cautions Sjoerdsma: 'We don't want the UK to gain unfair influence or advantages relative to its contribution to the EU. The European Union isn't a self-service canteen where you can pick and choose from the freedoms without taking the responsibilities that come with them.'
Sjoerdsma also says the EU should try to accommodate Scotland and Northern Ireland, which voted against Brexit, if they decide they would rather stay in Europe than the UK.
'It's their own decision and we shouldn't meddle, but at the same time it's very important that their inhabitants aren't punished for a decision that others have taken for them. Scotland voted with a large majority for Remain, so if there comes a time when they say, "we think the European Union is so important that we want to reject Brexit and avoid the consequences," the European Union shouldn't dismiss that out of hand.'
Nexit
As for whether the Netherlands could be the next country to quit the European Union, Sjoerdsma is adamant. 'D66 will never, ever accept a Nexit or a referendum on Nexit. As for parties that say "less EU", I agree with them on all the senseless interfering, but those parties – and this goes for the CDA, the VVD and the PvdA – should be honest and admit that they have all voted in parliament to transfer huge powers to the EU on questions such as asylum, because they all know that we have to deal with things like accommodating refugees together. We can't do it by ourselves. We saw that last year.'
In the opinion polls, D66 has hovered around the 10% to 11% mark for around the last year, which would give it around 15 seats in Parliament. The party, led by Alexander Pechtold, has been one of the most forthright critics of Geert Wilders's anti-immigration PVV and, like most of its peers, has ruled out going into coalition with Wilders.
That would seem to leave Rutte as the only realistic contender to be prime minister, but Sjoerdsma denies that this gives the current incumbent too much power. 'It's the exact opposite. The VVD has put D66 in a powerful position, because Rutte has stated so explicitly that he won't govern with the PVV. That means he can only govern with us. He can't avoid it.'
D66's stance on Europe is mirrored by an internationalist approach to domestic affairs. The party advocates more English-language teaching at secondary school and university level to attract international students and high-skilled workers, and would invest heavily in education and innovation.
Dual nationality
'Our wealth comes not from mineral resources or selling products, but first and foremost from our expertise and the fact that we can attract lots of people to come here because they know they can earn money from their expertise,' says Sjoerdsma.
He says the current government's restrictions on naturalisation, such as extending the qualifying period for foreign residents to obtain a Dutch passport, have had a 'deterrent effect'. D66, along with Labour, want to reform the law on nationality to permit dual passports.
This would also benefit Dutch nationals living and working in other countries, some of whom have been unpleasantly surprised to find they have 'lost' their Dutch nationality by taking citizenship in their host nation.
The debate at home on immigration has created a warped impression of nationality, says Sjoerdsma: 'Dutch people of foreign origin increasingly feel less at home and less attached to the Netherlands, and that's because of the political debate which is dominated by right-wing parties such as the PVV and the VVD, who presume that anybody with dual nationality is suspicious.
'I think that's ridiculous. There are no 'A' and 'B' classes of Dutch people. We want to make it easy for Dutch people living abroad to take on another nationality and people living here in the Netherlands who have another passport to hold onto it. That's not strange, it's enriching.'
Sjoerdsma is equally bullish about the prospect of a Wilders victory in the election. 'I don't believe it will happen,' he says, even though the anti-immigration PVV has been leading opinion polls for over a year.
Support for Wilders
Sjoerdsma points out that Wilders's support has tended to fall away during recent election campaigns. Two years ago D66 edged out the PVV in the race to run The Hague's municipal council, on a night when the party also eclipsed Labour in its historic stronghold of Amsterdam.
'D66 became the largest party with a campaign based on tolerance in the international city of peace and justice,' he says. 'I'm convinced that if politicians show that we can tackle the issues and we're there for people whose voices have not been heard for a long time, the Netherlands can return to the leading position it used to have as an international bridge builder.
'In the past we were pioneers in the battle against the sea and we did it again with gay rights: we were the first country where same-sex couples could marry. We can reclaim our leading position in all kinds of fields. Look at Ben Feringa, the Nobel prize winner. Who says the Netherlands can't be a forerunner in driving back cancer from being a deadly disease to a chronic disease? Who says we can't be in the front row when it comes to startups or internet innovation? I have a lot of confidence in that.'
Sjoerdsma believes the Dutch elections will show that Europe has withstood the shockwaves of Trump and Brexit: 'I'm conviced that we can turn the tide here in the Netherlands, that we won't wake up on the morning of March 16 with a hangover, as many Americans did after Trump and many British people did after Brexit, and that the morning of March 16 can be a bright new dawn.'
DutchNews.nl asked several political parties for a pre-election interview. D66 was the only party to respond positively.
Thank you for donating to DutchNews.nl.
We could not provide the Dutch News service, and keep it free of charge, without the generous support of our readers. Your donations allow us to report on issues you tell us matter, and provide you with a summary of the most important Dutch news each day.
Make a donation