My Dutch husband told me: 'I married an American, please stay American!'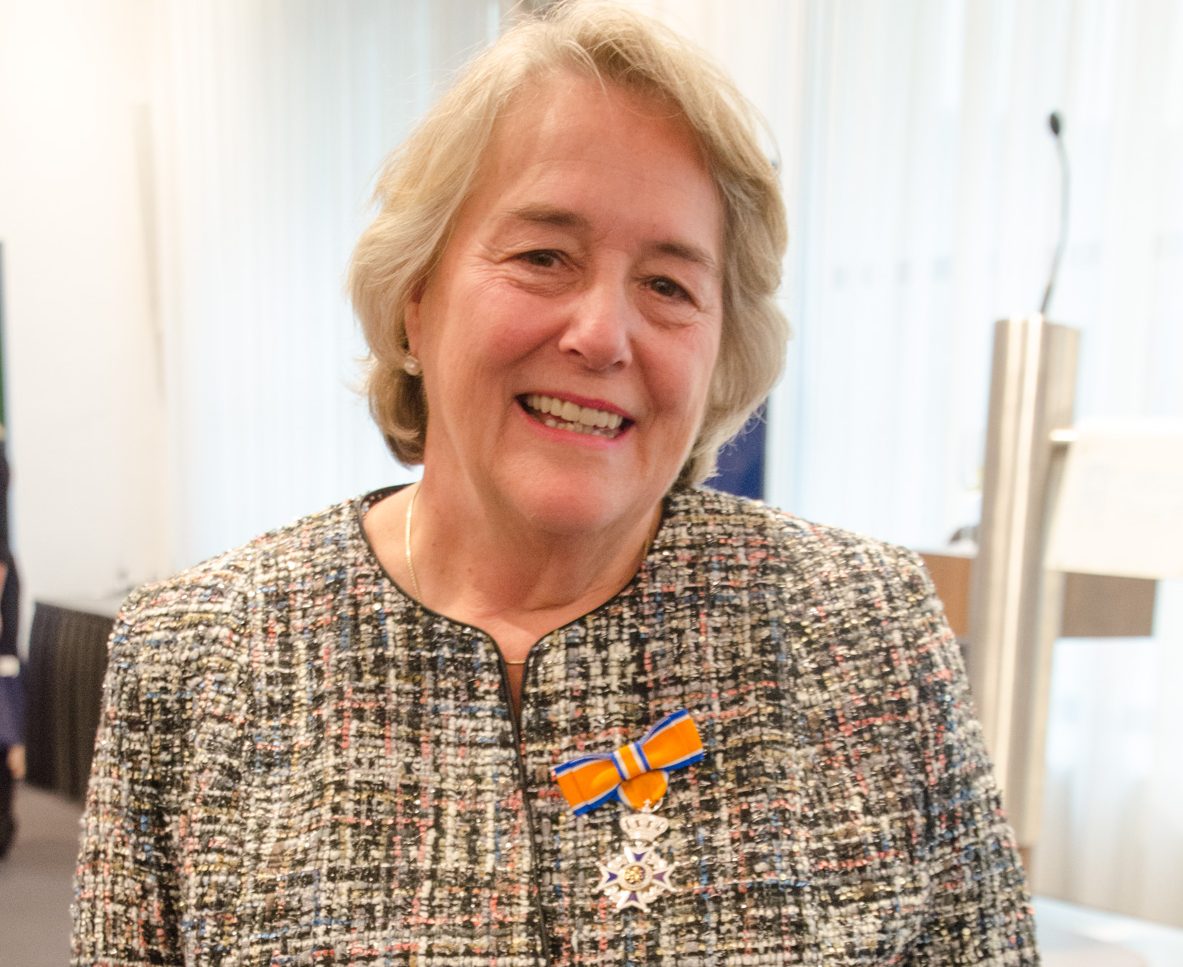 Georgia Regnault-Smith came to the Netherlands for a year in 1965, met her husband in Amsterdam and ended up staying. She settled in The Hague, became a relocation consultant and has been active in the American Women's Club of The Hague and the Federation of American Women's Clubs Overseas (FAWCO) for 40 years. Her work with both organisations was recognised when she was recently made a Knight in the Order of Orange-Nassau.
How did you end up in the Netherlands?
I was working for a student travel agency, NBBS, in New York. I'd finished college and couldn't get a job in my field of mathematics, but I wanted to live in NYC, so I thought I'd try this for a year. Back in those days the agency was purely for students. They ran tours of Europe for American college girls – Volkswagen bus trips with a Dutch student driver. It was as close to backpacking as we had then. Part of the NYC job was that you got a free passage to Europe, by boat. I spent 10 days getting here! I met some marvellous people during that time; I still call them my 'Dutch family'.
How do you describe yourself – an expat, lovepat, immigrant, international etc – and why?
At the beginning I was more of an adventurer, coming over here on my own. Then I turned into a lovepat when I met a Dutch man. I was about to leave for America again when I met him. He was set on emigrating to the US but he never did. The US Government considered him Indonesian because he was born in the Dutch East Indies, even though it was to Dutch parents. There was no immigration quota for Indonesians then so I would have had to petition for him to enter. With the Vietnam War going on I was worried they would draft him – they were drafting green card holders too – so we didn't do it in the end.
How long do you plan to stay and why?
My husband and I did plan on returning to the US but once you have three children you don't move so easily. We thought perhaps when we retired, but we didn't in the end. Our two sons now live in the US, but luckily our daughter lives here. I'll definitely stay here now, the healthcare is so much better and I don't want to take Holland away from my kids who do live in the US. Holland is definitely home to me.
Do you speak Dutch and how did you learn?
I do speak Dutch but I learnt slowly. I never took lessons, so I just learnt by listening. I only read when I have to, official things. I don't really write it. My husband never tried to make me Dutch, that was important. Dutch families' expectations can be quite overpowering, at least in the 60s, but he always said: 'I married an American, please stay American!' He was an Americophile before he met me, so no one was surprised when we married.
What's your favourite Dutch food and why?
Witlof! In all its forms: cold as a salad, or with ham and cheese. It ́s rarely eaten in the States, but one can get it sometimes in big American supermarkets, where it's called Belgian Endive. I still cook very American, except for Dutch stew and the occasional stamppot.
How Dutch have you become and why?
I would not dream of welcoming someone into my home, or to a business meeting even, and not offer them a drink. Everything here starts with a cup of coffee. So no, I don't think I am very Dutch.
Which three Dutch people (dead or alive) would you most like to meet and why?
The king – I'm a big royalty watcher. I find that in the US our President has to be that figurehead as well as the political leader – he has to kiss the babies as well as doing everything else. I think it's best to split the roles because, well you see it in the US Election this year: everyone is so interested in the personality of the person that you spend all the time talking about them personally instead of the issues. Ten years ago I would have said Princess Beatrix; it would be really nice to meet the figurehead of the country.
Johan Cruyff – I was a fan of his from the very first moment I came to Holland. I've been a big Ajax fan since then. I lived with the parents of a friend from NYC when I first came here and her father had a box at the Olympic Stadium, so he used to invite me to Ajax games. I like all sports, but Cruyff had these funny sayings and philosophies, and I appreciate those. Like: elk nadeel heeft z'n voordeel – every disadvantage has its advantage.
Professor Bas Bloem, the director of ParC (The Parkinson's Centre) at the Radboud university in Nijmegen and set up the Parkinson Net, which is a network of caregivers such as physiotherapists, speech therapists, occupational therapists, who have been specifically trained to help people with Parkinson's and related conditions. When we discovered almost four years ago that my husband had something akin to Parkinson's this network was a godsend for us. Apparently Dr. Bloem has since helped set this up in California as well. He is one of the top neurologists in the country and he's spread that knowledge worldwide now. I think he's also just a very nice guy, according to people who have studied with him and the video's I have seen of his lectures.
What's your top tourist tip?
The tulip fields in spring. I have about five paintings of tulips in my house; they're really my favourite flower. Every spring it still surprises me, they're so beautiful.
Tell us something surprising you've found out about the Netherlands
I think that I have to go back 50 years, but to some extent it is still true today. I felt it has a big storybook feeling about it: the landscape, the windmills, the little villages. When I was in elementary school I built a Dutch village with my teacher, so I guess I was destined to come here. It ́s all a bit like Madurodam. It's all still there, very picturesque despite all the industrial success of the country, with big brands like Albert Heijn, Shell, Philips to name just a few. The Dutch are quite modest about that success to a certain extent.
If you had just 24 hours left in the Netherlands, what would you do?
I'd take a walk in the Clingendael Park, which has traditional woods, a 100-year old Japanese garden and a formal Dutch garden. Lots of different things in one place. Or I'd take a walk in the dunes. From my apartment I look out onto the dunes, they stretch out for 3km before you reach the beach at Scheveningen. I love being near water. Where I grew up I saw water every day, it's important that I don't live inland. And a lake doesn't do it for me – I want to see the sea!
Thank you for donating to DutchNews.nl.
We could not provide the Dutch News service, and keep it free of charge, without the generous support of our readers. Your donations allow us to report on issues you tell us matter, and provide you with a summary of the most important Dutch news each day.
Make a donation