Strong reactions to Wilders guilty verdict on inciting racial discrimination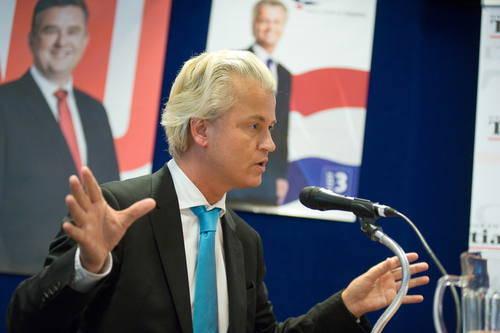 Strong reactions have erupted after far-right wing politician Geert Wilders was found guilty of inciting racial discrimination against Dutch Moroccans in a court on Friday.
Wilders was condemned for his actions leading a PVV party rally calling for 'fewer, fewer' Moroccans in March 2014 – and now has a criminal record – but he received no punishment from the three judges.
The leader of the PVV, currently leading in some polls prior to general elections in March, did not attend most of the trial or verdict. But he frequently tweeted about hearings in what he called the 'fake court' – conduct the judge said was 'unworthy' of a politician.
Wilders' laywer, Geert-Jan Knoops, immediately issued a statement to say he would appeal, and within an hour of the verdict, Wilders posted a YouTube video saying: 'The Netherlands has become a sick country. The judge who convicted me [has] restricted the freedom of speech for millions of Dutch.'
Rutte: retract speech
But prime minister Mark Rutte told his weekly Friday press conference that 'The Netherlands is not sick…[but] a constitutional democracy', according to NOS broadcaster. He added, reported the Telegraaf, that his Liberal VVD party will not work with the PVV in a new government unless Wilders withdraws his 'fewer Moroccans' statements.
The criminal court case was based on almost 6,500 official complaints after Wilders asked a televised party rally in The Hague on 19th March 2014 if there should be 'more or fewer Moroccans in the Netherlands'. The court heard that a pre-arranged chant of 'fewer, fewer' had been seeded through the crowd.
'It doesn't matter that Wilders gave another message afterwards [saying he was referring only to criminal Moroccans and benefits claimants],' said the judge. 'The message that evening from the podium, via the media, was loud and proud and did its work…The group was collectively dismissed as inferior to other Dutch people.'
Legal experts
Some experts told the Volkskrant that giving a sentence without a punishment could be counterproductive. Afshin Ellian, a professor of jurisprudence said: 'If you think he needed to be prosecuted, and proved the offences, you should also impose a penalty…This shows that the whole Wilders case is a parody of the criminal justice system.'
Paul Cliteur, professor of jurisprudence at Leiden University who was called as an expert witness, said: 'It would have been better if the Dutch state had sent a clear signal [to terrorists] via a Dutch court that we foster a broad notion of the freedom of expression in the Netherlands. Wilders now has a criminal record, and has all the hassle of countries that do not allow him entry.'
At the court itself, representatives of the people whose complaints fuelled the case, were happy with the verdict – which did not award any damages and said both sides must pay their own costs. Wilders' criminal record is not thought to preclude him from being a politician but might limit his travel abroad.
Unique decision
Abdou Menebhi, one of the people who registered a complaint, said: 'For the first time, Wilders has been condemned for racism and discrimination: half a million people feel the threat of Wilders every day. This gives us trust in the legal process. I hope people who vote for Wilders will listen.'
Michiel Pestman, lawyer for some of the complainants, said: 'It's a unique decision. This is the first time that a court has said that minorities need special protection and even a politician should be very careful about what he says. There is a debate in the Netherlands about whether this has given Wilders free publicity, but he has to pay his lawyers.'
Meanwhile Lucien Nix, a solicitor for the council of Moroccan mosques in Holland added that his clients would be discussing bringing a civil process. 'The Netherlands can take a deep breath of relief," he added. "Moroccan Dutch people have felt robbed of their dignity and a heightened sense of discrimination. We have waited for this for a long time.'
Wilders was officially charged with defaming a group and inciting racial discrimination, but was found not guilty of a charge of inciting racial hatred.
Thank you for donating to DutchNews.nl.
We could not provide the Dutch News service, and keep it free of charge, without the generous support of our readers. Your donations allow us to report on issues you tell us matter, and provide you with a summary of the most important Dutch news each day.
Make a donation