Racism, says Sylvana Simons, is like being touched up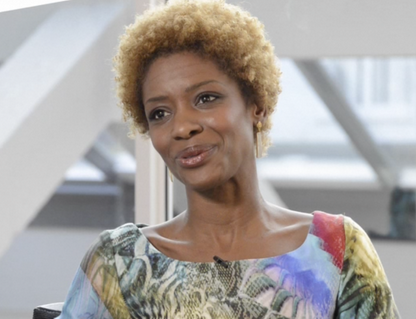 Television presenter Sylvana Simons caused a media storm when she announced she was getting involved in politics. She talks to Senay Boztas about why people would rather see her dance than hear about the dark side of colonial history, and why she believes the Netherlands is suffering a crisis of racism.
'Somebody touches you as a woman. You say, "oh, I don't like that", and the guy says, "I was just trying to be nice". People deal with racism in the Netherlands in the same way. Because they say they mean well, you're not supposed to be offended.'
The 45-year-old television presenter has launched her own offensive now, against xenophobia in the Netherlands. She first announced that she will stand for the new 'tolerance' party Denk in the general election next year. Then she went to a police station in The Hague to report the worst of 40,000 instances of racist insults that followed.
Simons lives in Amsterdam and was born in 'one part of Holland' known as Suriname before moving as a baby to 'another part of Holland' known as Hoorn. When some people tell her – as they do – to go back home, she points out that she was born in a former Dutch colony, and this is home.
Colonial past
The problem, she says, is that the Netherlands has not come to terms with its colonial past, conveniently forgetting the nasty bits, and expecting non-Western immigrants to assimilate by leaving other cultures behind.
'In Holland, integration has become assimilation,' she says over the telephone to DutchNews.nl. 'It's a utopian sense of ever reaching true integration. For me, I could never wash off my colour, so it doesn't matter how Dutch I become, I will always be a black woman.'
Simons believes the Netherlands is experiencing a crisis of xenophobia, intolerance and denial – the kind of thing that led to race riots in America and 1980s Britain.
'I think it has become very politically correct to be politically incorrect,' she says, matter-of-factly. 'Over the past 15 years, racism has been more and more accepted, and inequality along ethnic and racial lines. It's becoming dangerous.
'We have seen the rise of some political parties that have made it their number one issue to polarise to gain power. In particular, of course, the PVV.'
Free speech
Geert Wilders, party leader, will stand trial in October, for alleged hate speech in a 2014 rally where right-wing PVV supporters called for 'fewer, fewer, fewer' Moroccan people in the Netherlands: and Simons believes the accompanying free speech debate is the most important result.
'There's nothing wrong with speaking your mind,' she begins, in classic Dutch fashion. 'There is something wrong with being racist and a xenophobe, dehumanising and criminalising people and putting fear into people based on ethnicity and race.'
This isn't a popular message, adds the TV presenter who began her career as a VJ at TMF music channel, was runner-up on the Dutch Strictly Come Dancing and now works across various channels.
She says, with increasing passion. 'In my case, there was nothing wrong with me until I started speaking up about certain social issues. Everybody was like: "She can dance, she can present, she's an entertainer, we don't have a problem with that. But please do not interfere, even though you are paying taxes. Let us run the country. You just be happy that we allow you to be here and just be an entertainer."'
Racist incidents
Simons believes the first step is to measure the problem, which is why she has reported the worst of 40,000 online and offline racist incidents to the police, and is encouraging other Dutch people to do the same.
'I hope more and more people will report what happens to them because one of the things people hear when they do speak up is the numbers don't reflect that, and this is just you being super-sensitive,' she says.
'I'm encouraging people so we can get the numbers and I'm trying to find out what happens once you go to the police. Where do we draw the line of freedom of speech, the right to insult?'
Zwarte Piet, the controversial blacked-up helper to Sinterklaas, symbolises the problem for her – not least, a widespread amnesia about the Netherlands' leading role in the slave trade. 'You have to understand that when you make the comparison, for instance, to the United States, there is a conscious awareness of what slavery was and why [blacking-up] is not appropriate.
'We never went through that process of emancipation in the Netherlands. The Dutch seem to believe that slavery is something that happened on the other side of the world, but we were great slave traders. We've accepted a cultural archive that simply doesn't deal with this.'
Symbol
This is something she said she grew up with in Hoorn, home of the V.O.C trading company that flourished in the Dutch 17th century Golden Age.
'Zwarte Piet has become a symbol, not just to the ones who are against it. A symbol of colonialism and racism, but on the other side a symbol of "this is ours" in a time where people are scared for their livelihood. We are all looking for something to hold on to.'
Although Simons talks about 'the Dutch' who don't want to think about this, then takes offence at being thought of as anything other than Dutch herself, she says there's no contradiction.
'I'm talking about us, really, I am. I really understand the sentiments that go along with Zwarte Piet and the whole Sinterklaas thing. I'm not trying to say them versus us. I'm trying to come to a point where we can make Zwarte Piet a symbol that's acceptable, welcoming and loving to all children, all people in this country.'
Prime minister
She has no truck with the lack of political leadership on the subject either. 'Our prime minister [Mark Rutte] made it very clear that he personally doesn't have a problem with Zwarte Piet. He spoke to his friends in the Dutch Antilles and they are so happy they don't have to put anything on their face because they are black. They are lucky because he's always spending days washing this shit off. I was appalled by that comment.'
It's also time, she says in perfect English, to get rid of words like 'allochtoon', describing people with one parent born elsewhere, but often used pejoratively.
'My parents were born in the Netherlands. My children were born in Amsterdam. How many more generations before we really can be Dutch? It seems there's a ceiling to your Dutchness, and we need to fix that. The word allochtoon means you're different, you can't really have an opinion about important social issues, you can't really be included.'
She's not calling for riots, although social media might get bloody. And she bats away criticism of Denk as being overly sympathetic to Turkish president Recep Tayyip Erdogan as 'dehumanising, criminalising, based on absolutely nothing'.
Instead she wants people in the Netherlands to have a good think about themselves.
'The Dutch are very proud of the Golden Age, the era in which they conquered the world, killing people, raping people, enslaving people and doing a lot of bad. The Dutch have this lack of responsibility and no self-reflection about being able to be hurtful. They have this sense of "we're good people".'
And, her implication is, good people don't harass anyone else, even if they're just trying to be nice.
Thank you for donating to DutchNews.nl.
We could not provide the Dutch News service, and keep it free of charge, without the generous support of our readers. Your donations allow us to report on issues you tell us matter, and provide you with a summary of the most important Dutch news each day.
Make a donation