The American Book Center is a Dutch institution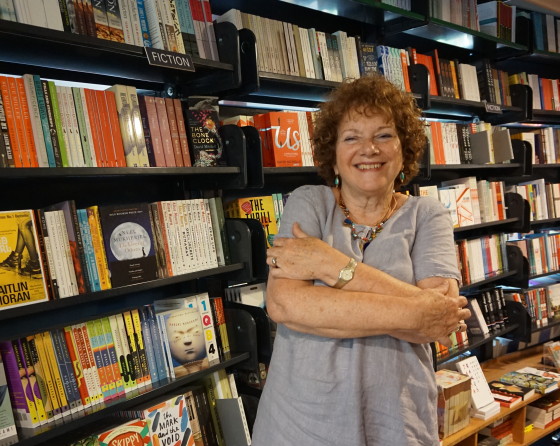 The American Book Center has turned into a Dutch institution and Lynn Kaplanian-Buller has been its director for over four decades. In this interview, Lynn tells Brandon Hartley what originally brought her to the Netherlands and how two postcards once helped the business pay its rent for an entire year.
How did it all start?
The American Discount Book, Magazine Retail and Distribution Centre was started by two Americans, Mitch Crossfield and Sam Boltansky, in 1971. Mitch already lived here in Amsterdam and Sam had a lot of books back in Baltimore. Mitch said to him: 'Everybody speaks English over here and there's not enough books. You should send them over and I'll sell them.' Mitch had a hard time selling them to other bookshops due to a cartel; an arrangement which prevented others from breaking into the business. Mitch told Sam to come over to Amsterdam and around Christmas in 1971 they were walking along the Kalverstraat. They came across a jewellery store and made a deal with the owner to take it over. They shipped the books over, didn't change much in the store and maybe added a few shelves. They didn't even change the carpet [and officially opened for business in 1972].
That's around when I walked in looking for magazines, which were cheaper there than elsewhere. I spoke with Mitch and talked my way into doing security over the weekend. By Sunday night, he left me alone in the shop and from there I started doing administration and just stayed.
Taking a step back, what originally brought you to Amsterdam?
I was travelling with my ex-boyfriend at the time. We were going to go overland to India and we sort of got stuck here. The city was so nice. We were walking around one afternoon and I was running out of things to read. I didn't want to spend a lot of money and I thought if I could find a bookshop to work in I could read cheaper.
So what was the next big thing that happened with the ABC?
[Lynn shows me two postcards. The first features a man in a blue sports jacket standing in front of a window in the Red Light District. Inside, a woman in a dress is smiling at him. The second is a photo of the same woman standing in a doorway beside the window. A long haired man is sitting in her place. Each includes the caption 'Window Shopping in Amsterdam'.]
This is a photo of Sam and it was taken by Mitch. At the time, there were absolutely no postcards of the Red Light District available in Amsterdam. They got releases from the models and we put them together. We sold so many of these postcards that we were able to pay our rent for one whole year. I think we eventually sold over two million of these cards. We've also recently produced a new line of postcards, entitled Typical Dutch, which show iconic images with their phonetic pronunciation in Dutch. We're hoping to sell 2 million of them, too, as postcards, posters, or as blank notebooks, all made on our Espresso Book Machine.
And after that?
Eventually, Mitch went back to the states and we opened the second store in the Hague. It opened in '76 and we expanded to Eindhoven and Groningen. I met my husband, who trained as an anthropologist, here. Then, when I was five months pregnant, I was asked if I wanted to run the place. I said 'sure.' We eventually bought the stores with my sister. That was in 1983. We didn't know what we were doing. We figured it out as we went along.
What sort of challenges did you face in the early days? Back in the '70s and into the '80s?
One was the opening hours. [The Amsterdam store] was open from nine in the morning to 11 at night, seven days a week. That was way more hours than other shops on the Kalverstraat. There was an ordinance that said that stores for tourists, like diamond cutters and movie theatres, were OK. Places that sold magazines and newspapers could also stay open late. At the time, the Red Light District was full of dirty book shops. Whenever someone would come by with a cap on and say 'you're open too long', we'd say that we catered to tourists and sold books and magazines just like the shops over in the Red Light. 'When they stop, we'll stop,' we told them.
What were some big events of the 1980s?
We opened a new, larger location down towards the V&D on the Kalverstraat. Nike is in there now. We were there from 1986 through 2005. The [two shops in Eindhoven and Groningen] were only open for five years each. We opened another shop in Leuven in Belgium. We also had that one for five years. The shop on the Kalverstraat was enormous and, originally, we only rented half of it. We eventually filled the rest and started hosting weekly lectures and other kinds of events. We moved our warehouse in there too. This was back in the pre-internet days when anything 'backlist' wasn't easy to come by. Not in this country, not in a lot of countries.
Your business has always catered to lots of English speaking expatriates and travellers. What about Dutch people?
Oh, definitely. They like to read these books in their original language. You can get a trade paperback from us for €11 or €12 that, if it's ever translated into Dutch, will cost double that over 18 months later.
The Amsterdam store has a big tree trunk running down the middle of it and your event space is called the Tree House. Why the tree theme?
When we took over the space where the Tree House is located in 1998 we had to call it something. As a kid, I really liked tree houses. They're special places. You couldn't just go into a tree house. You had to be a member. It was a special place where you could ponder deep questions with others and keep secrets from grown-ups. It was also closer to the store on the Kalverstraat, practically in its backyard, much like a tree house.
When we were planning our current Amsterdam location, we had a brainstorming session with the architect. We thought it would be really cool to build a tea house on the roof. Someone suggested that we paint it green so the entire building would be like a big tree. That idea didn't come together but the tree theme reminds all of us that books originally came from them. However, we do have an [environmentally friendly] green roof here on the building now.
Where did the tree trunk in the Amsterdam location come from?
I have a friend who's in charge of the Vondelpark and all the green stuff over there. He knew the guys that have to remove trees around the city. We got one that had to be sliced into two pieces and fit around the steel column in the centre of the store. It came from Osdorp.
What would you say is the secret of the success behind both of your current locations?
They serve as a 'home away from home' for Americans and others who are staying in the Netherlands for a while. A bookstore can often serve as a safe third place from home and work. It's a place where people can hang out, browse the shelves, and be inspired. We've always tried to be really welcoming. We also invest in people. It's not about widgets. We're not selling widgets, diamonds or shoes. Those are all fine things to sell but this is a community of people who care about ideas.
I know you've had a lot of famous writers come to the stores for events …
We've had quite a few. They weren't always famous at the moment they were here though. We had David Baldacci after he wrote his first book and only six people showed up. We hosted Stephen Fry. That was really nice but we had to have him speak at the church over there [since so many people came]. Patti Smith has come and she's coming back in October. This time she has two new books so that will be good. Spike Lee has signed here. Dionne Warwick too. David Sedaris has been here several times. A lot of publishers know that if one of their authors is coming through, even if it's only two days' notice, we'll arrange a flash mob to show up since so many people subscribe to our newsletter and follow our website.
You can learn more about the history of the ABC, explore its events calendar, and shop online via its website [http://www.abc.nl].
Thank you for donating to DutchNews.nl.
We could not provide the Dutch News service, and keep it free of charge, without the generous support of our readers. Your donations allow us to report on issues you tell us matter, and provide you with a summary of the most important Dutch news each day.
Make a donation