Amsterdam city council as pimp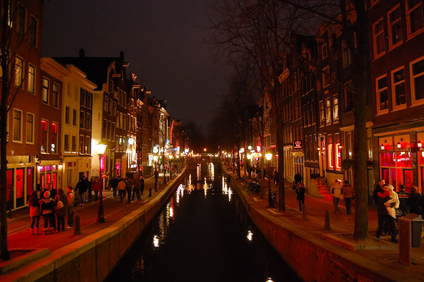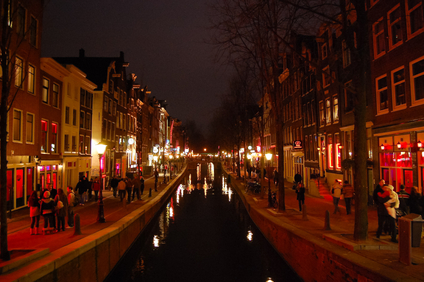 Amsterdam city council has plans to set up and run a number of brothels itself – where women can work in the sex industry out of free will.  Christian Democrat city council members Marijke Shahsavari en Diederik Boomsma think the council as pimp is taking things a step too far.
More and more people are beginning to realise that prostitution in Amsterdam is going hand-in-hand with serious abuses, people trafficking and oppression.
Fortunately, the faux romantic air of 'look how free and easy we ex-Calvinists have become' that used to surround the red light district is on the wane. Lately, new steps were taken to protect women. With the support of the Amsterdam Christian Democrats the minimum age for prostitutes was raised to 21 and more stringent licencing rules were put in place.
Normal
There is a difference, however, between offering protection and trying to 'normalise' prostitution. By effectively running the brothels itself, the council is taking things a step further: this smacks of facilitating prostitution, exploitation and incitement. It is a step no government should be willing to take.
The intention behind the plans is clear: many prostitutes are paying a lot of money to rent a space. Much of their income goes on rent and/or a pimp. Therefore they have to work longer hours and accept more punters. This puts many prostitutes in a position of dependence and vulnerability.
It is a deplorable state of affairs, we agree. If women go into prostitution at all, better they do it without being exploited by a pimp. However, the horrors prostitutes are experiencing are not just a result of excesses but, in some part at least, inherent in prostitution itself.
Commercialisation
Depending on their upbringing and convictions, most women associate sex with intimacy, something determined by personal choice. The commercialisation of sex destroys this normal, healthy, existential function or value of sex.
That is why it is a shame that Amsterdam city council has decided that, apart from wanting to tackle abuse, it also means to make it an official policy to 'normalise' prostitution.
Recently mayor Eberhard van der Laan said in a council meeting: 'Prostitution is a fundamental part of Amsterdam and that's fine with me.' This is indicative of the moral confusion of the moment. The fact that something is legal doesn't mean we have to be 'fine' with it. Adultery is not illegal and has been around for as long as man has but we don't have to be 'fine' with that either.
Tourists
For some reason or other many young women decide the only option they have is to sell their body to the hordes of rowdy tourists who invade the city. Legal it may be but 'fine' it certainly isn't. To quote Dutch feminist Aletta Jacobs: 'If indeed this is what you think, you are morally obliged to offer up your daughters for this purpose.' Prostitution is never a purely clinical, neutral action between two consenting adults.
Why don't women register as prostitutes at the Chamber of Commerce? Why do we ask people on benefits to accept a job as a cleaner and not a job as a prostitute? Why does no prostitute say she wants her daughter to follow in her footsteps? It's human nature, stupid.
Abuse
We support the ambition of the council to protect as many women as possible from being exploited. But if the council itself is going to run brothels it will be telling potential punters the world over that Amsterdam is the place to be for officially approved prostitution.
The council must do everything in its power to eradicate abuse, combat and punish people traffickers, offer women a way out of prostitution and, as far as the CDA is concerned, discourage punters. 'Normalised' prostitution is a utopia, or rather a dystopia.
Marijke Shahsavari and Diederik Boomsma are members of Amsterdam city council for the Christian Democrats.
This article appeared earlier in the Volkskrant
Thank you for donating to DutchNews.nl.
We could not provide the Dutch News service, and keep it free of charge, without the generous support of our readers. Your donations allow us to report on issues you tell us matter, and provide you with a summary of the most important Dutch news each day.
Make a donation