10 traditional Dutch recipes – not all of which involve potato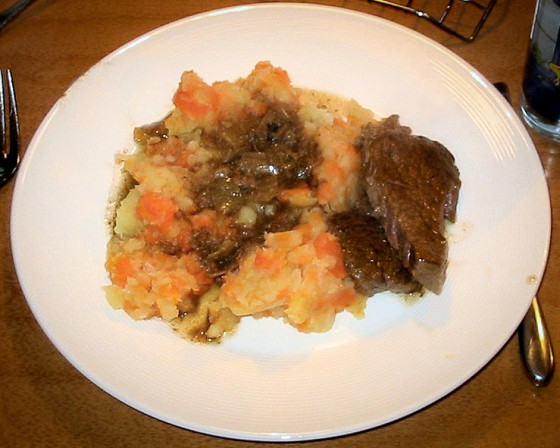 It would be very easy to be snotty about Dutch food and talk about snack bars, chicken with apple puree and the ubiquitous 'ovenschotel'.  We could go on and on about boiled chicory with ham and cheese sauce and meatballs with green beans and potatoes – served at 6pm sharp.
But we won't be doing any of that. We have a sneaking appreciation for some traditional Dutch recipes – especially those guaranteed to get you through the cold winters. Here are 10 dishes you really should try.
1. Stamppot and its ilk
Let us get this out of the way to start with. When it comes to food it seems the Dutch like nothing better than to mash things. They cannot put a number of perfectly nice ingredients together without taking a hand blender to them. But then, it's difficult to make a hash of a mash – the basic ingredients being simply potato and some vegetable or other. There is an endless list of things you can mash. Here are some examples.
Hutspot is said to have originated in Leiden in 1574. The Spanish, on the run from William of Orange, lifted the siege of the city in a hurry and left a simmering pot of onions, carrots and parsnips (later to be replaced by potatoes). The famished people of Leiden, presumably all armed with forks, mashed the lot and invented hutspot. It is traditionally eaten with 'klapstuk' or boiled beef but we like it with bacon chops.
Hete bliksem means 'hot lightning' and is made of apple and potato, mashed up of course. Use sour apples  (Goudreinette) and put in lots of crispy fried bacon cubes.
Boerenkool and andijviestamppot are, respectively, potato and curly kale mash and potato and curly endive mash. Serve with rookworst (smoked sausage) and fried bacon bits. The more green vegetable the better. The other big hitter is zuurkool stamppot – pickled cabbage and mash which is a distinctly acquired taste.
2 Beetroot and herring salad
Another simple dish consisting of pickled herring, cooked beetroot, some gherkins, pickled onions, boiled potatoes and some white wine vinegar. Cut everything up in small pieces and mix (not mash).
3 Wentelteefje
Good camping food, a wentelteefje is a slice of white bread sprinkled with cinnamon and sugar dipped in milk and egg and then fried in butter.
'Ey, waer ick t'huys alleen, ick backte wentel-teven Van suyckert witte broot, en butter-smeerigh vet,' wrote one A. van de Venne in 1623.  'Were I home alone I would bake some wentelteven of sugared white bread and greasy butter.' It must have been the 17th century equivalent of that ultimate solitary culinary pleasure, the bacon sandwich.
The origin of the word is a little obscure. 'Wentelen' means to turn over which is understandable enough but teefje means 'bitch' and is therefore slightly puzzling. 'Teef' may have been a sort of confectionary in the olden days.
4 Spek en bonen
Another simple winter favourite: bruine bonen (brown beans), smoked bacon, throw together, et voilà. 'Voor spek en bonen meedoen' originally meant to do something for very little remuneration and is one of several Dutch sayings involving beans. It now means your presence does not really bring anything to the proceedings.
5  Kapucijners with spek and piccalilly
We have no idea what the proper name for this dish is because everyone we ask has a different answer. This feast is based on big Dutch peas known as kapucijners which are cooked and then served with slices of bacon, smoked sausage, boiled potatoes, apple puree, silverskin onions and piccalilly… at least.
May also be known as the Captain's Dinner, raasdonders or Zeeuwse rijstafel (with the addition of rice).
6 Draadjesvlees
The perfect winter warmer. Draadjesvlees is beef that has been simmering in stock for about a month with a few spices thrown in. No, it's not a month, but it is a good few hours –  long enough for the meat to become very tender and fall apart in little threads, or draadjes.
Not surprisingly, old-fashioned draadjesvlees has been reclaimed by the slow food movement. Serve with red cabbage and apple (from a jar) and boiled potatoes.
7 Griesmeelpudding
Beloved by some, gruesome childhood memory for others, griesmeelpudding is semolina pudding. It is often covered in bessensap, or berry coulis.
8 Hangop
This is another dessert. You can buy it in the supermarket but don't because it is laughably easy to make. All you need is a wet tea towel, a sieve and a container to sit under the sieve. Pour a litre of yoghurt onto the  wet tea towel, cover and leave for 8 hours in the fridge.
What you are left with is hangop and very delicious it is too, especially with fruit or honey. The name has nothing to do with any hang ups the Dutch may have about the quality of their cuisine. The tea towel with yoghurt used to be 'hung up' for easy dripping hence the name.
9 Erwtensoep
No list of Dutch dishes would be complete without the perfect lunch on a winter's day – thick, creamy, sausage-filled pea soup. Pumpernickel bread with katenspek (yes, smoked bacon again) on the side is a must, as is a strapping Belgian beer. Make it yourself and feel you really have gone Dutch.
10 Haagse bluf
The name of this dessert roughly translates as 'all talk and no substance from the Hague' which may or may not have something to do with The Hague being the political capital of the Netherlands.
Haagse Bluf is a dessert made up entirely of fluff. Beat two egg whites with 100 grams of powdered sugar, then adorn with a bit of berry juice. Serve in a glass with ladies fingers biscuits.
This article was first published on website Netherlands by Numbers
Thank you for donating to DutchNews.nl.
We could not provide the Dutch News service, and keep it free of charge, without the generous support of our readers. Your donations allow us to report on issues you tell us matter, and provide you with a summary of the most important Dutch news each day.
Make a donation