God: 'Up here everyone calls me Charlie'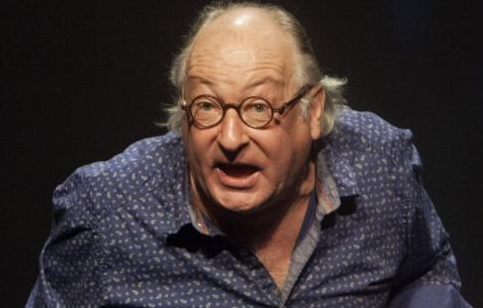 Dutch writer and comedian Youp van 't Hek gives his take the terrorist attacks in Paris.
When the internet was abuzz on Friday morning with the news that Fidel Castro had died, my thoughts immediately went out to the murdered cartoonists: no sooner have they arrived in some hereafter or other still in shock about having been blown away for being funny than they are greeted by the sight of the Cuban dictator. What to do? A quick cartoon of the crotchety old lefty sourpuss? Or hide to avoid the six-hour speech he is bound to make?
Castro wasn't much fun. Pesky cartoonists would languish in his jails. He knew how far a kalashnikov would take him. It all turned out to be a bit premature. Fidel is still breathing. His old pal Harry Mulish can't wait to see him but will have to wait a little longer.
In the meantime the brothers Chérif and Saïd Kouachi did check in. What did they find? Is their paradise an illusion devoid of a single welcoming virgin? Will they have to burn in hell because they decided to play judge, jury and executioner on earth? Maybe.
Or will the supreme being forgive them at the gates of heaven for simply not knowing any better? For listening to hordes of frightened idiots who don't know what to do with the single life they have on earth?
It's complicated, I know. You're walking around on this earth and you wonder why. You can't think of anything so you invent a maker. Then someone else invents another maker. Andries Knevel's maker looks different from the average Muslim's maker. And the jolly Dalai Lama's maker is not like the one adored by the porn rabbi who is currently barred from the synagogue in the Lekstraat in Amsterdam.
What I believe? I don't know. I can't say there's 'something', nor do I have the arrogance to say there's nothing. I'm a cowardly doubter. I once explained on stage that I have my own private god. His name is Oelikoeli. Oelikoeli has no rules. You can do whatever you want. He doesn't demand you have a bit of your pecker snipped off at a young age, or the fun parts of your lady bits removed. He doesn't mind when you address him, it really is up to you. Oelikoeli is not particular. As far as he's concerned you can kneel on a mat or a church bench, fast until you drop or sing your heart out if you think it'll give you a better chance at a life hereafter.
Get into any garb you like if you think it suits you only don't expect me to do the same. And if others laugh at your faith or god, let them laugh. You might be the one who has the last laugh in the end. But don't tell me what to do on earth. And if you insist on convincing me use words not kalashnikovs or a suicide bomber. They're an admission of weakness, from believers and dictators alike.
Let's just assume that the supreme being is a really friendly, forgiving sweety who shakes his head at every new arrival: 'What on earth did you think you were you doing? Why all this mayhem about something you had no way of knowing? There's only one person who can be sure about the existence of god and that's god himself.'
And all the believers will apologise and say: 'And that's you! Your name is god!' And a very benign god will answer: 'It doesn't matter what you call me, God, Allah, Yahweh, it's all the same to me. But up here everyone calls me Charlie.'
Youp van 't Hek is a comedian and writer.
Thank you for donating to DutchNews.nl.
We could not provide the Dutch News service, and keep it free of charge, without the generous support of our readers. Your donations allow us to report on issues you tell us matter, and provide you with a summary of the most important Dutch news each day.
Make a donation