'The Netherlands has become my second homeland'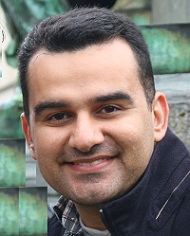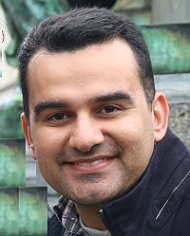 Pejman Akbarzadeh, who runs the PersianDutch.com website and would spend his last 24 hours in Amsterdam on the Dam.
How did you end up in the Netherlands?
I was invited by a Persian-language radio station in Amsterdam to join them as a senior producer.
Everything happened so suddenly and within a month I moved here. Before that I was planning to go to the United States. Now I am quite happy that I did not go there. When I visited the US in 2008 it was a disappointment. I think Hollywood has been quite successful in giving a wrong impression about the US to the world!
How do you describe yourself – an expat, lovepat, immigrant, international, etc – and why?
I think as an expat. I came here to work and in my life and work the main language remains English. I mostly attend the international events such as festivals, concerts, conferences, etc. where the main language is English.
How long do you plan to stay?
I have Dutch citizenship. At the moment I have no plans to go abroad for a long time. The Netherlands has become my second homeland and I love that.
Do you speak Dutch and how did you learn?
Yes I do speak Dutch but not at an advanced level. When you live in Amsterdam and you come here with English language fluency it's a really difficult task to even start to learn Dutch. The city is full of tourists, expats, students, etc. who communicate in English and there is a default position in the mind of Dutch people that whenever they see a foreigner they need to speak English. So sometimes even in the shops when I say 'dank je wel' they reply: 'Have a Nice Day'. In the beginning it makes life easier and nicer but if your goal is improving your Dutch it can be a problem! Anyway I appreciate their hospitality and enjoy the friendly atmosphere in the country. It means a lot to me.
What's your favourite Dutch food?
I'm not sure there is a real Dutch 'food'. I think it is mostly snacks. But I do love 'kaassoufflé'.
What do you miss about back home?
The diverse nature of Persia and its people, who despite all the problems they have, makes joke of everything and try to be happy. But whenever I remember the terrible situation which has been created by the Islamic government in Tehran, I forget about nostalgia. But it's my dream to share my freedom with the people in my homeland.
How Dutch have you become?
Difficult to answer! People who met me after 2006 should answer this question, but I think 50%.
What's your top tourist tip?
It depends what kind of tourist I am giving the tip to. Some people like to visit the red light district and coffee shops, others like to visit the Rijksmuseum or the Van Gogh Museum. But in general my tourist tip is walking through the central part of Amsterdam and enjoying the friendly atmosphere of the city. It's like a village.
Tell us something surprising you've found out about NL.
The barber! When they cut your hair they do not clean your face and neck but leave all the little hairs there! It's really surprising. As far as I know more and more men go to Eastern barbers because they are more concerned about these things and also much cheaper. Another thing: when I ask Dutch people about their favourite Dutch songs or films, they mostly reply in a humiliated tone: 'I do not listen to Dutch singers', 'I do not watch Dutch films'. It seems they are only satisfied if everything is American. I think there is a real problem with 'national identity' in this country. Actually it makes me angry when I watch adverts on Dutch TV channels and see many of them use English slogans to promote their products.
If you had just 24 hours left in NL, what would you do?
I would go to Dam Square to enjoy its peaceful atmosphere, see the pigeons which fly there and the people who freely walk around and enjoy their time.
Pejman Akbarzadeh, 33, is a pianist, journalist and director of the Persian Dutch Network.
Thank you for donating to DutchNews.nl.
We could not provide the Dutch News service, and keep it free of charge, without the generous support of our readers. Your donations allow us to report on issues you tell us matter, and provide you with a summary of the most important Dutch news each day.
Make a donation