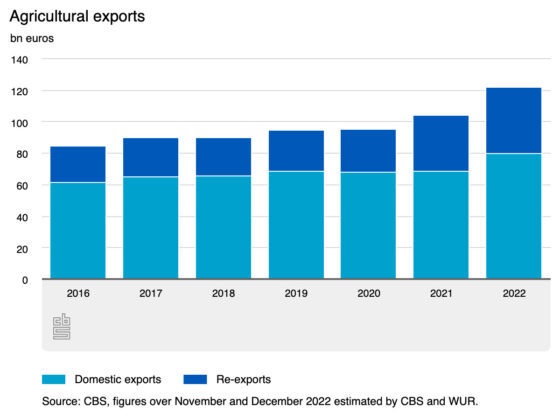 Rising food prices propelled Dutch farm exports to a new record of €122 billion last year, but more than one third of that is down to re-exports, according to figures from national statistics agency CBS and Wageningen University.
It is the seventh year in a row that farm exports have reached a new record. The 2022 figure is up 17% on 2021 and comes as farmers and agricultural manufacturers pass on the cost of sharply higher energy prices and more expensive animal feed and fertilizer, the CBS said.
The export of Dutch produce reached almost €80 billion while the re-export of products from other countries totalled €42.5 billion.
Dairy and eggs worth almost €12 billion were exported, up 35% on 2021. The increase is largely due to record milk prices. Eggs were also at record prices, as bird flu led to a shortage of supply.
Food manufacturers were also hit by higher energy, packaging and transport costs, the CBS said.
Germany
Germany is the most important destination for Dutch farm products, accounting for around 24%, followed by Belgium, France and Britain.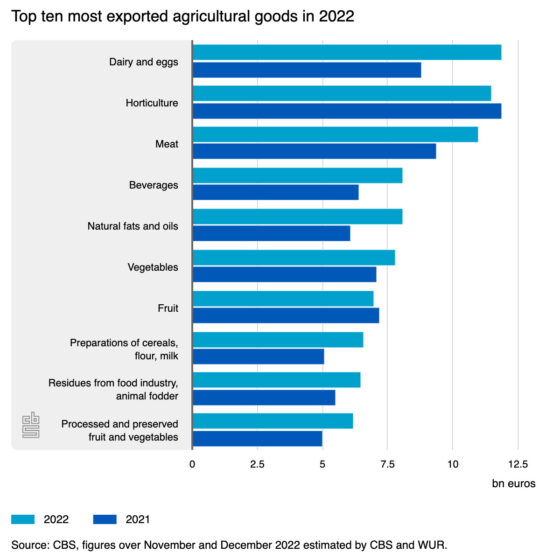 Despite the rise in exports, farmers organisation LTO Nederland said its members are not earning more money.
'The high quality produce from our farmers and market gardeners is making a substantial contribution to the Dutch economy,' chairman Sjaak van der Tak told broadcaster NOS. 'But despite the high export prices for farm products, their earnings are still under pressure.'