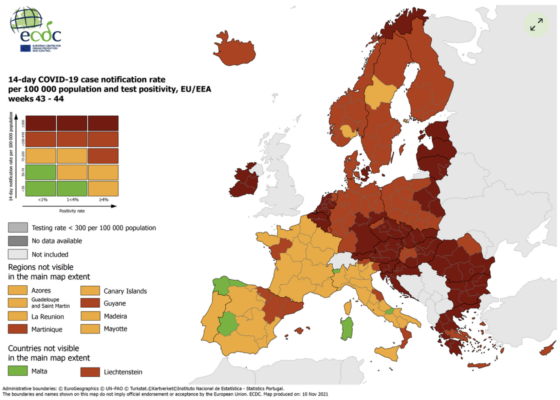 A new record of 23,680 positive coronavirus tests were reported to public health institute RIVM in the 24 hours to Thursday morning. It is the fourth day in a row that the number of positive tests has increased.
Hospital admissions have also gone up and 2,110 people are now being treated in hospital, of whom 413 are in an intensive care ward.
The RIVM also reported a further 34 deaths.
The surge in cases in the Netherlands means that the entire country is now dark red on the latest map compiled by the European Centre for Disease Prevention and Control.
The switch to dark red means other EU countries could now demand travellers from the Netherlands take extra precautions, such as go into quarantine on arrival, but this has not yet happened.