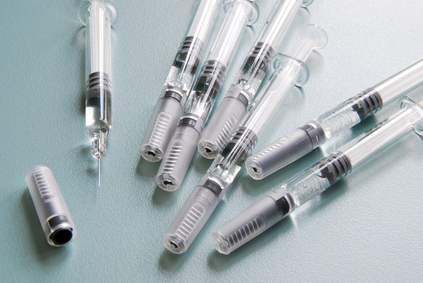 The Dutch government ignored warnings from pharmaceutical company GlaxoSmithKline (GSK) as early as September 2016 about the steep rise in cases of meningococcal W disease in the Netherlands, the Volkskrant said on Friday.
That month the company's chief of vaccinations Rolf Remorie said in an email to public health institute RIVM, that the risk of an outbreak is 'real'.
The government would do well to order vaccines 'in case it is confronted with a situation in which a great number are needed' as producing the vaccines is 'time consuming', Remorie warned.
Remorie referred in his mail to Britain which has registered multiple deaths from MenW, a new, virulent strain of meningitis and septicaemia, which caused the disease to be classed as a public health emergency as far back as 2015.  According to GSK the same strain is now doing the rounds in the Netherlands.
The alarm was again raised the following November by RIVM epidemiologist Mirjam Knol during a presentation, the paper said.
The organisation says the lack of an adequate reaction from the government means there are now not enough vaccines to go around and vaccination of vulnerable 14 to 18 year-olds will have to take place in phases.
The RIVM has now started a vaccination campaign for children born between May 1 and December 31 2004 and called MenW 'the most serious infectious disease we know'.
Babies
The lack of vaccines does not affect babies which have been receiving a vaccine against four types on meningococcal disease at 14 months old, including MenW, since May.
The disease has killed 18 people so far this year in the Netherlands, a rise of seven compared to 2016. Of all patients one in six dies. In the category 14 to 24 year-olds the figure shoots up to one in three.
'We could not have reacted any faster than we did', government vaccination programme manager Hans van Vliet told the paper in a reaction.
'You can't spend millions on a scarce vaccine if you don't know what will happen. Meningococcal bacteria are notoriously unpredictable and that makes it hard to make a decision. We had to weight the options: is this going to be serious or not? We only established in the summer of 2017 that this wasn't going to go away,' Van Vliet is quoted as saying.
Action
This prompted the then-health minister Edith Schippers to take swift action, bypassing the Health Council, which would have taken time to come up with an recommendation, in favour of advice from the RIVM.
According to Remorie, the question is whether a government should anticipate tackling a serious avoidable disease which marks children for life or whether it waits until the first victims die. 'I understand governments can't decide in one day but it takes us longer to make vaccine', he told the paper.
Media stories of healthy teens dying from meningococcal disease have prompted many parents to ring their family doctors or regional health service GGD asking for their child to be vaccinated. The GGD in Amsterdam has recruited extra staff to cope with the calls, the Volkskrant said,
Meningoccocal meningitis is spread through the air. The first symptoms are usually fever, vomiting, headache and feeling unwell. Limb pain, pale skin, and cold hands and feet often appear earlier than the rash, neck stiffness, dislike of bright lights and confusion.
DutchNews.nl has been free for 12 years, but now we are asking our readers to help. Your donation will enable us to keep providing you with fair and accurate news and features about all things Dutch.
Donate via Ideal, credit card or Paypal.