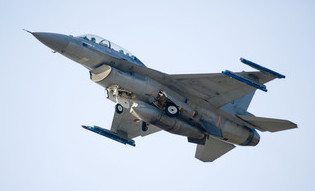 The Dutch defence ministry is investigating how an F-16 fighter pilot flew his jet into an overhead cable on a training exercise in Arizona.
The pilot was unharmed and able to land safely, but the aircraft was 'severely damaged' in the incident on Sunday, a spokesman for the ministry said.
The pilot was part of an F-16 division carrying out training flights at the Netherlands Detachment in Tucson, Arizona.