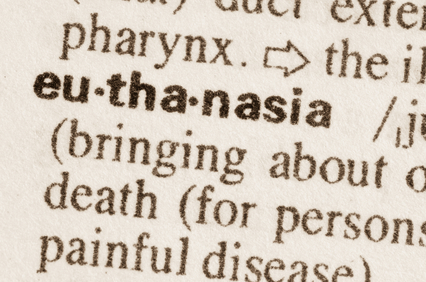 The public prosecution department has opened a criminal investigation into a doctor who performed euthanasia on a woman who had severe dementia.
It is the first time since the law legalising euthanasia came into effect in 2002 that there has been a formal criminal probe into a doctor's actions. The doctor has already been formally reprimanded for breaking euthanasia guidelines.
The case centres on a 74-year-old woman, who was diagnosed with dementia five years ago. At the time she completed a living will, saying she did not want to go into a home and that she wished to die when she considered the time was right.
After her condition deteriorated, she was placed in a nursing home where she became fearful and angry and took to wandering through the corridors at night. The nursing home doctor reviewed her case and decided that the woman was suffering unbearably, which would justify her wish to die.
The doctor put a drug designed to make her sleep into her coffee which is against the rules. She also pressed ahead with inserting a drip into the woman's arm despite her protests and asked her family to hold her down, according to the official report on the death. This too contravenes the guidelines.
Once the public prosecution department has finished its investigation it will decide whether or not the doctor, a specialist in geriatric medicine, should face criminal charges.
Severe dementia
Last year, the justice and health ministries relaxed the guidelines for performing euthanasia on people with severe dementia a little so that patients can be helped to die even if they incapable of making their current feelings known. However, they do have to have signed a euthanasia declaration with their family doctor before they become too seriously ill to be considered for help in dying.
Euthanasia is legal in the Netherlands under strict conditions. For example, the patient must be suffering unbearable pain and the doctor must be convinced the patient is making an informed choice. The opinion of a second doctor is also required.
In 2015 some 5,500 people, mainly cancer sufferers, were helped to die under the euthanasia legislation. Of them, 109 were suffering dementia and were in the early stages of the disease. Since the legislation was introduced in 2002, there have been a number of controversial cases, including a woman suffering severe tinnitus and a serious alcoholic.
DutchNews.nl has been free for 13 years, but now we are asking our readers to help. Your donation will enable us to keep providing you with fair and accurate news and features about all things Dutch.
Donate via Ideal, credit card or Paypal.