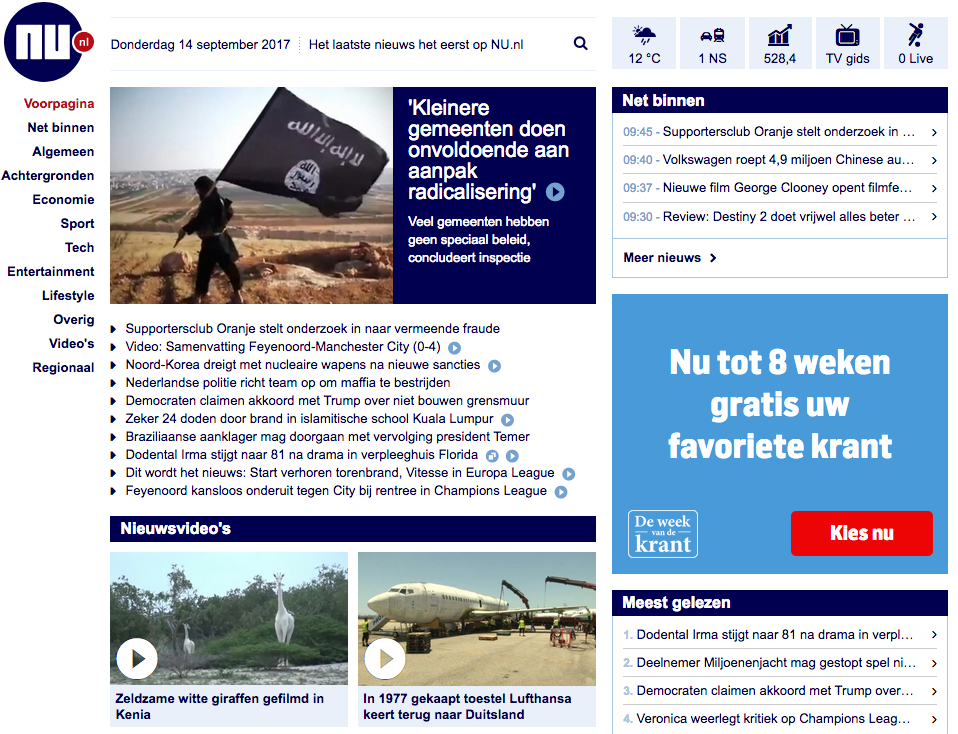 Media tycoon John de Mol is interested in buying news website Nu.nl, the
Financieele Dagblad
reported
on Thursday
.
Nu.nl is now owned by Finnish media group Sanoma says it has no public plans to sell the popular site. Sources in the financial world say that Talpa Holding, De Mol's investment vehicle, is serious about the acquisition because De Mol has long harboured plans for a Dutch multi-media publishing group.
Earlier this year, De Mol lost its bid to buy the Telegraaf Media Groep which is now owned by Belgian media group Mediahuis. In the meantime, De Mol bought control of broadcaster SBS (SBS6, SBS9, Net5, Veronica) from Sanoma. Talpa Holding also operates commercial radio stations 538 and Radio 10 as well as  Sky Radio and Radio Veronica. In addition Talpa has a 30% stake in TMG.
Online news
Nu.nl has become the largest Dutch online news medium since it was started at the turn of the century. It now has an audience of seven million people with 1.9 million people visiting the site every day. The free news site is bigger than the sites of broadcaster NOS and the AD and Telegraaf newspapers.
Other publishers have expressed an interest in buying Nu.nl. These include Persgroep, the Belgian owner of Dutch newspapers the Volkskrant, AD, Trouw and various regional papers. Sanoma regards the site as the central point of its Dutch and Belgian operations. Its rumoured pricetag is €100m.
Earlier this week, Peter de Mönnink, who headed Sanoma's Dutch and Begian activities, moved over to Talpa as chief commercial officer.