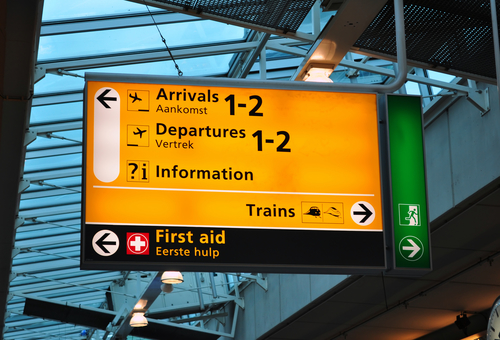 Schiphol airport is bringing in extra staff to help out with security checks during busy periods, after passengers faced delays of several hours at the start of the spring school holidays.
'The employees of the security companies work hard to provide passengers with a safe and relaxed start to their journey, but assessment shows that even more staff will be required for this than originally accounted for', chief executive Jos Nijhuis said in statement.
'In addition to the deployment of additional staff, Schiphol is also installing two additional security lanes in Departure Hall 2, which will allow more passengers to go through security simultaneously.'
Passengers departing from Schiphol are confronted with queues at three separate locations: at the airlines' check-in-desks, at Schiphol's security checkpoints and at  passport control. 'The assessment shows that shorter waiting times are possible at each of these locations,' Schiphol said.
KLM has told travellers to be at Schiphol three hours before their departure time because of the long delays.
Last month, KLM's operational director René de Groot accused Schiphol of negligence after several hundred people missed flights because of the delays.
'Schiphol has made the wrong choices,' he said. 'The airport has used marketing bonuses to generate unnecessary growth and has neglected to invest in proper infrastructure.'
@Schiphol What the hell is happening? The immigration queue is the longest I've seen (and it's often pretty bad) pic.twitter.com/cELvPeh50x

— jamessmoed (@jamessmoed) April 25, 2017
Logistiek op @Schiphol flink achteruit: Heenreis 35 min in de rij voor security, terugreis 30 min voor paspoortcontrole. Dat valt tegen. pic.twitter.com/fEiUzPFqNf

— Joris Larik (@JorisLarik) April 23, 2017