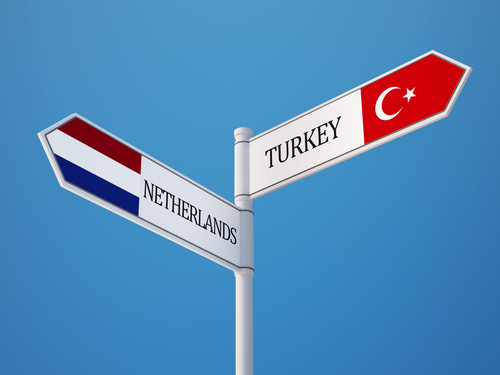 Nearly half of eligible Turkish citizens in the Netherlands have taken part in a referendum on whether to give President Erdogan far-reaching presidential powers.
The Turkish consulate in Rotterdam said 118,322 people had cast a vote, out of 250,000 Dutch Turks who were registered, NOS reported. Polling stations were set up in Amsterdam, The Hague and Deventer.
The busiest polling station was in The Hague, where 49,424 votes were cast, followed by Amsterdam with 40,134 votes.
The turnout of 47% was lower than in Belgium, where around 81,000 out of 137,000 registered voters took part, according to the Union of European Turkish Democrats.
The main vote will take place in Turkey on Sunday. Erdogan is campaigning to make 18 amendments to the Turkish constitution, extending his potential term of office to 2029 and allowing him to appoint cabinet ministers and judges.
The referendum campaign triggered a stand-off between the Dutch and Turkish governments in the week before the Netherlands' Parliamentary election. The Dutch government refused to allow two Turkish ministers to travel to the Netherlands to address supporters, prompting Erdogan to denounce the Dutch as 'Nazi remnants' and 'fascists'.
Around 1,000 Dutch Turks massed on the streets of Rotterdam when police stopped families minister Fatma Betul Sayan Kaya from entering the consulate in a confrontation broadcast live on Turkish news channels.
Dutch MPs for the Socialist, GreenLeft and Denk parties who hold Turkish passports agreed to abstain in the referendum because it would conflict with their role as elected Parliamentarians.