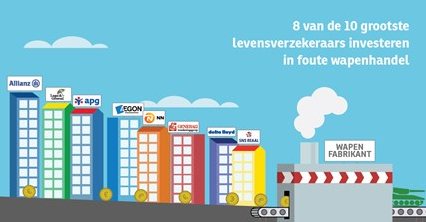 Eight of the 10 biggest life insurance companies in the Netherlands are investing in the more unsavoury side of the arms trade, according to a new insurer comparison website set up by Dutch aid groups.
In total, the eight firms have €6.8bn invested in 15 arms manufacturers which sell to dictators and corrupt countries, the Eerlijke Verzekeringwijzer claims.
The research is based on the 2010-2014 period. It focuses on life insurance companies which are active in the Netherlands and arms companies which break weapons embargoes, sell to governments in conflict zones or to what are considered corrupt regimes.
Most of the sales centre on Saudi Arabia. 'All eight insurance companies put money into companies which sell, for example, military helicopters, tanks, cluster bombs or radar systems to Saudi Arabia,' Suzanne Oosterwijk of aid group PAX said.
'This is a country which uses banned cluster bombs in Yemen and is known for its appalling human rights situation. No decent insurance company wants to be involved in that.'
APG
Achmea and ASR are the only two insurance companies not to invest in the arms traders under investigation.
Top of the list is Germany's Allianz, followed by Britain's Legal & General and Dutch civil service pension fund asset manager APG, which has almost €1bn invested in controversial arms manufacturers, the report states.
Aegon, NN Group and Generali make up the next batch, while Delta Lloyd and SNS Real have minor investments.
An accompanying opinion poll carried out by Motivaction shows two-thirds of the Dutch think it 'unacceptable' for their insurance company to invest in arms companies which trade with corrupt or otherwise suspect regimes.