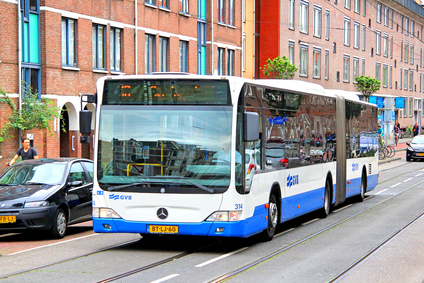 Amsterdam will become the first city in the country to run a fully electric bus fleet, following agreement between the city council and city bus firm GVB.
The first batch of 40 buses will be replaced by electric vehicles in two years' time, the Volkskrant reports, and by 2025 the entire fleet will be electric. The ferries over the IJ between the city centre and Noord will also be powered by green electricity.
'This project means we are saying goodbye to symbolic behaviour and pilot projects,' the city's transport alderman Abdeluheb Choho told the Volkskrant. 'We have decided to just do it, not to experiment with five buses.'
Amsterdam is not the first city to focus on electricity-powered public transport. Brabant has introduced some battery-driven buses and small-scale experiments are under way in Utrecht and Maastricht.
Bus company Abellio, which is 100% owned by Dutch national railway firm NS, has also pledged to ensure the 300 buses operating in Limburg province are electric if it wins the concession.
The six buses on the Wadden Sea island of Schiermonnikoog are also electric.