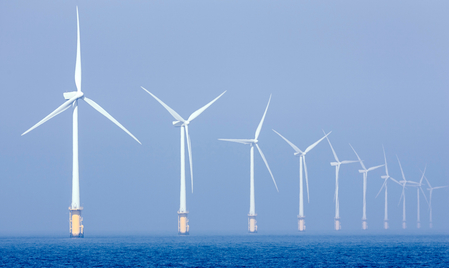 MPs have given the green light to the building of three large offshore wind parks, broadcaster Nos reports.
Despite concerns about their impact on the horizon, MPs do not see any insuperable issues with economic affairs minister Henk Kamp's plan, the broadcaster says.
The wind farms will be built 18 to 22 kilometres off the coast of Zeeland, Noord-Holland and Zuid-Holland.
Many seaside resorts oppose the wind farms, saying they will spoil the view for holidaymakers and day trippers. Information evenings for councillors in Noordwijk, Katwijk and Zandvoort were cancelled at the beginning of this month because local officials said they would refuse to keep the information secret.
Animated film
In particular they have been shocked by an animated film showing the turbines at almost 200 metres in height, Nos says.
Work is expected to start on the first project off Zeeland later this year.
The energy agreement signed between ministers, industry and green groups in 2013 included major offshore wind farms. By 2022, some 14% of the energy used in the Netherlands is due to come from sustainable sources. The current figure is around 5%.