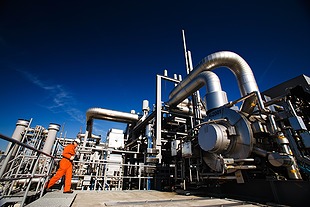 Maximising profit was the main driver for the extraction of natural gas from underneath Groningen province and public safety took a back seat, the safety research council OVV says in a report on Wednesday.
The council says everyone involved in the gas industry should recognise and admit to the people of Groningen that their safety was not a priority issue. This is essential to heal the rift between locals, national government and gas extraction firm NAM, the council says.
Parts of Groningen have been hit by earthquakes because of the gas extraction and locals argue their fears have not been fully recognised by national government in The Hague.
'It should not be the case that a source of so much money for the Dutch state and for companies should leave people with problems,' commission chairman Tjibbe Joustra told broadcaster Nos.
The concept report leaked out earlier this year. The definitive version covers the period from the discovery of the gas reserves in 1959 to January 2014.
The report criticises the mining authority SodM for not being independent enough. It says the economic affairs ministry failed to represent all public interests equally and that NAM should have done better research into the likely effect of the gas extraction. NAM is a Shell-ExxonMobil joint venture which extracts the gas on behalf of the Dutch government.
Impact
The people of Groningen were continually fed 'calming messages' and were kept out of the decision-making processes, the report says. In 1993 it emerged that the gas extraction could cause earthquakes but it was not until 2012, when a quake measuring 3.6 on the Richer scale hit, that the problem was first taken seriously.
Thousands of homes have been damaged by earthquakes as the ground settles after the gas has been removed. The government has earmarked millions of euros to strengthen property and has also reduced gas extraction volumes because of the safety concerns.
Local politicians have threated the national government with legal action if they fail to take emergency steps.
Campaigner Dick Kleijer told the Volkskrant the report confirms what people living in the province have thought for years. The fact public safety has been ignored is a 'scandal', he said. 'Safety should be more important than gas extraction, not the other way round.'