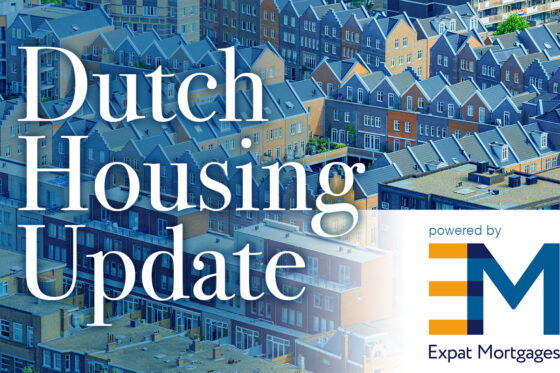 2023 has started up with a flurry of housing news, including a further drop in house prices and predictions of more to come.

House prices are continuing to fall
House prices fallen for five months in a row as rising interest rates reduce borrowing, according to the Dutch national statistics office CBS. In December, the drop was 2.3%, the biggest recorded in 10 years. And analysts from ABN Amro bank are forecasting a further 10% fall in 2023 and 2024.
'There has been a lot of negative news around about the housing market but I think if you look at the bigger picture there is more to be positive about,' says Kenneth Leenders, chief executive of mortgage advisory group Expat Mortgages.
'Some of our clients are waiting to see if prices go down more but they are largely people who already own a house. A larger group actually do recognise there are opportunities, and that for now supply and demand are becoming more balanced.'
'The fact that prices are coming down is a good sign. The market was overheated and we are now moving from a sellers market to a buyers market and that is a good development. Previously, you could make an offer on 10 or 15 houses and find yourself being overbid every time. But now you have more of a chance to negotiate.'
Interest rates are up and down
Interest rates continue to go up and down slightly and are now a little below their 2022 peak. Nevertheless, the overall trend is still slightly upward, says Kenneth, who sees the rate varying between 4% and 5% in the coming period.
Although this might make it difficult for many first time buyers to get a foot on the ladder, international buyers often have savings and this is cushioning them slightly from the impact. Higher salaries play a part too.
Rent or buy
Would be home-buyers who have decided to wait and see are staying put in the rental housing sector, which too is in the middle of major upheaval. Increased regulation aimed at boosting the amount of affordable rental housing is putting off investors and fewer new residential projects are being started.
'The government is trying increase regulation with the best of intentions but it is actually having the opposite effect,' says Kenneth. 'Private investors are backing off and are not buying commercial property any more and some landlords are faced with having to sell their buy to let properties because of the new regulations.'
The impact of this is that rents outside the regulated sector are likely to rise even more. 'If you are not looking at the bigger picture and thinking that you should wait to buy instead, you should realise that it is likely that rents are only going up,' says Kenneth. 'And if you buy, you are only paying your own mortgage after all, not your landlord's.
Expat Mortgages suggests that if you plan to live in the Netherlands for at least three to five years, it is worth buying a home rather than renting one.
Boosting transparency
From this year, people who do find themselves outbid on a property, will be able to check up how much their rivals offered in a formal bid book, which all estate agents are now required to keep.
The idea has only just been introduced so it is difficult to say what impact it is having, but overall the concept is a good one, says Kenneth. 'I can understand why some estate agents are hesitant about it, and it does need some fine tuning, but on the whole I welcome the move,' he says.
In particular, says Kenneth, it will help weed out the estate agents who take advantage of people's lack of knowledge about the situation in the Netherlands. 'Anything to boost transparency and confidence is a good thing.'
If you do find yourself outbid on a property, you can ask your estate agent to show you the bid book so you can assess what happened and be better prepared next time round. The book will become available once the deal has been signed with the winning buyer.
How much can you borrow?
Knowing how much you can spend is a good way to start the process of orientating yourself on the Dutch housing market. Expat Mortgages has just updated its mortgage calculator to take all the 2023 changes into account.
These include incorporating 100% of the salary of a partner in any calculations, rather than 90%, which was the situation in 2022.
Any questions?
If you've got any questions about the process of buying a home in the Netherlands, you can always check out the FAQs on the Expat Mortgages website to see if they have the answers. Drop them a line – they have an open chat line – if your question is not covered.
Expat Mortgages also hosts regular webinars on the process of buying a home in the Netherlands if you are thinking about taking the plunge. The next one takes place online on February 7 at 7pm.