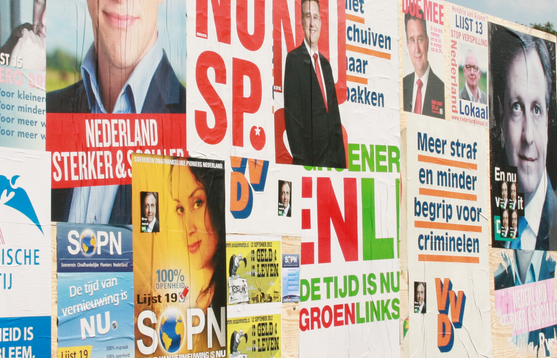 It's not that long ago that we had political parties on the right and political parties on the left. In 2020 we seem have a consolidation of parties in the middle and the rest are kept on the fringes, says columnist Syp Wynia.  
It's become common among politicians in the last few years to characterise all parties which have governed at one time or another, or which are considered eligible to take up that responsibility, as occupying 'the middle ground'.
The 'middle ground' has become particularly prominent during the cabinets lead by Mark Rutte. The collective noun I invented for the parties which have been keeping his various cabinets afloat after Geert Wilders withdrew his support in 2012 is 'the Rutte party'.
According to the latest polls, some 60% of voters support the middle ground parties. Coalition parties VVD, CDA, D66 and ChristenUnie can count on 40% support as well as the 20% represented by GroenLinks and PvdA for 'constructive support' – an expression typical of the Rutte era.
GroenLinks turned into a de facto support act for Rutte when, following the 2019 budget, party leader Jesse Klaver announced that his party would vote in favour of all ministerial for 2020 without any negotiations whatever.
The minority rules
While traditional government parties CDA, PvdA and VVD have become a minority representing 40% of seats all told, they still hold around 90% of all mayoral positions as well as often lucrative lobby positions in semi-public bodies, the subsidised sector and business.
A person not belonging to these parties will either be a member of D66 or GroenLinks (and occasionally ChristenUnie). The middle ground rules in and outside parliament. Paul Rosenmöller is a GroenLinks senate member while at the same time negotiating teachers' salaries with the cabinet on behalf of the secondary school council VO Raad. It's all possible in this incestuous political middle of ours.
But how is it that PVV, FvD, SP, Partij voor de Dieren, Denk and to a lesser degree 50plus are considered to be on the fringe? They and their voters are considered irrelevant  because the 'the middle', in whatever configuration, will cobble together a compromise anyway.
Committees
If that doesn't work the compromises will be hammered out by 'commissions' led by politicians from the fold: The Commission Donner (CDA) on benefits, the Commission Remkes (VVD) on nitrogen emissions, the Commission Bos (PvdA) on care for the elderly at home or the Commission Borstlap (CDA) on the labour market.
And if a commission can't be found there's always the Social Economic Council, chaired by Mariëtte Hamer (PvdA) which will broker social accords or climate accords briefed by 'the political middle', always in close cooperation with stakeholders from business, unions and the environmental lobby.
Are you a really a middle ground voter?
And so everybody belongs to the middle but is the opposite also true? Is that what we mean by a representative democracy? Do elections make any sense if voters stop mattering as soon as the ballots are in and the only question that remains is which of the middle parties will govern and which won't – and which lobby interests will play a role in the endless formation process?
There was a time when only the Christian Democrats represented the middle ground. The VVD was right-wing and the PvdA was left-wing. And GroenLinks was ranked, in the words of former prime minister Wim Kok among 'the extreme left' (because it wasn't 'European' enough) and as such unfit to form part of a government. Compared to the days when parties could be distinguished from each other, today's amalgamation is nothing short of spectacular.
This middle ground, also called the 'stable middle', is supposed to steer the country through times of fraction and polarisation and we as voters should count ourselves lucky. But how stable is it really? Five years ago it was cutting back and hiking taxes and now it is spending like mad while taxes remain at a historical high.
Courting coal, banning coal
Fifteen years ago the middle spent €10m on a European gas distribution system, now gas is being banned from homes and buildings. Coal-fired power plants were lured to the Netherlands, only to be banned. Job contracts had to be flexible, now they have to be permanent. We have gone from cutbacks on the care for the elderly to a programme costing billions.
The pension age had to go up as quickly as possible, now it needs to be slowed down. Youth care had to become the responsibility of local councils, or perhaps not. After a wholesale introduction extra benefits for people on low incomes are to be scrapped. Is this the 'stable middle'? It's about as stable as a weather vane.
It's not the voter who is capricious, it's the political middle
Against this background, to say that it is the voters who are being capricious is a bit of a leap. The voters, if anything, have been extraordinarily constant. About half think of themselves as right wing, the majority are critical about further European unification and want immigrants to adapt.
Those figures haven't changed in decades. It is doubtful the political middle will listen. The fact is that more money and more power is going to Europe and that, increasingly, native Dutch are having to adapt to demands made by immigrants.
Meanwhile Dutch citizens do not have much of a choice. In 2012 dispirited voters went to the polls, with some voting tactically for the VVD to keep the PvdA out and others doing the opposite, only to end up with both. No wonder the PvdA was nearly wiped out in 2017 and the VVD suffered a heavy blow. Voters want to have choice and they don't want to be taken for a ride.
In his farewell speech, former PvdA chairman Ruud Koole, who recently retired as a professor at Leiden University, spoke about this type of depoliticisation, referring to a democracy devoid of 'demos', the direct influence of the people. Political leaders have removed themselves from civil society and become ensconced in the world of governance and state.
'Fog of consensus'
 The 'focus on governance', Koole said, has resulted in a 'fog of consensus' which is 'obscuring the  differences'. 'Democracy needs systematic opposition, offering voters different options,' he said. But what if the opposition supports the cabinet or is side-lined by the middle? Koole: 'Ever since the Fortuyn revolt it looks as if all we have left are parties operating on the flanks or in the middle. It is time the differences within the latter group become more clear.'
My antennae in society tell me that a latent mix of discontent and indifference is forming, caused by the middle, the cabinet plans preceded by exactly zero election debates and more migration where less was suggested. The middle is not stable at all. It's arrogant. It is systematically ignoring 40% of voters and it is high time it stopped.
This column was first published in Wynia's Week. Syp Wynia is a journalist and columnist who writes primarily on politics and economics, as well as Europe, migration and the government's finances.

The views expressed in this column are Syp Wynia's own.
Thank you for donating to DutchNews.nl
The DutchNews.nl team would like to thank all the generous readers who have made a donation in recent weeks. Your financial support has helped us to expand our coverage of the coronavirus crisis into the evenings and weekends and make sure you are kept up to date with the latest developments.
DutchNews.nl has been free for 14 years, but without the financial backing of our readers, we would not be able to provide you with fair and accurate news and features about all things Dutch. Your contributions make this possible.
If you have not yet made a donation, but would like to,
you can do so via Ideal, credit card or Paypal.