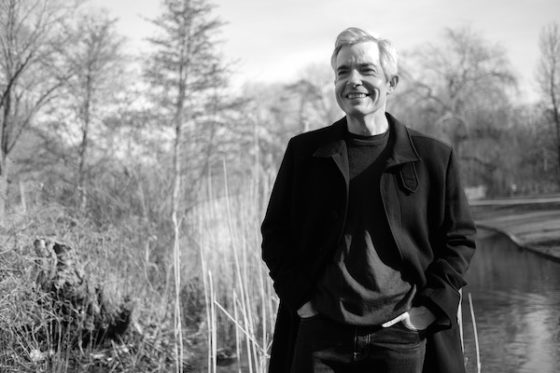 David Raleigh loves herring, has lots of hints for learning Dutch and thinks the  royals are pretty cool. Originally from Britain, he came to the Netherlands via Paris and Milan, and now operates the website International Locals.
How did you end up here?
For years, I happily lived in Paris. I always said it was a city I would never leave. I really loved France. I studied the French language and French cinema, history, and music. Then I met an Italian lady in Paris. We were having great fun in a beautiful city and she got offered a job in Amsterdam.
So we decided to take the plunge, have a change, and move to Amsterdam. At first, I thought it was too quiet and that I'd never make it here. It didn't have the same energy as Paris. Then I discovered all the little things; the comedy clubs and cafes, the theatre and cinema scene, and getting to cycle everywhere safely. Amsterdam has its own energy that I now love and crave. We had a kid and we moved to Milan. It didn't work out, and I ended up coming back here. Now I'll never leave.
How do you describe yourself – an expat, lovepat, immigrant, international?
I would definitely describe myself as an international because I've always travelled so much. I've been all over North and South America, Australia, New Zealand, and Asia. I've also spent, since university, almost my whole life living in France. I grew up studying the European ideal. I believe in that, and I've got an Irish passport now. I consider myself a European International, in fact.
How long do you plan to stay?
I have no plans to leave. I do love it here. It would be very hard for me, right now, to imagine a better place I'd want to live in. I'm very much minded to just staying here. I guess they can just drop me in the canal when I'm done. It's a feeling I've had in Paris before, and I would define that feeling as like being on holiday every day, even when you're working. Everything feels right and there's a vibe. I definitely get that here.
Do you speak Dutch and how did you learn?
Yes, but it took me a while. I speak a few languages, and I majored in French and German. Dutch should have been easy, but I didn't get into it early on. I convinced myself that it was a hard language to learn and that became a self-fulfilling prophecy. That was a mistake, and I had to rewire my thinking. It's no more difficult than French, Italian, or any other language.
At the moment, I'm taking lessons twice a week at a school in the Jordaan. I really enjoy that and it's been helping me advance at a faster level. I also compliment that by sitting down with a pen and paper to make notes and work on my vocabulary, and learn phrases and expressions.
I use an app called Memrise as well. It was started by an English memory master named Ed Cook. When I'm walking or cycling around, I also listen to VocabuLearn: Dutch. They list out verbs, nouns, and expressions, once in English and once in Dutch. That really helps everything sink in.
What I've discovered is that Dutch people have stopped replying to me in English during conversations. It seems to make them happy when an expat or an international learns Dutch. They're a house proud people. They take it as a compliment when someone has sat down and learned their language.
What's your favourite Dutch thing?
That's an easy one for me. It's haring (herring). If I'm hungry and I see a haring stand, I'm definitely having one. They taste so good, and they're healthy. I have them all the time. When I go to the Albert Cuyp market and enter from the west side, there's a stand with a big Dutch flag. That's my go-to when I'm in the area.
How Dutch have you become?
I've been observing the Dutch for years now. I know quite a few of them and hang out with them. Firstly, there's the Amsterdam Dutch. There's this self-confidence and friendliness about them. They're laughing all the time, and I think there's a pervasive good mood. Maybe that's due to the economy at the moment, but they're a very positive people. They're outward-looking and forward-looking. One of the things I like the most about living here is the people. They're great.
I'm trying to learn the language, and I'd like to get a Dutch passport. More and more, I have this subconscious pull towards becoming more a part of the society here. Like I said earlier, I can't imagine living anywhere else. So maybe I am becoming more Dutch.
Which three Dutch people (dead or alive) would you most like to meet?
Hieronymus Bosch. I was in Den Bosch recently, and I went to the Jheronimus Bosch Art Centre. He must have been an interesting man. He was creating Dali-esque paintings 300 years ahead of Dali. Unfortunately, none of the originals are in the museum because the Spanish took them with them after they invaded. There's a lot of Dutch art that I like, which brings me to my second choice…
Vincent van Gogh. I was at his museum in Amsterdam again this week. I don't know how many times I've been there. I love his work. His life story is amazing. There's him, his brother, his sister-in-law, and how his nephew effectively carried on his vision and built the Van Gogh Museum to bring his work to an even greater and more adoring public. Looking at his art makes me happy. He was an amazing person.
Willem-Alexander. I like the Dutch royals. I think they're nice, and I think they're cool. I've never been a royalist in my life. I tend to dislike the British royal family and their ridiculous wealth while their people are struggling and at food banks. I'd like to see their numerous assets used for better purposes.
Meanwhile, I think the Dutch royals are great. He's flying planes, they all go shopping together, and you can't have King's Day without him. I think they're really doe maar normaal (just be normal).
What's your top tourist tip?
Ons' Lieve Heer op Solder, or as it's called in English, Our Lord in the Attic,  a secret church in the middle of the red light district. It's just an amazing place and a brilliant piece of history. It's nicely preserved and stunning.
More and more people should go see it. Millions of them walk by it every year, and they have no idea that it's up there. It's a beautiful building and story. Whenever I meet people who are only going to be in Amsterdam for a few days and they've got a few hours to fill, I always try to convince them to go.
Tell us something surprising you've found out about the Netherlands
This is one that has always made me laugh. Before Napoleon Bonaparte invaded the country in the early 19th century, the Dutch didn't really have surnames as a structured thing. Bonaparte forced them all to take them. Those who didn't have a 'Jacob's Son' or something like that decided to make up funny ones like 'Of The Trousers'.
They figured they could drop them once Bonaparte left, but they never did. So there's lots of Dutch people with names that seem normal now but, if you sit down and think about them, they're quite amusing. It's a great part of history and a good example of the Dutch not taking themselves too seriously.
If you had just 24 hours left in the Netherlands, what would you do?
I'd do what I'd just be doing anyway. I'd walk around the canals and have a nice lunch somewhere and some beers at one of the bruin cafes. That would be it. I wouldn't be visiting anywhere specific; it would be more about just taking one last trip around the city.
You can visit International Locals online and on Facebook .
David Raleigh was talking to Brandon Hartley.
Thank you for donating to DutchNews.nl
The DutchNews.nl team would like to thank all the generous readers who have made a donation in recent weeks. Your financial support has helped us to expand our coverage of the coronavirus crisis into the evenings and weekends and make sure you are kept up to date with the latest developments.
DutchNews.nl has been free for 14 years, but without the financial backing of our readers, we would not be able to provide you with fair and accurate news and features about all things Dutch. Your contributions make this possible.
If you have not yet made a donation, but would like to,
you can do so via Ideal, credit card or Paypal.