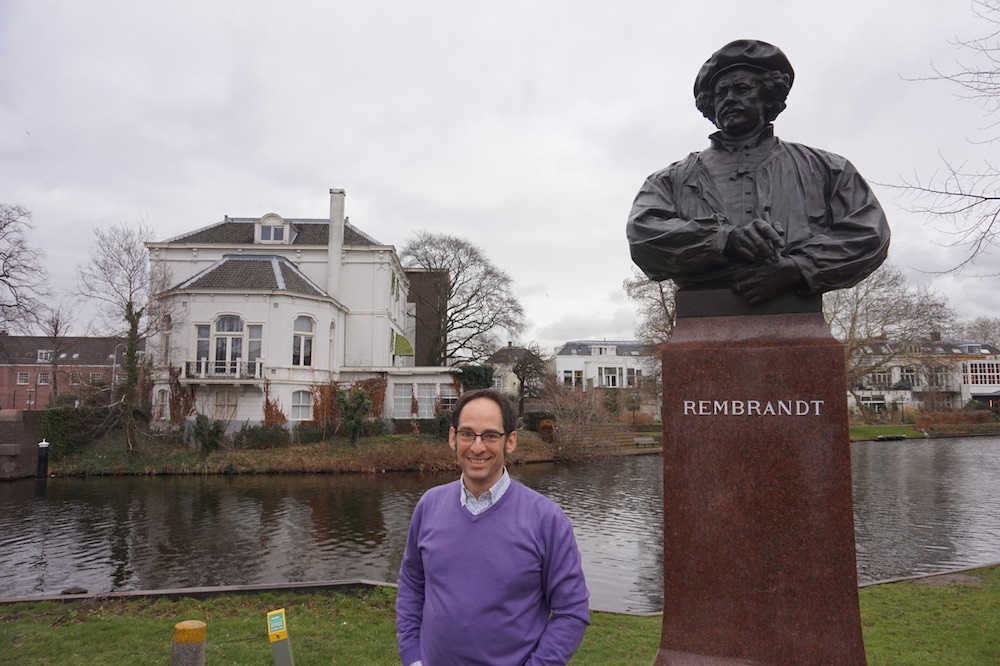 Originally from West Los Angeles, Joe Silber moved to Prague in the early '00s. There he met his future wife and later moved with her to the Netherlands where he currently works as a technical writer. He's partial to an uitsmijter, would like to have met Jan Steen and plans to visit the Aalsmeer flower auction.
How did you end up in the Netherlands?
When I first moved to Europe, I lived in Prague for about five years. I met a woman there named Rachel who I would later marry. She was doing business development and, in 2007, her company said that her job was going to be moved to their European headquarters, which are located in Leiden.
We'd been together for about two years at that point. 'I want to keep my job,' she said. 'Would you like to move to the Netherlands with me?' I asked her if the city she was moving to was nice, and she said: 'Well, come over for a weekend and we'll find out.' So I did, and it was all very charming so I decided to make the leap. After I found work in the Netherlands, I moved over to join her.
How do you describe yourself – an expat, lovepat, immigrant, international?
I followed my wife over here, but I consider myself an expat, partially because I define myself as an individual as opposed to part of a relationship. Another one of the reasons I moved was for the adventure of coming to a new place and learning and developing within that culture.
How long do you plan to stay? 
My original plan was to stay in Europe for one or two years. Then I realised, no, I'm much happier over here than in the US for any great number of reasons. When we relocated to Leiden, Rachel had a two year placement. The plan was to see where we were at in a couple of years and determine what to do then. A few years later, we'd switched jobs, bought a house, and found that we were both comfortable here.
The political situations in England, where Rachel is from, and America are such that we're both very grateful to be living in a country that is quite stable. We're happier here than we are when we go to visit our native countries so we don't plan to move anytime soon.
Do you speak Dutch and how did you learn?
I have the one sentence that I speak really, really well. It's 'Ik spreek maar een beetje Nederlands; kunnen wij in Engels spreken?' People hear that and say my Dutch is fine, but I've only perfected that one sentence.
That said, I took lessons the first couple of years after we moved here and my Dutch is okay. I can do more than feed myself. My goal for this year is to pass the inburgering exams so I can remain here on my own terms. My visa has always been based on being the partner of a non-Dutch EU citizen. However, my partner is British, and she's in the process of going through inburgering as well so her residency won't be based on her possibly tenuous status as an EU citizen or having a job here.
Way back when, my company paid for six months of lessons, and then I did one semester at BplusC followed by another semester at Leiden University while I was briefly unemployed, but I had to drop out once I found a new job. Now to prepare for inburgering, I'm using DuoLingo. [laughs] I'm really amused by some of the exercises and weirder sentences it uses.
What's your favourite Dutch thing?
My favourite Dutch thing is my museumkaart. I can go to places like the Rijksmuseum in Amsterdam or the museums here in Leiden and spend an hour in them while avoiding the entrance fees, which can be €12, €15, or €17. With a museumkaart, which runs about €60 a year, I can go on my own or when family's visiting, spend an hour, see a few things, and say, 'Okay, I'm feeling cultured today.'
Because there are so many great museums in this country, it doesn't matter what city I'm in. I can go into one of their museums for an hour and head to a nearby cafe without feeling the pressure of trying to get my money's worth because I paid so much at the door.
How Dutch have you become? 
Wow, not very Dutch, in that I don't speak the language well. I like a lot of the food, and that's a big part of becoming integrated into the culture, but there's only so many sandwiches one can eat. There's a phrase that keeps coming up in DuoLingo; 'he ate five sandwiches today." An American might think that's an obscene number of sandwiches, whereas a Dutch person might say, 'Yeah, that's about average.'
On the other hand, when I log onto something like an expat page on Facebook, I see all the new arrivals who are asking where they can get this or that from their native land and are talking about all the things they miss. I've moved past missing certain things.
I know what I like to eat and know where to find it. I've also come to terms with Dutch directness, but I still act very American while interacting with people whereas other expats I know really go for it and stop pulling their punches. So, I guess what I'm saying is that I'm, maybe, 20% or 30% Dutch. Once I'm more comfortable with the language, I might go up to 50%, but I probably won't get beyond that.
Which three Dutch people (dead or alive) would you most like to meet?
Jan Steen. I'd like to talk to him about art, technique, and his sense of humour.
Queen Wilhelmina. I don't know a lot about her, but she got into the dirt during World War 2. She did the hard work of leadership during a period when she could have stood on a pedestal. Instead, she got down with the people and led by example.
Jacob Cats. This is a really weird one. He was a 16th/17th century poet and politician. I wouldn't know anything about him if it weren't for the fact that the first place I lived in the Netherlands was on a street called Jacob Catslaan. Many of his poems were written for female admirers and later set to music. Needless to say, not all of them were necessarily religious. He'd be another person who would be great to talk to about his art, which in this case was poetry.
What's your top tourist tip?
This one is weird because it's something on my list, but I haven't actually done it myself yet. It's going to the Aalsmeer flower auction, but you have to get up very early. The fact that 80% or so of the world's flower trade comes through this region, the flowers arrive before dawn, and they're put on planes before 10am is fascinating.
They go to these huge halls near Schiphol with practically their own railway system where they're auctioned off. I'm hoping the next time we have out-of-town guests that I'll be able to drag them out of bed early enough to go there.
Tell us something surprising you've found out about the Netherlands.
This isn't something that's secret or hidden, but about a year and a half ago, we went to Arnhem for the first time. Rachel wanted to a see a bridge that goes over a river that runs through the city. Once we got there, she started talking about Operation Market Garden and the film A Bridge Too Far.
I grew up in Los Angeles and I've seen tons of movies, but she was surprised I'd never seen that one or heard about the failed World War 2 battle that it was based on. I was also surprised that I didn't know about it. Weirdly enough, the movie was on TV while we were in England over Christmas.
If you had just 24 hours left in the Netherlands, what would you do? 
There is a house in Utrecht that, alas, requires booking way in advance. It's the Rietveld Schröder House, and it's one of my favourite sites in the country. I'd want to see that again and, assuming that the stars aligned, I'd go there for a visit. Beyond that, I'd want to visit a museum I've never been to before. There's also a restaurant in Noordwijk called De Zeemeeuw, and they do the best uitsmijter. I'd want to go there for one of those.
All of these places are in the Randstad, so I think there'd still be time to get to the dunes outside Heemstede. It's a great natural reserve, and the walks there are really beautiful. During mating season, there's also hundreds and hundreds of deer everywhere. After we decided to go there for the first time, we were worried we wouldn't see any. We asked a colleague about it. 'Don't worry,' she told us. 'They'll be there.'
In addition to his work as a technical writer, Joe also occasionally writes short stories and posts about music and politics on his blog, Joe Jots.
 Joe Silber was talking to Brandon Hartley
DutchNews.nl has been free for 13 years, but now we are asking our readers to help. Your donation will enable us to keep providing you with fair and accurate news and features about all things Dutch.
Donate via Ideal, credit card or Paypal.