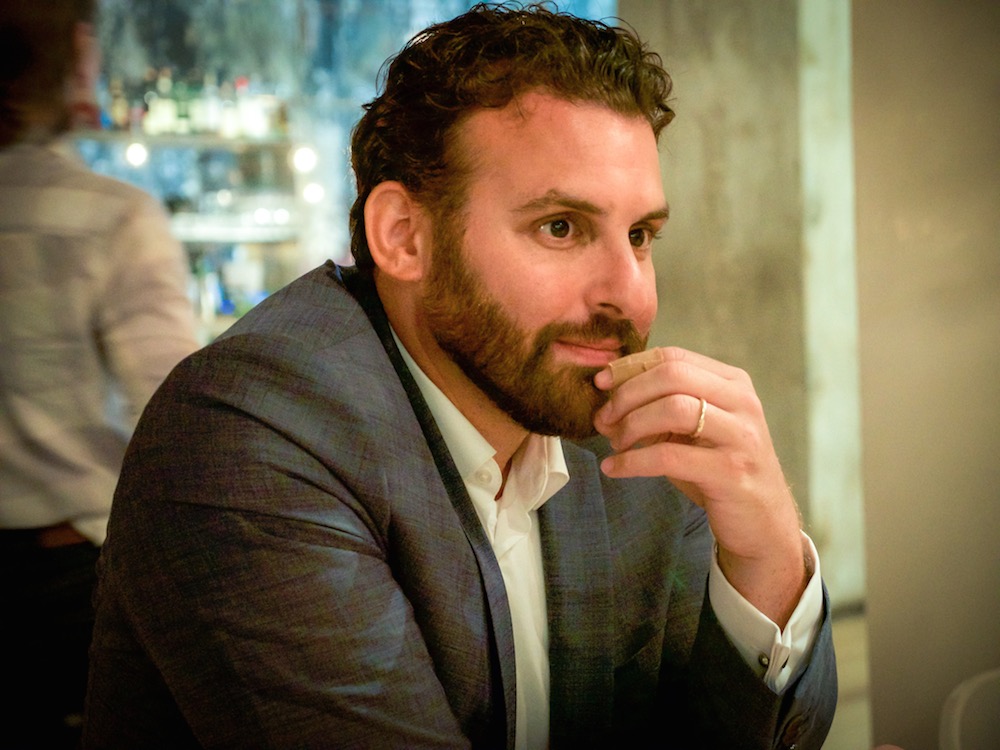 Swapping New Amsterdam for Old, 37-year-old visual effects expert Ricky Weissman from New York quickly felt at home in the surprisingly familiar architecture of Amsterdam's Jordaan. Three years in, he is mad for mustard, flowers and sand dunes and never says no to a poffertje.
How did you end up in the Netherlands?
My wife and I were living in Brooklyn, New York about three years ago now and we had found that we were travelling to Europe more and more often and that the cost of getting here and the time it took was just kind of killing us. We figured that we would find a way to get closer to our end goal, which was to live here for a few years and see if we liked it.
I was freelancing for a company in New York City that had strongholds all over the world and I put in for a European destination and they told me they had an Amsterdam office and had a position available. We came out here for a week to see if we liked the city and taste the food and feel the culture. We decided that we wanted to make the move for sure. They offered me the job, and my wife was able to get a job through her network also, and seven months later we moved over.
It felt like home when we came here. When we went back to New York [to visit], we saw it with new eyes. Park Slope and those town houses, the way the bricks are laid out – even the name 'Breuckelen' – it was built by the Dutch.
How do you describe yourself – an expat, lovepat, immigrant, international etc?
I would say I'm an international citizen living here, but the experience I have here does feel more like an immigrant in a strange land sometimes.
As accepted as I am in my own work communities here, I find that with my facial attributes and just what we look like, [means] the Dutch know that you're not from around here. Even with most of my neighbours, it has taken a good amount of time for them to say, 'Oh, this guy lives on the block now'. Only in the last year or so, I've been getting very chatty with them.
How long do you plan to stay?
With every day that we're here, we make plans to stay a lot longer. Socially, things seem to be collapsing back home… We said that we'd try five years and see how we felt after three – and now we're having a baby in two weeks and I feel like we're probably not going to go home any time soon!
Do you speak Dutch and how did you learn?
I speak a little Dutch. I do a half hour of this Rosetta Stone software in the mornings and I find that's really good. And I practise with my co-workers and stuff like that, and they'll correct my grammar.
But as much as I can speak Dutch, I find that as soon as I start to have a conversation, people go too quickly for me when they speak back, and I just get very lost. I think that it's a very difficult sentence structure once you try to form larger sentences. But you really can't embrace the culture fully unless you learn the language, so we are aware that to be fully immersed we have to learn it.
What's your favourite Dutch food?
We were a little mixed on that for a while until we started travelling further north up to Friesland and, for the first time, had northern Dutch mustard soup. That was a very interesting combination of flavours that we're really into. Now we travel the countryside to find these mustards and we make our own soup at home. That would be my go-to here. Otherwise, we just stuff ourselves full of poffertjes as much as we can.
How Dutch have you become?
I'm going to say 'medium' Dutch, as I think it's really important to represent your own culture as well when you're living overseas.
We really embraced the government system here a lot more than I thought we would, and I'm finding all the problems with our own government because of it. There's no slum or 'bad neighbourhood' here that is visibly apparent – the bottom rung is set a lot higher and I think that's something that the whole world could follow. I like the fact that all the roads are maintained. There are no tolls. And there's functional social housing. Everything is just covered by the system. In New York, there is a feeling that it is every person for themselves sometimes.
There's a lot of things that work here that I didn't even know about. I have a new appreciation for the regels of society – these 'rules' that they have here! I used to be anti-rules, but now I find that rules do help things to progress sometimes. Here there's a structure and there's an answer for everything. We can't fathom what life would be like going back now. It's a Pandora's Box for us.
Which three Dutch people (dead or alive) would you most like to meet?
Pieter Stuyvesant, who was the last Dutch director-general of New York, then New Amsterdam. There's such a rich history there of how they set up a society. Granted, there was a lot of conquering, but at the time there was also a lot of negotiating, too. There's an interesting story that when the English came to take the colonies from the North-East area, Pieter Stuyvesant jumped on top of a canon and was prepared to fire at 300 ships, when they themselves only had limited ships to defend themselves. They had to pull him off this canon and force him to surrender.
For the present, I would love to be in a room with the prime minister, Mark Rutte. I've got a lot of questions about that whole tax thing [30% ruling] they've been altering lately. I'd really like to know how they were able to pull that off because that has a very big effect on us and a lot of people I work with.
The society likes all the money coming into the country for their personal benefit, but they don't seem to like the people bringing it in. There's no representation for the expat community, I feel. People make investments here based on the numbers they're given and to have those numbers so drastically change at the drop of a hat, it's really confusing to me how that's legal.
Multatuli. We went to the national military museum and we learnt all about the conquests of the Netherlands. Everyone tends to learn their local history from their own point of view – and all the conquering in Java and in the Indonesian islands, we didn't know anything about this. Multatuli wrote news articles about what was really going on and the people were so upset by what they had read that they eventually pulled their own military out. To find out about how they had economically enslaved these people, and that it just took one writer to overthrow that whole concept, I think that was fascinating.
What's your top tourist tip?
Leave Amsterdam! When you go to the city, you get a multi-cultural experience, which is very nice, but if you really want a true flavour of any country, you have to get to the countryside. We have an affinity for the national parks here. The Veluwe, a lot of people go to that, but our favourite is the Kennemer dunes. Just before you get to the Bloemendaal beach, there's a beautiful national park on the north and south side of the N200. It's miles of sand dunes before you get to the beach and you can just walk around there for weeks! The dunes make for a unique landscape which we don't have in the States.
Tell us something surprising you've found out about the Netherlands
That democracy with a touch of socialism works! That was a unique thing for me. When I first got here, the fact that tax was so high here, I didn't understand why people would be a fan of that. But then I see how much you get for that. The concept that we [as Americans] are aware of is that the government 'takes over' your life, but here it's just that the government sets a high minimum for life standards. All the roads are maintained, the national parks are free, … you get everything you need.
Also, we did not know about the agricultural market here and that over 80% is exported. I found it peculiar that the majority of the produce is exported and that the people in the country do not necessarily get the best of the best. You really have to seek if you want to find high quality products.
The fact that we can even buy or afford orchids here is also a phenomenon to us. Orchids in the States are like €30 a piece. Here's it's like €2.99! We keep flowers weekly. We have become those people!
If you had just 24 hours left in the Netherlands, what would you do?
There's a few little countryside lakes that we have found along the way. Hopefully, it would be summer when this moment occurred because there is a lake in the Kennemer Dunes – you park your car and you hike around 15 minutes through the woods and then there's this beautiful desert lake that exists in the middle of this park.
It's just glorious and it feels so secret, even though there are people there. After work, in the summer, we'll go there two or three nights a week: drive to the dunes, park the car and go for a swim for an hour or two.
To find out more about the post-production projects Ricky works on, visit MPC Amsterdam.
Ricky Weissman was talking to Deborah Nicholls-Lee.
Thank you for donating to DutchNews.nl
The DutchNews.nl team would like to thank all the generous readers who have made a donation in recent weeks. Your financial support has helped us to expand our coverage of the coronavirus crisis into the evenings and weekends and make sure you are kept up to date with the latest developments.
DutchNews.nl has been free for 14 years, but without the financial backing of our readers, we would not be able to provide you with fair and accurate news and features about all things Dutch. Your contributions make this possible.
If you have not yet made a donation, but would like to,
you can do so via Ideal, credit card or Paypal.