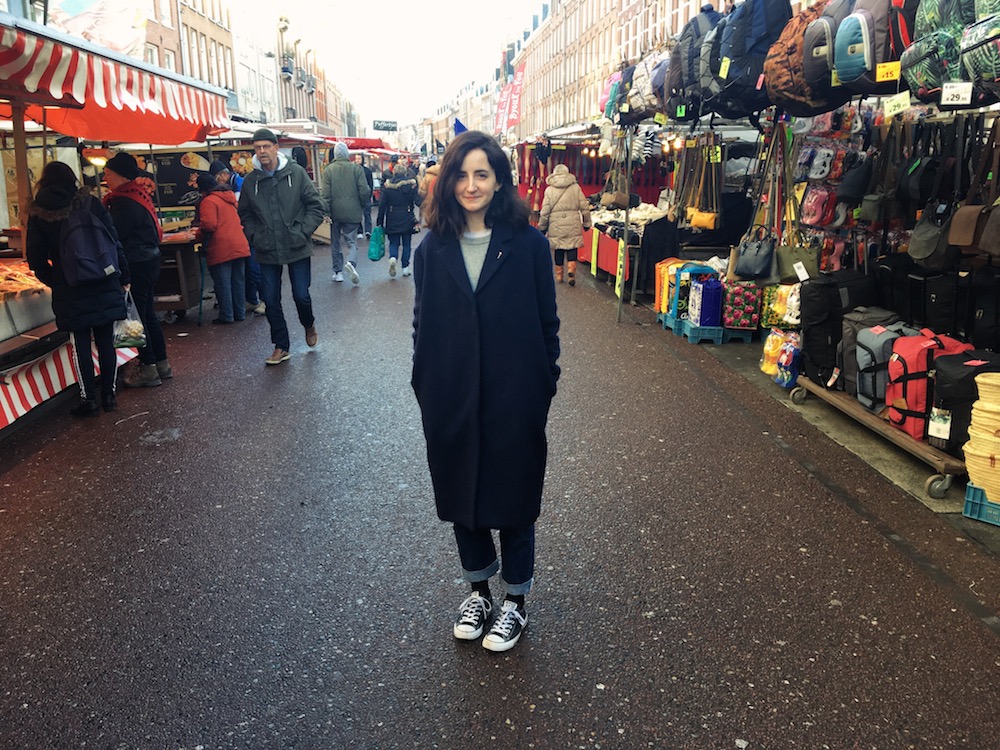 Originally from Plymouth in the US, New York Times author and illustrator Brooke Barker moved with her husband from America to Amsterdam a few years ago. She loves real ginger tea with ginger slices, is baffled by the local love of toothpicks and says she is too short to ever feel really Dutch.

How did you end up in the Netherlands?
I've always loved the Netherlands, and I'd always wanted to live there so I found a job with an international ad agency I'd worked with before in America. I grew up there, but I've lived in France, Germany, Australia, and Canada. When I visited the Netherlands, I was very impressed with how happy, optimistic, and outgoing everyone seemed. I liked how I pictured myself there, and it seemed like a happy and cosy place to live.
How do you describe yourself – an expat, lovepat, immigrant, international?
I would describe myself as an international. While growing up, I sort of always felt a little weird, like most people do while growing up, and I thought maybe the reason why was because I was living in the wrong place. So I've tried moving around a lot in my adult life, and I think I've discovered that it might be that I'm a little weird. I might wind up feeling a little weird no matter where I live.
I think I might also, technically, be an expat but expat sounds a little like America and I had a fight or something. But it's more of an open-relationship, so I'll stick with international.
How long do you plan to stay?
I think we'll move back to America pretty soon because of the time difference. It really makes talking to my family and seeing my family a little difficult. A lot of people I work with live in America, and it would be nice to see their faces more often. At the same time though, there are days we imagine living here forever. I think I'll always imagine an alternative reality where I actually was living here forever, could ride my bike without using my hands, and could pronounce all the vowels in Dutch words easily.
Do you speak Dutch and how did you learn?
When I first moved here, I took Dutch classes at night after work. It just got to be a little too much with learning to speak Dutch and then trying to make friends with people who spoke Dutch. I decided to focus on trying to make friends with people who spoke Dutch for a while instead of learning to speak it. Now I mostly practice at the gym, so my gym vocabulary is on point. I'm really familiar with phrases like 'lekker jongens' (well done, guys) and nog eentje (one more).
I took classes at Koentact in Amsterdam, which is sort of led by a man named Koen. The company's name is his name combined with the word 'contact' because the lessons are all about friendship. So the vocabulary you learn covers stuff like going to get a biertje (a glass of beer) with people. My grammar is a mess but I can go get a beer with lots of people very easily.
What's your favourite Dutch thing?
Is a ginger tea with ginger slices considered Dutch? I've seen it here in the Netherlands, but I don't know if I've ever seen it anywhere else. So if it does qualify as a Dutch thing, then my favourite thing would be ordering a gemberthee, which is just some slices of ginger in a cup of hot water, that always comes with a tiny, perfectly round cookie.
How Dutch have you become?
Whenever I go outside, I always feel like I'm too short to ever be Dutch. I feel like I'll never be Dutch because of that. I'm also a pretty soft-spoken person, and I moved here hoping that the Netherlands would help me become more confident. I don't know if it has. People here speak their mind, but they've never seemed rude to me. They're confidently open and maybe that goes along with the tallness.
Which three Dutch people (dead or alive) would you most like to meet?
Dick Bruna. He was the illustrator of Nijntje. He seems like an obvious choice because I also draw animals. He died shortly after I moved here but if it's possible for DutchNews.nl to still arrange for us to get coffee together, I'd really love to [laughs]. I'd want to know if he ever got tired of drawing the same rabbit so many times, or if he ever felt overwhelmed by how many people liked it. We went to his studio at a museum in Utrecht, and it was really fun to see his work station and think about all the illustrations he did there.
Michaela DePrince. I don't know if she counts, since she's from America, but she lives here and dances for the Nationale Opera & Ballet. She's just very cool. I love that, as an athlete, all she needs is her shoes and herself, and she can make all these different things and make people feel different ways. I saw her speak once, and it was also very amazing.
For the last one, I was thinking about how we go to a liberal synagogue here in Amsterdam. Outside of that, we don't get the opportunity to meet many other Jews. There are a lot of those Stolpersteine ('stumbling stones') around our neighbourhood. If I could, I'd like to meet some of the people who used to live here whose names I've been seeing on these stones for so long.
What's your top tourist tip?
My favourite place to take visitors is the Muizenhuis in the Jordaan. It's a sort of art project, but it's this massive mouse mansion made out of cardboard boxes with all these detailed and intricate scenes that the artist has made.
She makes everything by hand, and her studio is there too so you can see examples of how she would make a tiny bucket or a tiny lamp. You can look at it for an hour…if you don't feel awkward about being there for an hour. I've never seen anything like it anywhere in the world.
Tell us something surprising you've found out about the Netherlands
The most surprising thing I've found out is that no one in the Netherlands is flossing. They're all using these small, wooden toothpicks that they jam into the spaces between their teeth.
I've always been really proud of my flossing habit but, when I told my dentist I floss, she seemed completely uninterested. She even said that flossing has nothing to do with good dental health. So I've got these wooden toothpicks now, and I try to use them but it really doesn't feel natural yet. It's strange how over here, just on the other side of an ocean, there's completely different rules for this sort of thing.
If you had just 24 hours left in the Netherlands, what would you do?
I think I would want to cycle around Amsterdam for as much of it as I could with a lot of breaks along the way. I always feel happiest in the city when I'm cycling around it. I just like seeing all the different corners and seeing all the different shops lit up.
I think I'll really miss how everything looks at different times of the day; during the early morning when all you see are a few trucks going around and there's not much happening, during the afternoon when there's the tourist rush, and during the evening when everything is all lit up.
You can follow Brooke on Instagram via this link. Her books Sad Animal Facts and Sad Animal Babies are available from the American Book Center.
Brooke Barker was talking to Brandon Hartley
Thank you for donating to DutchNews.nl
The DutchNews.nl team would like to thank all the generous readers who have made a donation in recent weeks. Your financial support has helped us to expand our coverage of the coronavirus crisis into the evenings and weekends and make sure you are kept up to date with the latest developments.
DutchNews.nl has been free for 14 years, but without the financial backing of our readers, we would not be able to provide you with fair and accurate news and features about all things Dutch. Your contributions make this possible.
If you have not yet made a donation, but would like to,
you can do so via Ideal, credit card or Paypal.